I actually wanted to post Vella adai recipe(will post tomorrow ) but while i was talking to my sister we both were casually sharing the memories about the Karthigai sweet appam which my mom makes for Karthigai deepam. Also she makes it for Janmashtami too. Then only i realised i haven't posted it here. I have posted the
wheat appam recipe
, the same one she will deep fry. As we used to gobble it when amma makes it. As i am not a big sweet lover, during my childhood days, especially all jaggery based sweets i hate, i love sweet appam one very much. The entire house filled with lights, we all wearing pattu pavadai, amma making appam wearing the traditional 9 yards saree and wearing all the traditional jewellery, this appam reminded me of all special moments. Being a nurse, by profession, she can't wear bright and big nose rings daily, so she wears only during the festival. And she look very beautiful in that traditional costume and the jewellery. So always Karthigai deepam reminds me of this scene in our house in Madurai. Let me share the recipe of Karthigai sweet appam today. Check the
Karthigai Deepam collections .
Karthigai appam
Preparation Time : 15 mins | Cooking Time : 35 Mins |Makes: 20
Wheat flour | atta 1 cup
Rice flour 2 tblsp
Jaggery 1/2 cup
Coconut (scrapped) 1 tblsp
Cardamom powder a pinch
Banana half (optional)
Oil for deep frying
Ghee 1 tsp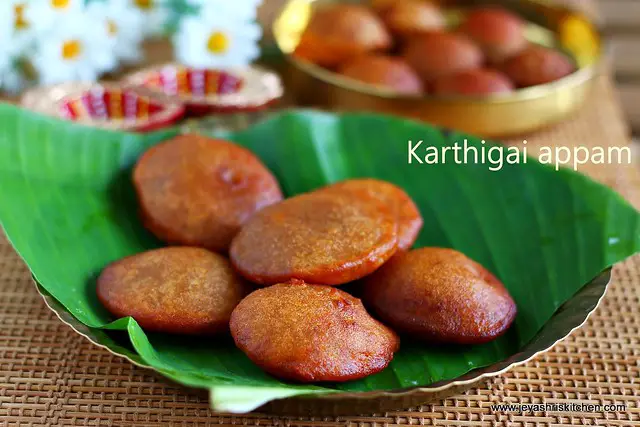 Method:
In a pan add jaggery and add 1/4 cup of water.
Let it boil and the jaggery gets dissolved.

Filter the impurities and and the jaggery water again to the pan.

In a pan add the wheat flour, rice flour, coconut and cardamom powder. Let the jaggery syrup boil for 3-4 minutes in a low flame.

Puree the banana in the mixer into a fine paste.

Add jaggery water and banana puree to the flour mixture.

Mix well, add water to get the right consistency.

Add ghee to this and mix well. The batter consistency should be little thinner than the idli batter and little thicker than dosa batter. Heat oil in a pan for deep frying. Take a small size deep ladle and take the batter in that.

Pour this carefully into the oil. Always pour one at at time. Do not pour more than one.
After putting into the oil, the appam will rise slowly and will be fluffy too.

Flip on the on the other side. Once it is cooked on both sides .take it out and drain them in a kitchen towel.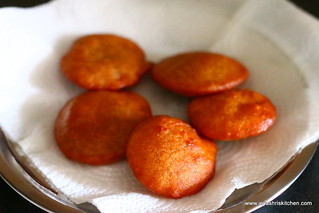 The appam tastes good when they are hot and also the when they are eaten after few hours. The next day it tastes even more nice.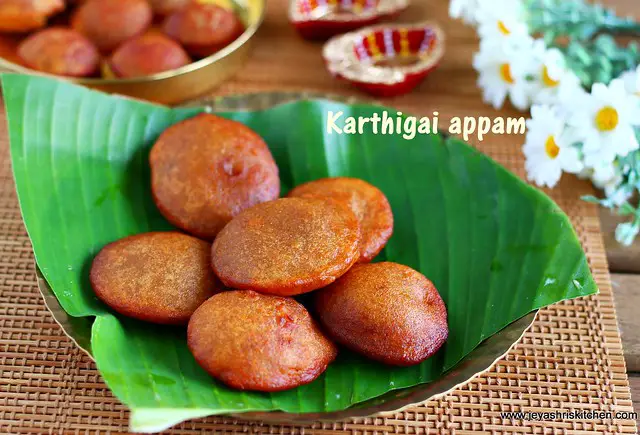 Notes:
If you want you can add 2 more tblsp of jaggery too. I found 1/2 cup perfect.
Do not keep the batter so thick, else the appams will be very hard after frying.
If you are not adding banana, add a pinch of cooking soda to the batter.