No onion no garlic recipes
Karthigai Deepam festival is celebrated on the full moon day of the Tamil month, Karthigai . We lit lamps inside and outside the house for 3 days. Evening also we keep a small diya outside the house throughout the month. Generally married women keep fasting for the whole day and after doing pooja in the evening and lighting lamps they have the food . Mainly for karthigai deepam we make Pori urundai, appam and payasam for neivedyam. My mil makes verkadalai urundai and pottukadalai urundai too. My grandmother makes adai too, but in mil's house though mil keeps fasting, she never insist us to keep fast. She always tell us to have some tiffin as we have small kids and it will be tiring if we keep fast. So generally adai is made on the day and we have this for lunch. My mil's mil taught me the recipe of milagu adai during my first Karthigai after marriage. But later i also forgot the recipe and i make it on my own style. But the nly thing i remember is urad dal will be more for the recipe of Milagu adai as compared to normal adai. I tried the recipe of milagu adai from here last year itself, but in the last minute, do not have time to post. So make this for Karthigai Deepam 2015 which falls on Nov.25th this year. Check out my Karthigai deepam recipes . This can be made for normal day breakfast too.

Milagu adai
Preparation Time : 10 mins + 2 hours soaking| Cooking Time : 25 Mins |Makes: 10-12 adais
Idli rice 1 cup
Raw rice | sona masoori 1/2 cup
Toor dal 2 tblsp
Channa dal 2 tblsp
Urad dal 1/2 cup
Whole pepper | Milagu 2 tsp
Coconut (grated) 1/3 cup
Coconut bits 1 tblsp (optional)
Curry leaves few
Asafoetida 2 pinches
Oil to make adai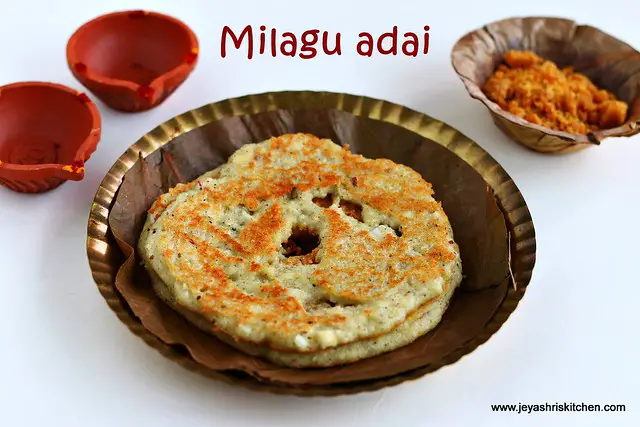 Method:
Soak the rice and dal for 2 hours. Drain the water and grind this along with whole pepper, salt, asafoetida and curry leaves.
Add the grated coconut too while grinding.

Add little water while grinding. Generally adai batter will be thick. My grandmother even used to pat the batter on the dosa pan, instead of using the ladle. But if you want to make it bit thinner you can add water accordingly.
Add the coconut bits to this.

Mix this well and i made to a medium thick consistency.

Heat the dosa pan and when it is hot, keep the flame medium.
Pour a ladle full of batter and spread the batter. Keep a hole in the middle and pour oil around the adai and in the center too. Putting hole in the center is to make it cook in the center too.
When one side is cooked flip the adai. Cook for 3-4 minutes in a medium flame.

Serve this hot with vellam|jaggery and a dollop of butter.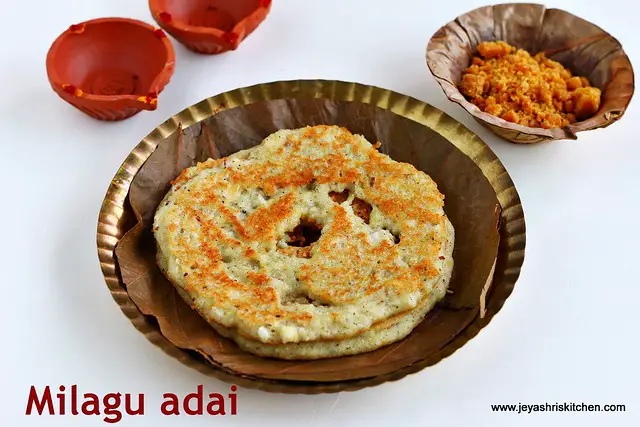 Notes:
If you want you can lessen little black pepper and add 1-2 red chilies.
If you want you can soak the rice separately and dal separately.
Iron dosa pan works out very well for adai.
If needed you can add coconut oil or ghee while cooking the adai.