Suzhiyan|Inippu seeyam, is generally made during deepavali in most of the houses in Tamilnadu. Adirasam and seeyam is made early in the morning. We always get it from our neighbour aunty along with kurunai vadai. Amma had never made suzhiyan at home. So i have also never tried it at home. since few readers asked for the recipe of suzhiyan, i thought i will post . My frined's mom helped me out with the recipe and i followed my channa dal poornam kozhukattai recipe for the poornam. Check out my full collection of diwali recipes . Follow jeyashri's kitchen on facebook too. Send your tried recipe pictures to jeyashrikitchen@gmail.com.
Suzhiyan| Seeyam
  Preparation Time : 10 mins+ 2 hours soaking time | Cooking Time : 30 Mins |Yields:7
     For Outer cover:
Idli rice   1/2 cup
Urad dal   1/4 cup
   For the stuffing|filling:
Channa dal   1/4 cup
Coconut   1/4 cup
Jaggery     1/4 cup+2 tblsp 
Cardamom powder   2 pinches
Ghee   1 tsp
    Oil     for Deep frying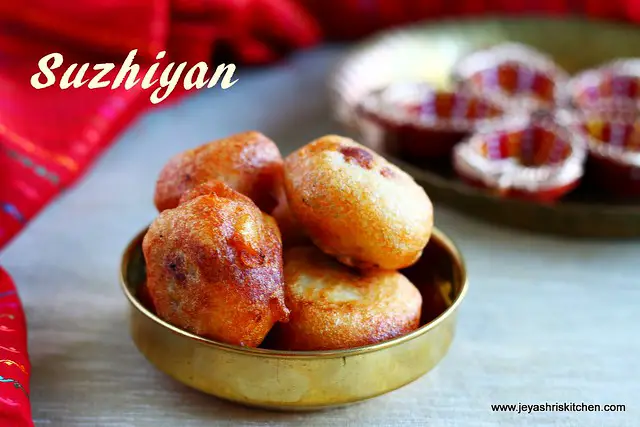 Method:
Soak rice and urad dal separately. Let them soak for 2 hours.

Dry roast the channa dal for 2 minutes.
Pressure cook this till 3 whistles by adding 1/2 cup of water.
Grind the urad dal in the grinder for 5 minutes and once it is grinding, add the soaked rice and start grinding. Add water little by little. Do not add much water. The consistency should be little looser than the vadai batter.

Drain the water completely from the channa dal and grind coconut, elachi powder,channa dal and jaggery together. You can first grind the channa dal and coconut first and then in the last round add jaggery and pulse once.

Divide the ground paste into equal sized balls. Mine came to 7 balls.

Heat oil for deep frying. No need to ferment the batter.
Dip the channa dal ball into the batter and cover it fully and carefully put it into the oil.
Do  not over crowd the pan.

Fry till golden brown and drain in a kitchen towel.

Repeat this for the rest of the balls.
Suzhiyan is ready.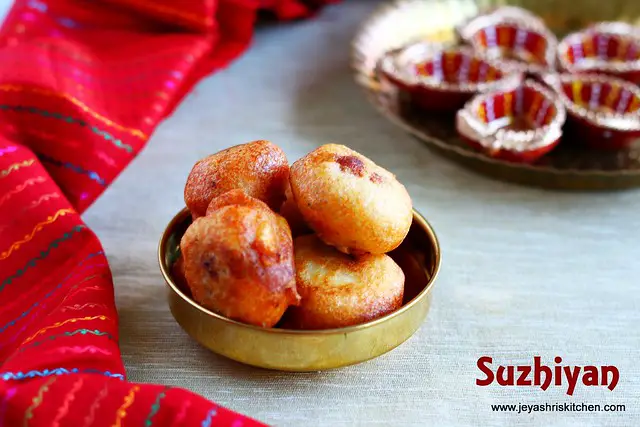 Notes:
Always ensure that the channa dal poornam is not watery. If you feel it is slightly loose, add a tsp of ghee in a pan and cook it for 3-4 minutes and allow it to cool. It will be perfect.
The batter i have soaked is bit extra for the poornam. So either you double the poornam or in the left over batter add finely chopped onions, red chili powder, salt, coriander leaves and curry leaves and mix well.
spoon the batter inside the dough and make it as masala seeyam.
The entire suzhiyan can be made with fermented idli | dosa batter as the outer cover too.
The oute cover can be instantly made with maida and rice flour batter too.