For this past one month as the kids have school vacation, and even i too took a break from giving lunch box to my hubby. As the school is reopening tomorrow from the past 2 days i am slowly getting into my routine and today i was clueless what to give for his lunch box and suddenly this curry leaves rice came to mind. The recipe for karuveppilai sadam i read in a magazine long back and i managed to recollect that recipe and finally packed his lunch box with curry leaves rice.
Also check out my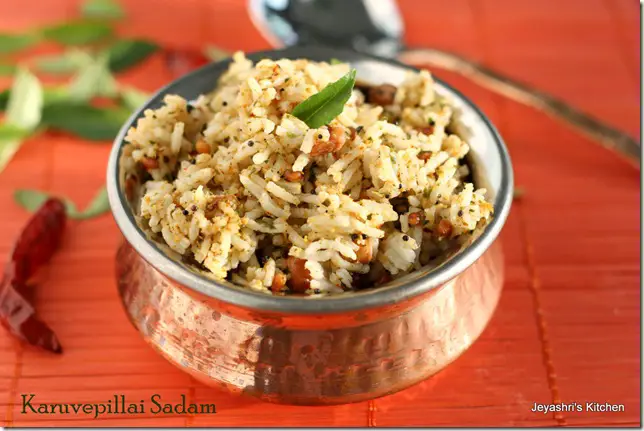 INGREDIENTS:
TO ROAST AND GRIND:
| | |
| --- | --- |
| RED CHILLI | 3 NO |
| CURRY LEAVES | 1 HAND FUL |
| TAMARIND | A SMALL PIECE |
| ASAFOETIDA | 2 PINCHES |
| COCONUT | 2 TBLSP |
OTHER INGREDIENTS:
| | |
| --- | --- |
| BASMATI RICE | 1 CUP |
| OIL | 1 TBLSP |
| MUSTARD SEEDS | 1/4 TSP |
| PEANUTS | 2 TBLSP |
| URAD DAL | 1/2 TSP |
| SALT | AS NEEDED |
| GHEE | FEW DROPS(OPTIONAL) |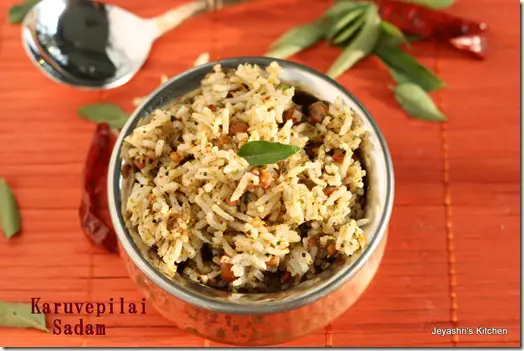 Soak the rice for 20 minutes and cook it by adding salt and few drops of oil. Add 1 and 1/2 cup of water and pressure cook for 3 whistles.
When done, allow this to cool in a wide bowl.
Heat oil in a pan and add the mustard seeds, peanuts , urad dal and roast till golden brown.
Add this to the plain rice.
In the same pan add the ingredients mentioned in the roast and grind table, except coconut.
Fry till the curry leaves becomes nice golden color.
Be careful not to get any of the ingredient burnt.
Switch off the flame and add coconut and mix well.
Grind this without adding water to this.
This will be slightly coarse.
Add this ground masala to the rice.
Mix gently. If adding ghee, add at this stage and mix evenly.
Pack for lunch box with papad or raitha.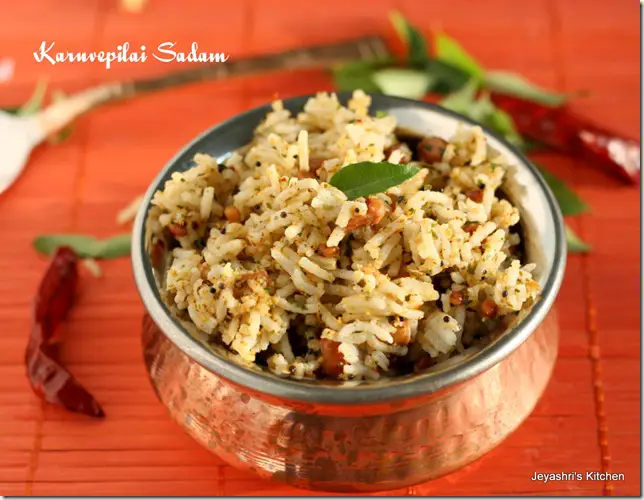 NOTE:
A pod of garlic can be added for making the masala.
Finely chopped onions can be sauted till golden brown and added to the rice.
You can roast few cashew nuts to make it more rich.
Sona masoori rice | raw rice can be used instead of basmati rice.