Easy to make restaurant style Kashmiri pulao with step by step pictures
Kashmiri pulao is unlike the normal pulao recipes will not be spicy. Even when we go to restaurants also we never order this kashimir pulao as it will be slightly sweet. But i have tasted this in parties and buffets. This recipe was asked by a reader of mine and i tried this in a restaurant last weekend and somehow incorporated the same taste at home. A friend of mine also gave me few tips on the recipe of Kashmiri pulao.
This kashmiri pulao can be had with spicy curry especially with  Paneer based gravies.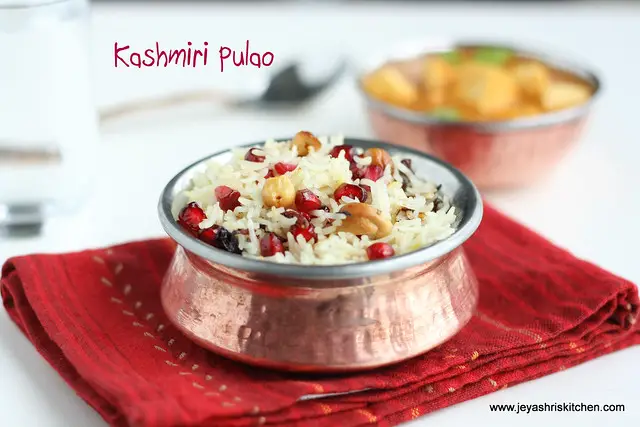 INGREDIENTS: (SERVES 4)
| | |
| --- | --- |
| BASMATHI RICE | 1 AND 1/2 CUPS |
| MILK | 1/2 CUP |
| WATER | 2 CUPS |
| SAFFRON | 2 PINCHES |
| RAISINS | 2 TBLSP |
| CASHEW NUTS | 2 TBLSP |
| ONION | 1 |
| GHEE | 2TBLSP |
| MACE (JAVITRI) | 1 |
| CLOVES | 2-3 |
| CARDAMOM | 2 |
| POMEGRANATE | 3 TBLSP |
| SUGAR | 1/2 TSP |
| SALT | AS NEEDED |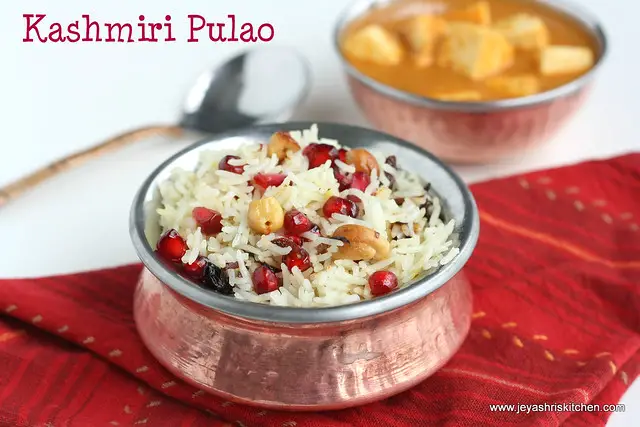 METHOD:
Wash the rice and soak it in water for 20 minutes.
In a heavy bottomed deep pan, add ghee (reserve 1-2 tsp for roasting the nuts)and add the whole spices (mace,cloves and cardamom) and add sugar.
Add in the soaked rice to this (keeping the water aside).
Saute well, without changing the colour.
Soak the saffron in a tblsp of warm milk.
Add the water and milk to the rice. Add 3/4 th of the saffron mixture.
Add salt and cook this in a medium low flame.
Once the rice is cooked fluff it with fork and add the remaining saffron milk mixture.
In a small pan add ghee and roast the raisins and cashew nuts.
thinly slice the onions and fry them till golden brown and add to the rice.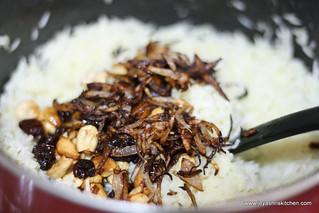 Lastly add the pomegranate seeds and gently mix everything.
Kashmiri pulao is ready to serve.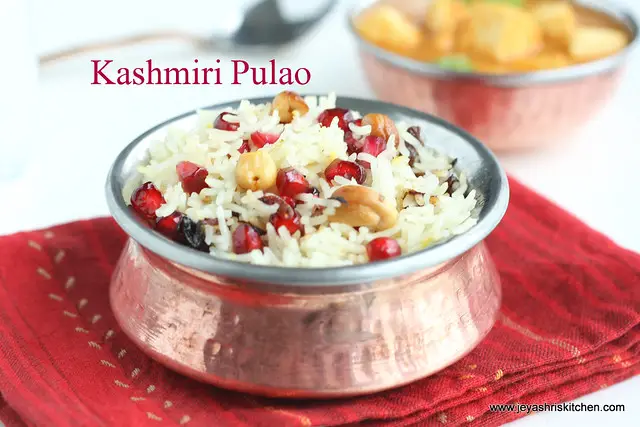 Note:
You can add finely chopped pineapple or grapes to this.
Do not reheat after adding fruits.
If you want to make it very rich you can add cream instead of water while cooking.(just replace 1/2 cup of cream for 1/2 cup of water). do not add too much else it will be very heavy and u cannot even eat more than 4-5 spoons.