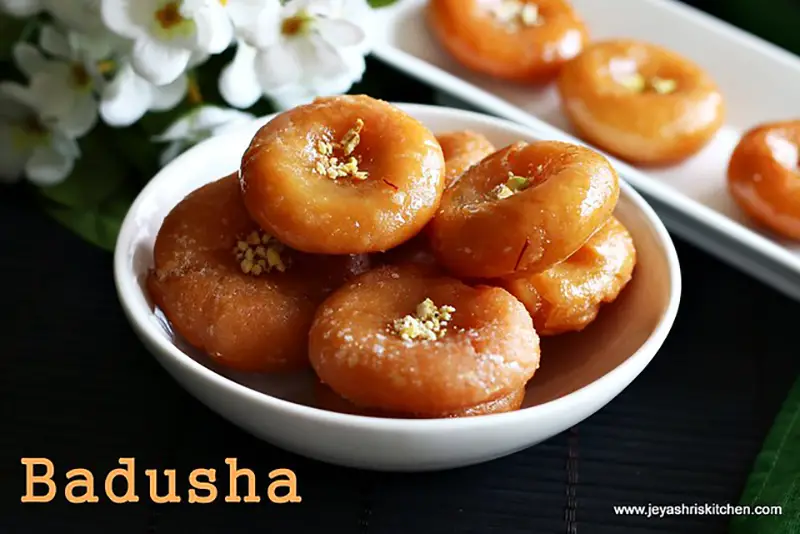 Badusha|Balushahi yes you heard it right, i succeeded finally and got my perfect badusha . For the past 2 years i am trying badusha but somehow it was hard. Finally got it perfect when i made this 2 days back. I literally jumped out of joy . Thanks to my friend's mother in law (Mrs.Shanthalakshmi) who gave me confidence  and gave a lot of tips to make badusha. But like most of the mothers she doesn't follow perfect measurements. But still she gave me some approximate measurements. I am bit skeptical to follow the approximate measurements and was  confused. Sailus Kitchen gave me clarity as the recipe what mami gave was almost close to her and i adapted the flour measurements from her.
[penci_recipe]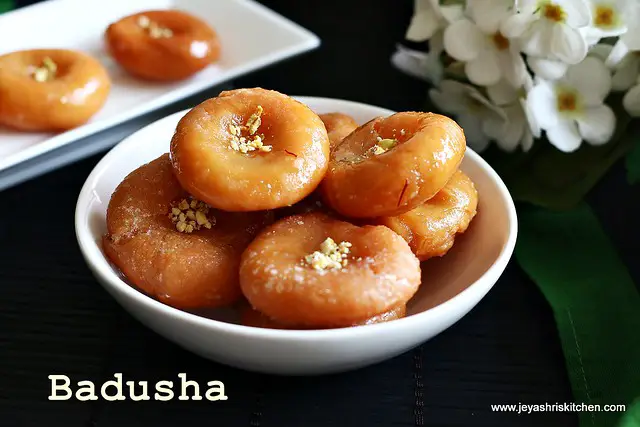 Check out this Video of Making Badusha below
Method:
In a wide bowl add the ghee+ oil, baking soda and curd. Beat this well for 10 mins till they get incorporated very well.  Take  the flour in a wide bowl.
Add the beaten ghee curd mixture to the flour.
Mix this with your fingers and make it like a bread crumbs. Add water and make it a soft and non sticky dough without any cracks. This is very important. If you knead the dough hard, the badushas will not be soft or flaky.
Rest the dough for 10 minutes. Keep it covered.

Make the sugar syrup by combining the sugar and water. Let it boil and form One string consistency.
Add lemon juice and saffron to this and switch if off.
Make  the dough into equal lemon sized balls. Take one ball and flatten it with your palm.

Make dent in the center with your thumb and heat the  oil for deep frying the badushas.
Repeat the same for the rest of  the dough.
When the oil is hot switch off the flame and slowly put in the badusha into the oil. After few minutes the badhusha floats up on the top and switch on the flame.

Fry in medium low flame till they turns nice brown colour. Never fry in a hurry, it will not get cooked inside.

Dip it in the sugar syrup. Ensure that the syrup should be warm. Else you warm it for a minute and then dip in the syrup. Let it stay till you fry the next batch. Take it out from the syrup and place it on a plate.

I added saffron in the second batch and so you couldn't  see in the above picture. I was bit nervous about the outcome of the badushas and so i forgot to add.
You can decorate with few coarsely pound almonds or pistas.
The badushas can be stored for 4-5 days at room temperature.
It tasted very nice and was soft and juicy the next day.