Khandvi is a traditional gujarati tea time snack, made with besan. I was first introduced to this by my friend Janani, She is a very good cook and never hesitates to cook a full fledged meal after a long day in office. I always wanted to learn this khandvi from her, but somehow the timing never matches for both of us. She told me that she follows Khandvi recipe of tarla dalal ,always and so i tried the same at home sometime back. It turned out well but still i was not that much confident to post it. So i tried it few times at home in the past 3 months, and now i am pretty confident in making khandvi. So i am posting the recipe of how to make a perfect khandvi. Will update the recipe with video soon.

Khandvi recipe
  Preparation Time : 10 mins | Cooking Time : 25 Mins |Yields: 20 approximately
     Besan |Kadalai maavu|Chickpea flour  1/2 cup
     Yogurt| curd   1/2 cup
      Green chili   1
      Ginger  a small piece
      Water  3/4 cup
       Salt   as needed
       Asafoetida   a pinch
       Turmeric powder  1/4 tsp
       Lemon juice   1/2 tsp
       Oil   1 tsp
       Mustard seeds    1/4 tsp
       Curry leaves   few
       Sesame seeds   1/4 tsp (optional)
       Grated coconut   3 tsp
       Red chili    1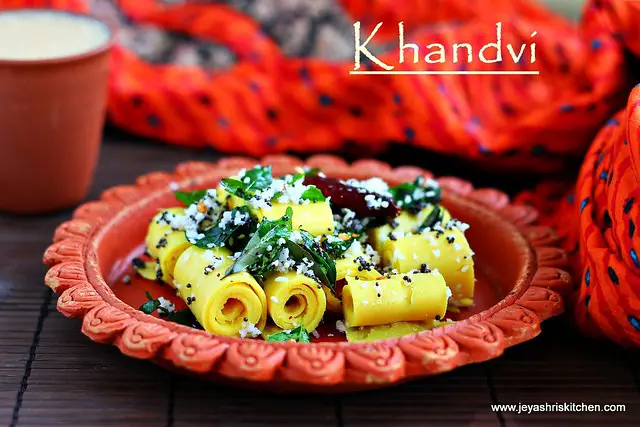 Method:
Grind the green chili and ginger, either pulse it in a mixer or pound it using a mortar and pestle.

In a wide bowl add besan, lemon juice, salt, ground ginger chili paste, turmeric powder and  asafoetida.
Whisk the curd and add the water to this, without any lumps.  Add this mixture to the bowl .

Beat this well without any lumps, using a whisk. I used the traditional wooden mathu.

Pour this into the pan and keep the flame medium low. Start stirring the mixture continuously without it forming lumps.
Let the mixture gets thicker. See the picture for the consistency. Meanwhile grease the back of a big thali |plate. If you do not have a big one grease 2 small plates.

To check whether the batter is in the right consistency, take a spoon of batter and spread it on the greased plate. Leave it for 2 minutes.
Then if you can able to roll it comfortably, the consistency is perfect.

If it is not rolling up, stir it for some more time and once it reaches right consistency, switch off the flame.
Quickly put this on the back of the plate. And spread this with a spatula into a thin layer.
This process do it fast, else it will not spread smoothly.

Allow this to cool for 2 minutes.
Cut them lengthwise.  Using a knife take out the edge and gently roll it up.

Do the same for the rest of the layers. Arrange this in a plate.

In a pan add oil and add in the mustard seeds, curry leaves, sesame seeds(white) and broken red chili. When the mustard splutters pour it on the khandvi rolls.
Sprinkle the grated coconut and serve with green chutney or sweet chutney.

Serve this as a tea time snack.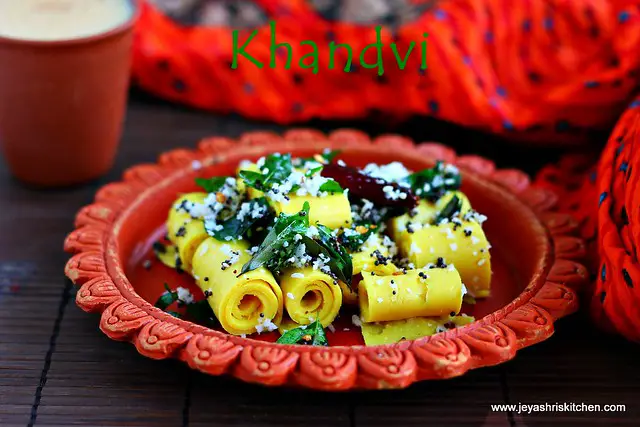 Notes:
Traditionally sour curds are used for this recipe. If you are using sour curds then skip the lemon juice.
The consistency of the batter is very important.  So check the consistency before you spread the entire batter on the plate.
Always spread this when it is hot.  Else it will not spread and roll properly.
You can make the entire process in microwave too.
Even i have heard from a friend that she will cook the entire batter in pressure cooker for 4 whistles and then spread on a greased plate.