Home made kuchi chips recipe
Maravalli kizhangu| Tapiaco | Kappa|Cassava chips is a popular one in Kerala. I still remember eating kuchi chips during my childhood days more than potato chips. This chips we used to get everywhere easily and also in the pack of 250 grams it will be many as compared to the potato chips. But i never remember amma or paati making this at home. Only
Vazhakkai chips
is made at home so often as we have many vazhai maram at home. .As it is now the season of this maravalli kezhangu, my sister was insisting me to make something out of this. So i tried the kuchi chips which is one of my personal favorite. Only peeling the skin of the tapioca was bit difficult, other than that, the making of this chips at home was so easy. But my helper later told me there is an easy way to peel the skin and showed it to me. I will take the video of it next time and update it here. The chips can be served as a teatime snack or can be served with rice too.
Maravalli kizhangu chips
Preparation Time : 20 mins | Cooking Time : 35 Mins |Yields: 3 cups (approx)
Tapiaco |maravalli kizhangu 1 big
Oil to deep fry
Salt as needed
Red chili powder to taste


Method:
Peel the skin of the tapioca and wash it nicely. Pat dry it.

Cut them into slightly thick roundels. Else you can use a mandolin slicer and make them into bit thick slices. Stack the roundels.

Cut them into thin sticks. If the sticks are thick, it will be soggy after fried. To make it crispy, cut them into thin sticks.

Heat the oil for deep frying. When the oil is hot, bring the flame to medium and fry the kappa sticks in batches. Once they turn nice golden brown colour, take it out from the oil and drain it in a kitchen towel.
Repeat this for the rest of the maravalli sticks.
Sprinkle salt and red chili powder as needed.

Mix it well and keep it in a airtight container.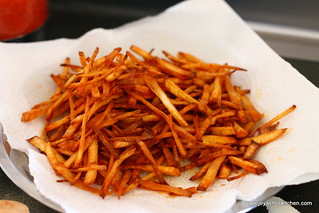 This chips can be kept in a airtight container for a week. Ensure that the container is dry and always handle with clean dry hands.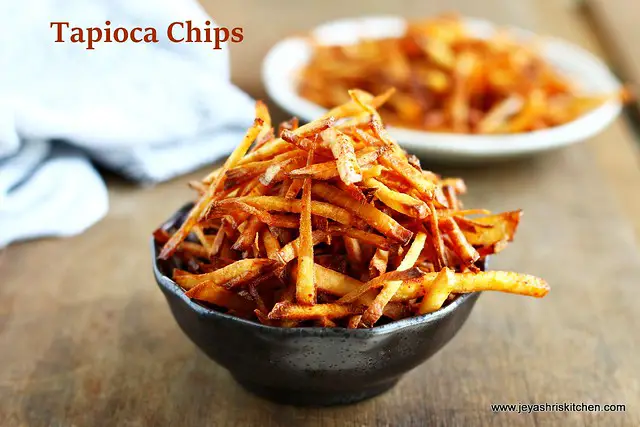 Notes:
Ensure that the maravalli is cut into thin strips.
Pepper powder can be added instead of red chili powder.
Do not fry on high heat, it may get burnt easily soon and also will not be crispy.
If you do not want any spice you can add only salt.