Dal Kachori | khasta kachori is a crispy deep fried tea time snack, filled with moong dal. I have already posted Moth dal kachori and peas kachori recipe. This dal kachori i have given for Kungumam Thozi and it got published in the Feb issue. It was a super hit recipe at my home . Though it is bit elaborate to make,it is worth the effort. I remember once visiting Rishikesh some 12 years back and enjoying hot hot kachoris with aloo tamatar. Those days i never know how to make Kachori. Though i made kachori on that day i didn't make aloo tamatar. Try out this combo and it will be a filling meal. You can make this combo for a sunday brunch.

Dal Kachori
  Preparation Time : 10 mins+ 2 hours soaking  | Cooking Time : 50 Mins |Yields:6
     For the outer cover:
Maida | all purpose flour   1 cup
Ravai | sooji     2 tblsp
Hot ghee    2 tblsp
Salt    as needed
    For the stuffing:
Moong dal   1/2 cup
Ginger   a small piece 
Green chili   1
Cumin seeds |jeera  a pinch
Omam | ajwain    a pinch
Red chili powder  1/2 tsp
Turmeric powder  1/4 tsp
Fennel powder   1/2 tsp
Amchoor powder   1/4 tsp
Chaat masala    1/4 tsp
Jeera powder   1/4 tsp
Sugar   1 tsp
Oil   2 tsp 
Coriander leaves    few


Oil    for deep frying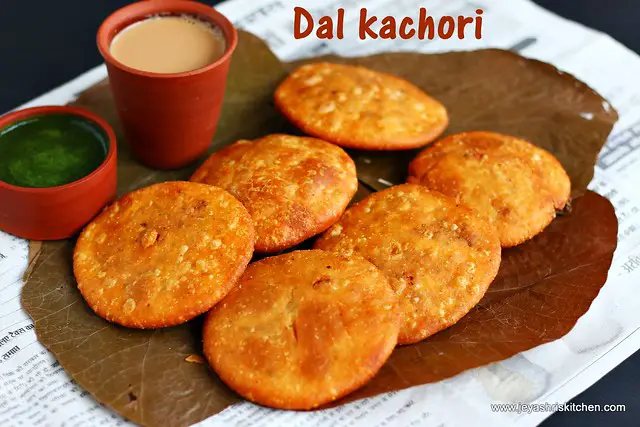 Method:
First soak the moong dal in water for 2 hours. Then completely drain the water in a colander.

Meanwhile in a wide bowl add the flour, sooji, salt and hot ghee.
Mix this well using your hands and make it like a bread crumbs.

 Leave it for 5 minutes. Slowly sprinkle water and make it into a smooth stiff dough. Cover this with a damp cloth and keep it aside.

Grind the soaked moong dal along with ginger and green chili into a fine paste. Do not add water while grinding. If needed add 1 tblsp. Let the paste be thick.

In a pan add 2 tsp of oil and the ajwain seeds and cumin seeds. Add the ground dal paste to this.

Add the red chili powder, turmeric powder, fennel powder, salt , cumin powder, amchoor powder, chaat masala and sugar to this. Cook this nicely til the mixture comes to a grainy texture. Keep the flame low while cooking.

Add finely chopped coriander leaves and mix well.

Let this cool completely.
Take out the dough and divide this into equal lemon sized balls.

Meanwhile heat the oil and once it is hot, keep it in a small flame.
Take one dough ball and dip it slightly in hot oil and roll them into small disc, like poori.
Place 2 tblsp of the moong dal mixture in the center of the rolled poori.

Slightly apply water on the edge and cover the stuffing, by bringing all the edges together.

Gently roll this into a small disc using a rolling pin. Repeat this for the rest of the dough.

Always keep this covered.
Keep the oil in medium flame. Carefully drop it into the oil. Deep fry them in a medium low flame. Else it will  not become crispy.

Once both sides becomes golden brown, take them out from oil and drain it in a kitchen towel. Repeat this for all the kachoris.

Hot kachoris are ready for serving. Serve hot with green chutney.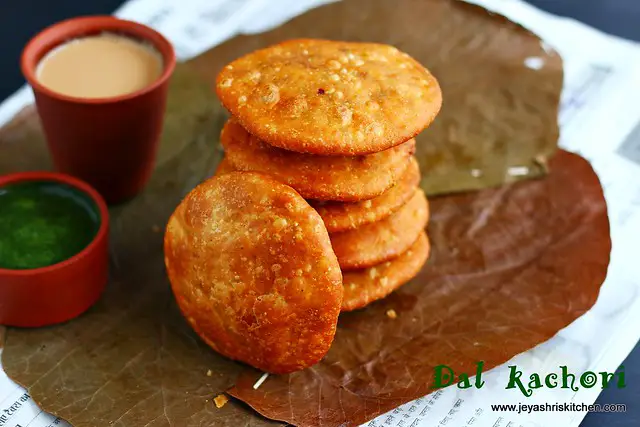 Notes:
Always keep the dough covered.
The same kachori can be done using urad dal too instead of moong dal.
Always fry in a low flame. Else it will not become crispy.
I got the stuffing remaining for 3 more kachoris. You can plan and knead 1/2 more cup of flour and make 3 more kachoris.