Kurunai vadai as the name is new , i don't know how it is called everywhere, but during my childhood days one of our very close neighbour aunty used to make this. Unlike ulundu vadai this vadai needs no exact shape. This vadai i planned to post during diwali time but last minute i couldn't make it even the post was ready. Aunty makes this vadai on Diwali mornings and she sends this to our home around 5 am in the morning and that too in bulk always. Still i can't forget that taste. When the day i prepared this and had it , it gave me the memories of my childhood days. Have you ever experienced that feel? Thank you so much aunty for sharing this recipe and hope one day i will come to your house to experience those memories again.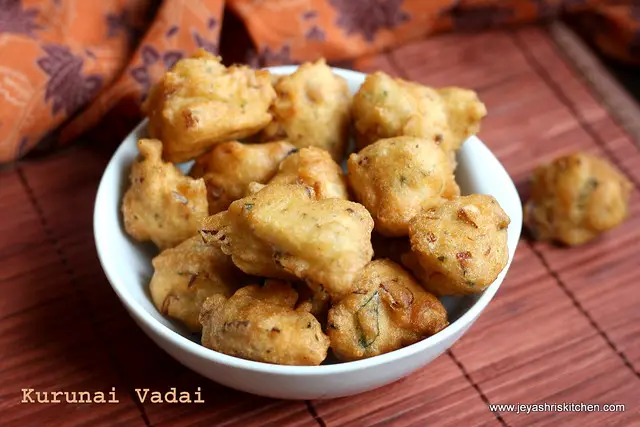 PREPARATION TIME: 3AND1/2 HOURS . COOKING TIME: 30 MINUTES. MAKES:20-25 VADAS
INGREDIENTS:
| | |
| --- | --- |
| IDLI RICE | 1 CUP |
| RAW RICE (SONA MASOORI) | 1 TBLSP |
| URAD DAL | 1/4 CUP |
| GREEN CHILLI | 5-6 |
| SMALL ONIONS | 15 |
| COCONUT BITS | 1 TBLSP |
| SALT | TO TASTE |
| CHANNA DAL | 1-2 TBLSP(OPTIONAL) |
| OIL | FOR DEEP FRYING |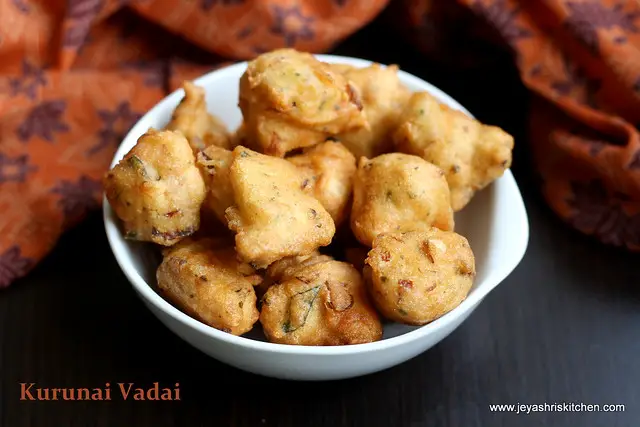 METHOD:
Soak the rice (both rice) together and urad dal separately for 3 hours.
Drain the water and Grind the rice coarsely like fine rava consistency. Do not add too much water while grinding. Else it will drink lot of oil while frying.
Drain the water from urad dal and grind this into a fine paste by sprinkling little water in between. Do not add too much water. The batter should be fluffy.
Mix this well with your hands to get the rice and urad dal to get nicely mixed.
If adding channa dal soak it for 15 minutes in water, drain the water and add to the batter.
Peel and chop the small onions finely. Pulse the green chilli and curry leaves once and finely add onions, coconut bits, Add this to the batter. Just add salt before making vadas.
Nicely mix it well with your hands so as the onions, coconut and spice mix well with the batter. Heat oil for deep frying. Just take small portion of batter and drop it in hot oil. No need for any shape. Like how we make mysore bonda just make it.
Fry both the sides and once they turn golden brown, take out from the oil and drain in a kitchen towel.
repeat this process for the rest of the batter.
Super tasty vadais are ready . Enjoy them as a tea time snack.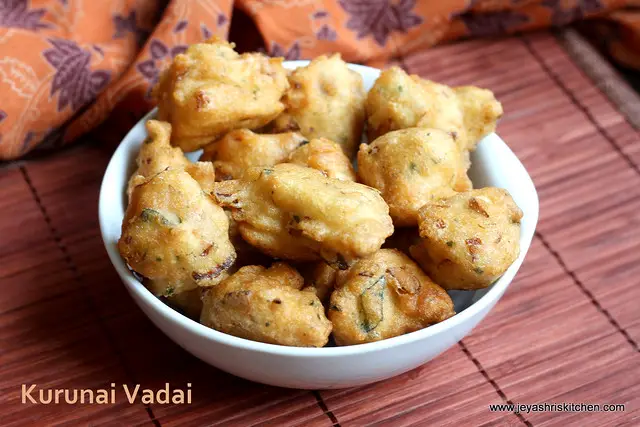 Note:
Do not make the batter too thick as the vadas will become hard.
If it is too watery also it will drink more oil. Let the consistency be like urad dal vada consistency.
Small onions will give a great taste to this vada so do not omit it .
Also coconut bits gives a fantastic taste too.
Grinding in wet grinder gives best results.