Maida-rava sweet paniyaram is a highly addictive sweet recipe and quite easy to make too. I had tasted this in a friend's place 2 years back during navaratri. I suddenly remembered of that and tried this at home. It turned out super awesome and it is quite addictive sweet too. A tasty and different sweet recipe to try for navaratri. Definitely this sweet paniayaram will be a super hit among your guests too. Check out my other
Navaratri recipes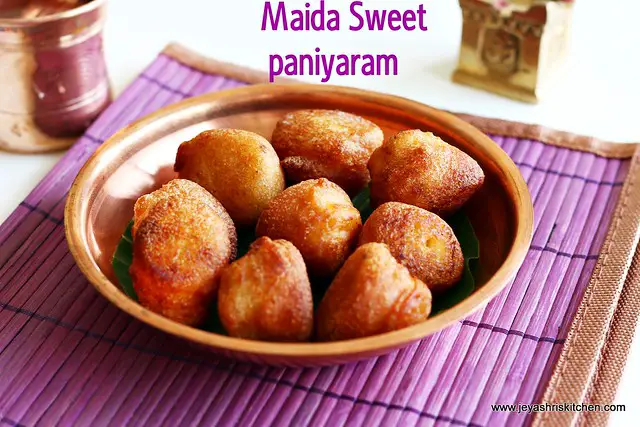 Ingredients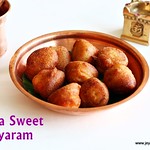 Preparation Time
:
10 + Soaking time 30 mins
|
Cooking Time
: 20 Mins |
Yields: 12
Rava| Sooji 1/4 cup
Maida | all purpose flour 1/2 cup
Sugar 4 tblsp
Baking Soda a pinch
Cardamon powder a pinch
Oil for deep frying
Method:
Soak rava in little water for 30 minutes.There should not be any water floating on the top. If so, drain it.
After that add the maida , sugar and the baking soda to this.
Add little water to this and mix it to a idli batter consistency. Ensure not to add more water. Just slowly add water.
The batter should be in dropping consistency.
Add cardamom powder and mix well. Heat oil for deep frying.
When the oil is hot add the batter with a spoon.Cook in a medium flame on both sides till golden brown.
Drain it in a kitchen towel. Repeat this for the rest of the batter.
The paniyarams were very crispy outside and very soft inside.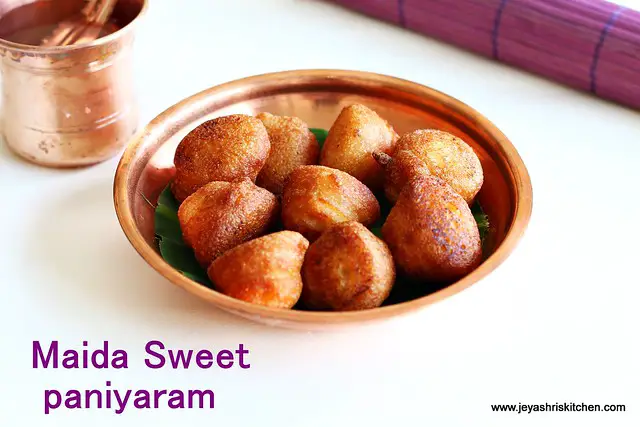 Notes:
The sweet level was perfect, if you want more sweet add 1-2 tblsp extra sugar.
Do not add more water, let it be like a vada batter.
Always fry in a medium low flame.
If it is more watery, it will disintegrate after putting in oil.
You can add little maida if it turns watery.
You can add a small banana to the batter to make it more softer.
Do not add more baking soda than the quantity mentioned.