Carrot poriyal | carrot curry is a simple curry, which can be made in both stove top and Microwave too. I wanted to post the Microwave version, as it is very simple and can be done by bachelors too. I remember some 12 years ago when i went to Hongkong with Suresh, in that hotel room we just survived with the help of microwave and rice cooker for cooking. I am not so much used to hot plates too. I make tea, poriyal, curry in microwave only. Even microwave was so new to me. I just explored on my own. Here in Singapore, even after 6 years, i just bought a basic microwave 2 weeks back only. just for the purpose of reheating, especially when i have guests at home.
Now you can look forward for more Microwave recipes every weekend from Jeyashri's Kitchen.
Ingredients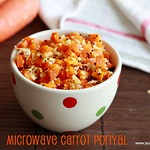 Preparation Time
:
5 mins
|
Cooking Time
: 15 Mins |
  Serves
: 4-5
     Carrot – 2
     Oil    1 tsp
     Mustard seeds  1/4 tsp
     Urad dal   1/4 tsp
     Green chilli  1
     Salt   to taste
     Coconut scrapped   1 tblsp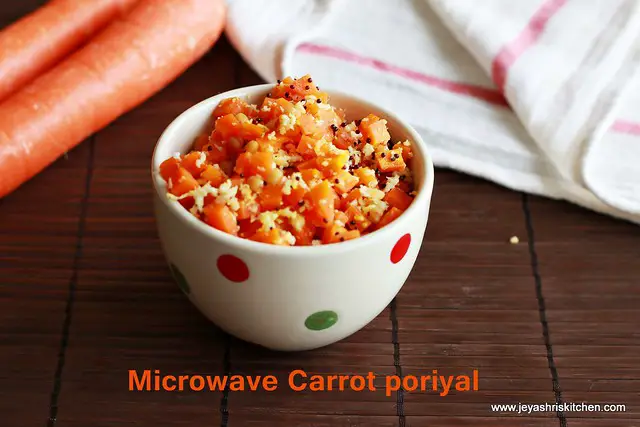 Method:
Peel the skin of the carrots and cut them into small pieces.
In a microwave safe bowl, add oil and add in the mustard seeds , urad dal and slit the green chili.
Microwave in medium high  for 2 minutes, till the urad dal turns golden brown.
Add the carrots and sprinkle little water. Add salt. Mix well.
Microwave in medium high for 5 minutes and stir in between (every 2 minutes open and stir)
Cooking time varies from microwave to microwave. It took 2 minutes in my microwave to get the mustard crackle and urad dal golden brown.
Also it took 10 minutes for the carrot to get cooked.
Add coconut and mix well. No need to microwave after adding the coconut. If you want you can do it for a minute.
Mix well.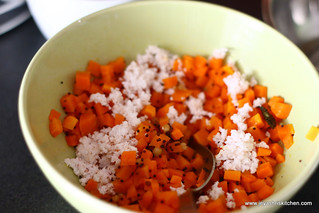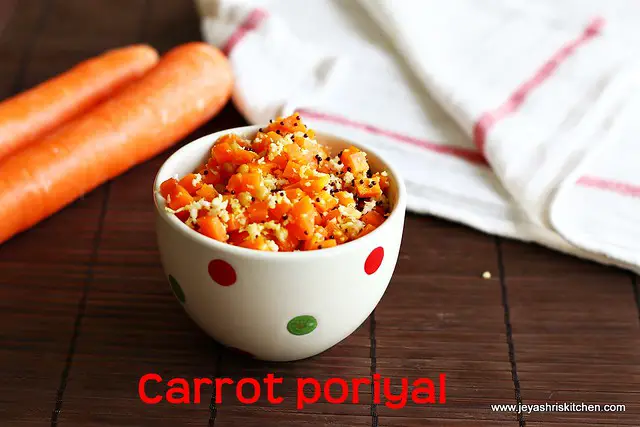 Notes:
Sprinkle little water while cooking, else carrots will be get shrinked.
Do not cook for a long time. The carrots will lose it color, taste and mainly the nutrients.