Milk masala is a blend of nuts and aromatic spices, we used to get Everest Milk masala in mustafa center here in Singapore. I have used this in many of my sweet recipes like
rasmalai,
motichoor ladoo
,
malpua
.. But last time when i went and checked in mustafa it was not there. So i decided to do it at home. I know from the package the ingredients they used so it is quite easy for me to do it. I have made this in one of my cookery class which i did at my home here in Singapore. I wanted to share this recipe of milk masala with you all. You can also add this to milk and drink it as masala milk too.
Stay tuned for few sweet recipes coming up using milk masala powder.
Milk masala recipe
  Preparation Time : 1 min | Cooking Time : nil |Yields: 1/3 cup
     Almonds | badam  20
     Pistachio  15
     Cardamom | elakkai  6
     Saffron  2 generous pinch
     Sugar  2 tsp (optional)
                                      Video of how to make Milk masala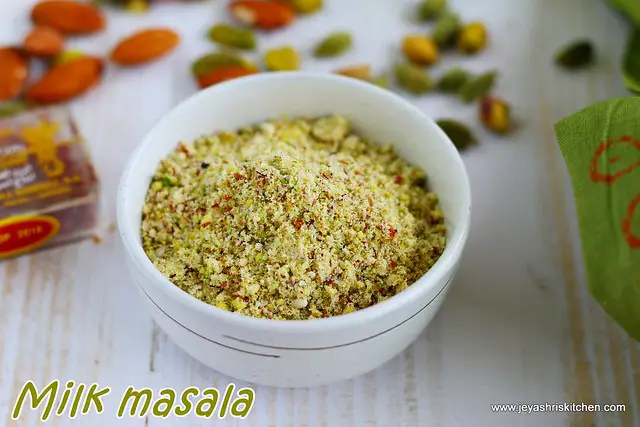 Method:
Bring all the nuts to room temperature, if you have kept them in the refrigerator.
Put everything in the mixer and pulse it to make a coarse powder.
I didn't add sugar. If adding sugar add.

Milk masala is ready.
Store this in a airtight container in the refrigerator.
You can use this for payasam| kheer. Even it goes very well with sheera | kesari.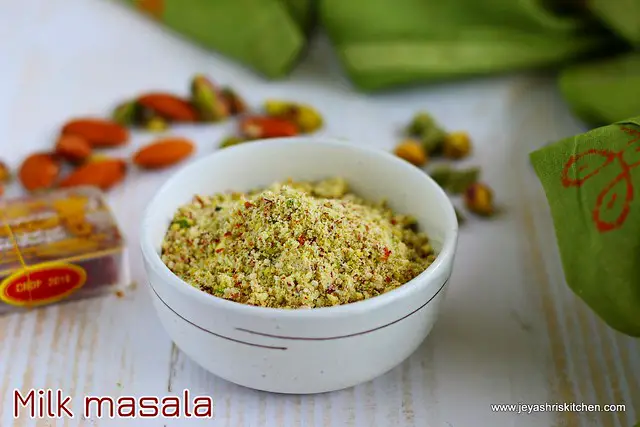 Notes:
You can add milk masala in most of the Indian sweets.
A pinch of nutmeg and fennel seeds can also be added.
Always use the nuts after it comes to room temperature, in case if it is in the freezer.
If you want you can dry roast the nuts for 5 minutes. Do not roast the saffron.
Make the milk masala powder little coarse.
Keep the milk masala in a airtight container.