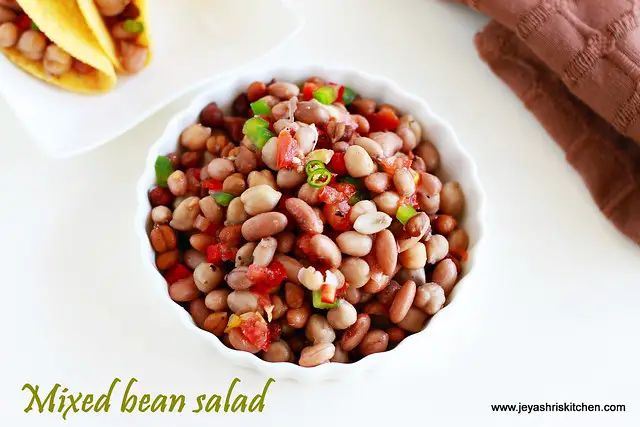 Summer is in peak and many of us wanted to make the food simple and quickly come out of the kitchen. I have given this mixed bean salad recipe for kungumam thozi last year. Though i clicked step wise also while making this salad forgot about that. Today i wanted to post something simple as i was running out of time. While checking the pictures in laptop saw this mixed bean salad. Though it will be perfect for this summer. It tasted very well too and i have made it few times at home too. Diet watchers can have this healthy filling salad . I served with tacos which tasted like a mixed bean tacos.
Mixed Bean salad
Preparation Time : 15 mins + soaking time 10 hours| Cooking Time : Nil|Serves: 2-3
Mixed Beans* 3/4 cup
Tomato 1
Green chili 1/2
Lemon juice 1 tsp
Pepper powder to taste
Salt to taste
Capsicum |Bell pepper 1/2 ( i used green and yellow)
*Rajma , peanuts , black channa and white chole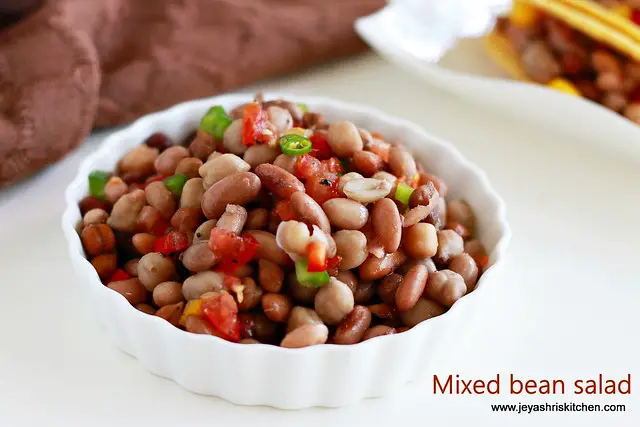 Method:
Soak the mixed beans in sufficient water for 10-12 hours. Pressure cook by adding little salt and drain the water and keep it aside. If you want you can keep it in the refrigerator too.
Cut the tomatoes and scoop out the seeds.Chop the tomatoes finely.
Add finely chopped green chili and pepper powder to this.

Mix the tomato salsa with the cooked bean and add lemon juice, finely chopped capsicum |bell pepper.

Mixed bean salsa is ready.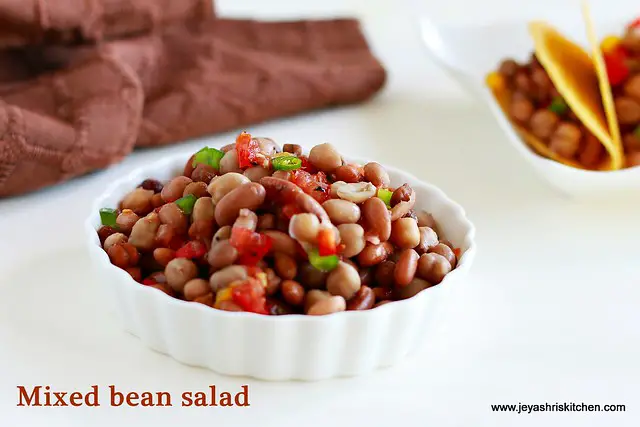 Notes:
You can add finely chopped raw mango, cucumber, carrot to this salad.
If you do not want green chili just omit that.