Beetroot salad is a very healthy one and super easy one to make. The recipe of this healthy Indian version of beets salad was given by my friend very long back. I love beetroot and so even kids too love beetroot. I have posted beetroot vadai,beetroot curry, beetroot pulao and many other recipes with beetroot. Some how raw beetroot never fascinated me and never tried this salad for a long time. When we had a casual dinner at my house few months back with her family,i made beetroot vada for starter. He was telling he is not a big fan of beetroot and the salad which she makes only he loves in beetroot. And complimented me for the vada too. Then i thought i should give this salad a try. That time only i was writing Salads and Soups article for Kungumam Thozi. I made it the next day and it was awesome. After that the beetroot salad is a regular one in my weekly menu. Try out this simple and healthy salad in your meal.
Beetroot Salad
Preparation Time
: 10
Mins
|
Cooking Time
: 2 Mins |
Serves
: 2-3 |
Beetroot 1
Onion 1
Peanuts 3 tblsp
Green chili 1
Oil 1 tsp
Mustard seeds 1/4 tsp
Salt to taste
Lemon juice 1 tsp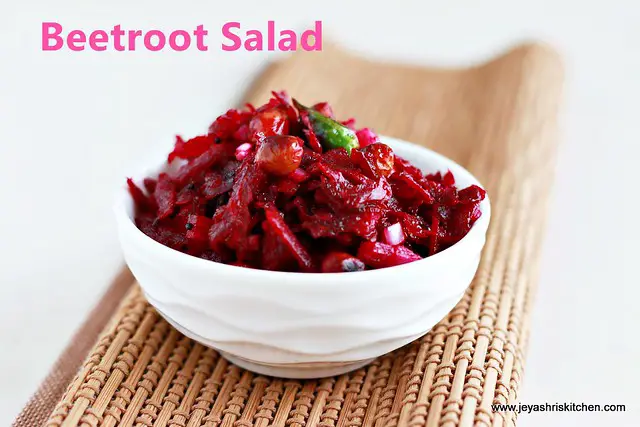 Method:
Peel the skin of the beetroot and nicely wash it. Grate this is a carrot grater. Also chop the onions finely.
In oil add mustard seeds, green chili and peanuts. Cook till the peanuts are done. Add this to the grated onions. Add salt and lemon juice
Mix well.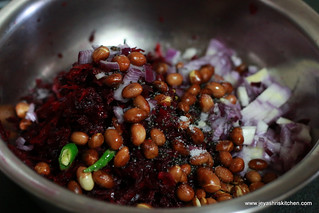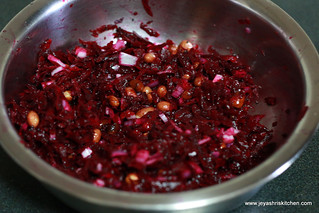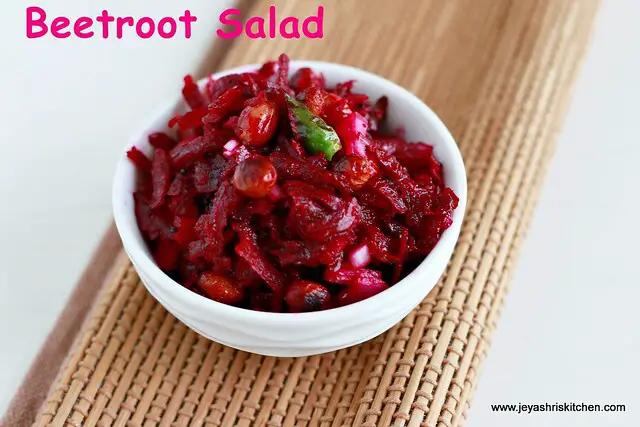 Notes:
Always add make this salad just before serving. You can grate the beetroot and keep in the refrigerator before hand
Adding peanuts just before serving will retain the crunchiness in the salad.