Mixed vegetable paratha , i generally make when i have few veggies and wanted to clean up the fridge. Though most of the parathas we have have the option of making it without onion and garlic, i always make this mixed vegetable paratha with onion only. But last week, i tried this mixed vegetable paratha, without adding onion and garlic and it turned out nice. As during this navaratri time , in many houses they won't consume onion and garlic i thought it will be the right time for posting this Mixed vegetable paratha.
INGREDEINTS: FOR STUFFING : MAKES 11- 12 APPROX.
You can add the quantity of veggies as per you choice and availability.
| | |
| --- | --- |
| POTATO | 1 |
| CAPSICUM (FINELY CHOPPED) | 2 TBLSP |
| CORN KERNELS | A HAND FUL |
| GREEN PEAS | A HAND FUL |
| CARROT(GRATED) | 1/4 CUP |
| PANEER | 5-6 SMALL CUBES |
| RED CHILLI POWDER | 1/2 TSP |
| CORIANDER POWDER | 1/4 TSP |
| CUMIN SEED POWDER | 1/4 TSP |
| GARAM MASALA | 1/4 TSP |
| SALT | AS NEEDED |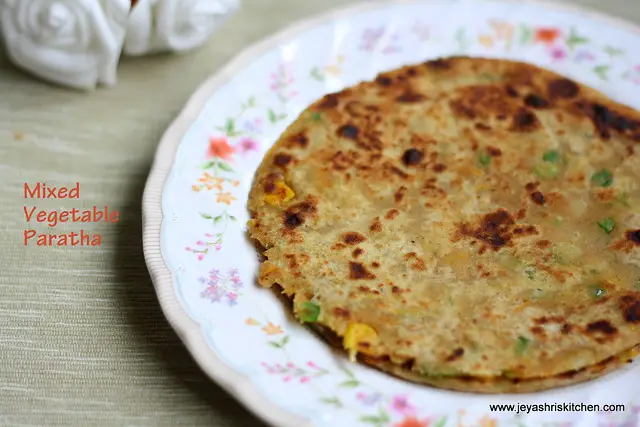 INGREDIENTS FOR DOUGH and OTHER INGREDIENTS
| | |
| --- | --- |
| WHOLE WHEAT FLOUR |ATTA | 1 AND 1/2 CUP |
| WATER | AS NEEDED |
| OIL | 1 TSP |
| ATTA | FOR DUSTING |
| OIL | FOR MAKING PARATHAS |
Cook the potatoes till soft and in a pan add water and boil the green peas, corn kernells(i used frozen), paneer cubes for 5 minutes.
Switch off the flame and drain the water and when it is cool, mash them nicely with the hands.
In a wide bowl,add the mashed veggies and paneer, potato, grated carrot, red chilli powder, garam masala, coriander powder, cumin seed powder and salt.
Mix them with your hands nicely. Make equal sized balls. Stuffing is ready for the paratha.
Knead the wheat flour into a pliable dough with enough water and smear it with a tsp of oil and keep it covered for 10 minutes.
Make them into equal sized balls.
To make parathas take a ball of the dough and roll them into a small disc by dusting enough atta .
Place the stuffing in the center and close it.
dust with flour and roll them into a medium sized thick paratha.
I always like parathas thick. If you want you can roll them thinly.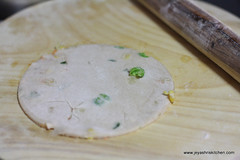 Heat a tawa and when hot, place the rolled parathas on it and cook on both sides till it becomes golden brown. Repeat this for the rest of the dough.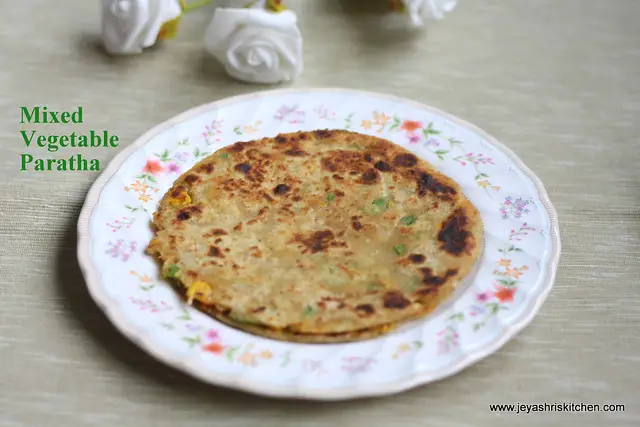 Note:
finely chopped cabbage and grated cauliflower can be added to this. If adding drain the water completely , which it oozes out.
Prepare the stuffing just before you make the parathas. else the salt in that will ooze out water.
If you feel the stuffing is watery by any chance, roast 2 tblsp of besan (kadalai maavu) in a pan and add it to the stuffing and mix well.
Finely chopped coriander leaves can be added.
Kasoori methi can also be added.