Aloo tikki burger
, an vegetarian burger is a recent introduction in Mc Donald's Singapore. As we don't have Indian restaurants in all the malls over here, whenever kids feel hungry when we go out we end up hitting MC Donald's and kids will eat French fries , cup corn… We had the veggie burger which they serve here , but we always order them without the veggie patties. Somehow we don't like the taste of the veggie patties too. Me and my husband will have some milkshake or ice cream as we don't prefer  to eat there. Varsha is a big fan of burgers and she herself makes at home with veggies and cheese for all of us too.
The day when Mc Donald's introduced Varsha  was behind me and pestering me to take her to McD and buy the
aloo tikki burger
and wanted me to post the recipe of Aloo tikki burger in blog too. Few days back, during her exam study holidays, a friend of mine happened  to go the nearby mall and asked me if i need anything from there. This aloo tikki burger flashed my mind and told her to buy that from Mcdonald's for Varsha. She was too surprised when my friend bought that for her and enjoyed every bite of the aloo tikki burger. I too had a deep look into it and figured out the ingredients in it and varsha told could figure out the ingredients in the aloo tikki. She has a fantastic taste buds than mine . so i recreated the same aloo tikki burger at home. It turned out awesome , but the only thing is i tried eggless mayonnaise at home which didn't turn out well. Though kids didn't complain much i am not at all satisfied with the taste of the mayonnaise. So i recommend to use either the
SOUR CREAM DIP
or
Thousand island dressing
i. If you are ok with store bought mayo or thousand island dressing go ahead using that one. Since we don't take eggs i didn't buy the store bought ones.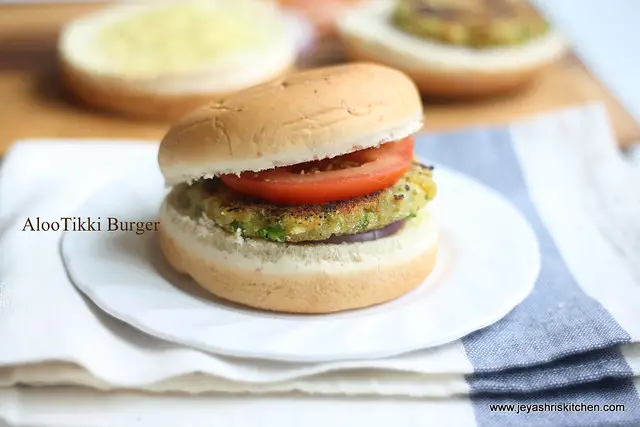 INGREDIENTS ( FOR ALOO TIKKI) Makes 3-4 patties
I have already given the recipe for aloo tikki in my ragda pattice post , but this one is slightly different.
| | |
| --- | --- |
| ALOO | POTATO | 1 BIG |
| GREEN PEAS* | 2 TBLSP |
| CAPSICUM (finely chopped) | 1 TBLSP |
| CORIANDER POWDER | 1/4 TSP |
| RED CHILLI POWDER | 1/4 TSP |
| CUMIN SEED POWDER | 1/4 TSP |
| SALT | AS NEEDED |
| GARAM MASALA | 2 PINCHES |
| BREAD CRUMBS | FEW TBLSP |
| OIL | AS NEEDED |
* I used frozen green peas.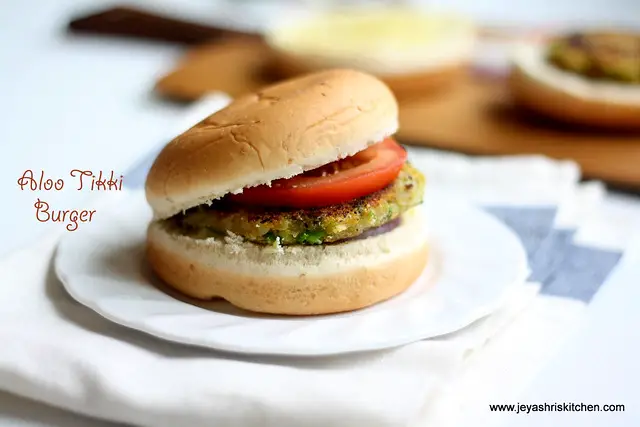 Method:
Boil the potatoes and peel the skin, Boil the green peas in hot water for 5 minutes and drain the water thoroughly.
Mash the potatoes and green peas with your hands nicely and add the finely chopped  capsicum, coriander powder, jeerapowder, salt, garam masala and  red chilli powder.
You can add finely chopped coriander leaves too. I don't have in hand so didn't add
I forgot to add red chilli powder!!
Mix them nicely to form a firm mixture.If you feel the mixture is not firm, add 1-2 tblsp of all purpose flour(maida)
Make this into medium big size patties and dust both sides on bread crumbs. My bread crumbs were slightly big so  i pulsed them once in a mixer to make it fine.
Heat a tawa and grease it will oil and when it becomes hot place the aloo tikki patties carefully and cook on both side till it becomes golden brown. alternatively you can deep fry the pattice too.
Drizzle oil on both sides while cooking.
Aloo tikki is ready. Repeat the same for the rest of the aloo mixture.
INGREDIENTS FOR BURGER
| | |
| --- | --- |
| BURGER BUNS | 3-4 |
| TOMATO | 3-4 SLICES |
| ONION | 3-4 SLICES |
| MAYONNAISE |THOUSAND ISLAND DRESSING|SOUR CREAM DIP | 1-2 TBLSP |
METHOD:
Slit the burger buns. don't cut it fully.
Spread the mayonnaise or any dressing you are using on the down part of the bun.
Place the sliced onions on it and place the aloo tikki on it.
Lastly place the tomato slice and close the buns tightly.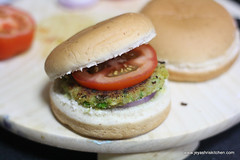 You can insert a tooth pick too
Serve with tomato ketchup .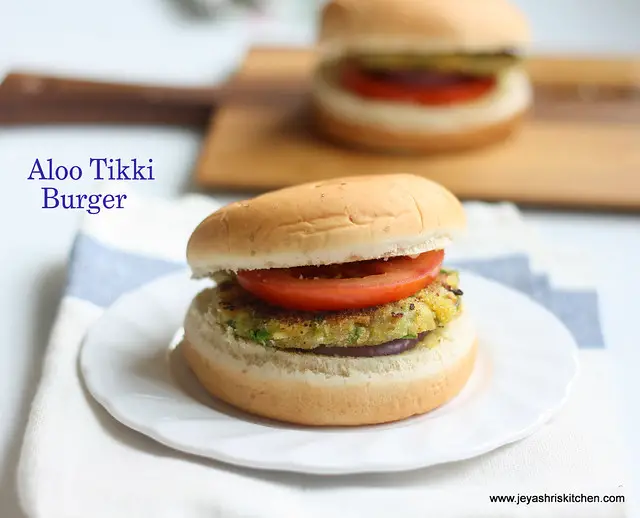 Note:
To give a better Indian touch, you can spread green chutney on the burger insteadof mayo and thousand island dressing.
If making for kids you can add cheese slices too.
Lettuce can also be kept inside the burger .