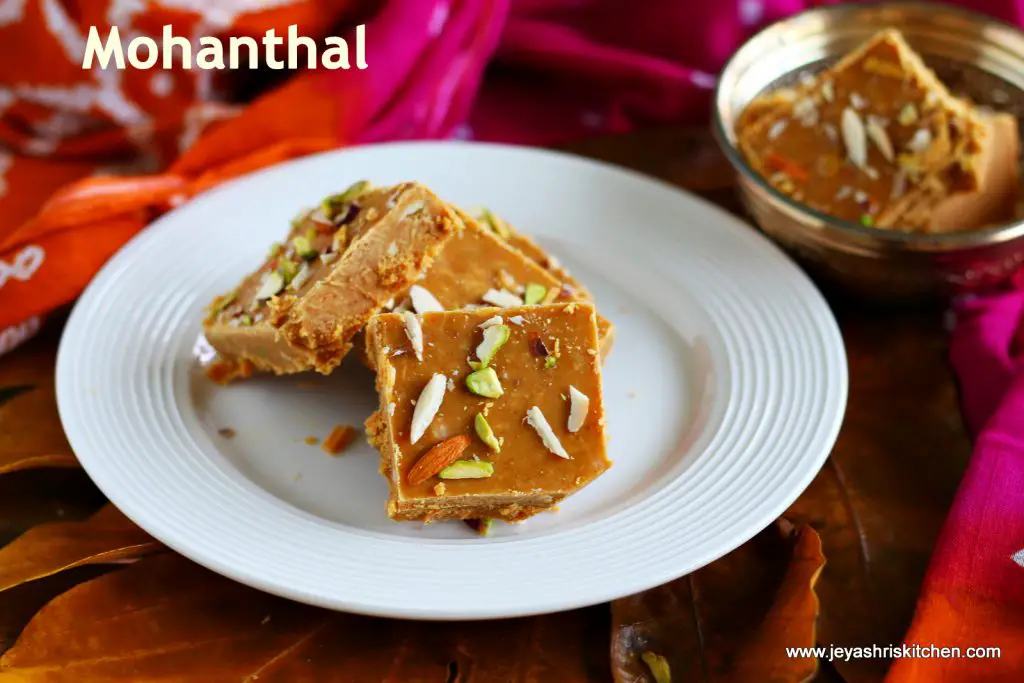 Mohanthal is a delicious and rich, melt in mouth, burfi type sweet recipe made with besan, khoya, sugar and ghee as the main ingredients. It is similar to the besan burfi or our south Indian Mysore pak. It is a Gujarathi sweet. I have tasted this very long back and also tried this at home 2 years back. This Mohanthal can be made with using condensed milk or khoya too. I have used khoya | mawa in this recipe. The Mohanthal turned out perfect, except the thing i took it out from the pan 5 minutes before it formed a correct consistency. Still i wanted to post this recipe as, it can be corrected easily by stirring it few more minutes extra. Many of you while making burfis will feel it is soft and didn't set well, do not worry it can be easily rectified . So i purposely made this post live, without making it for the second time. If it is not set well, it is not an end, you can still alter it. So go ahead and make this Mohanthal recipe for Diwali. I got to know the method of making mohanthal from my mami, but the exact measurements i have referred here and altered it for small proportions. Check out my full collection of Diwali recipes.

Mohanthal recipe
Preparation Time : 15 mins | Cooking Time : 45 Mins |Makes: 12 big pieces
Besan | Kadalaimaavu 1 cup
Khoya | Mawa 1/2 cup
Sugar 1 cup
Ghee 1/2 cup
Milk 1 tblsp
Almonds and pistachios few (for garnishing)
Cardamom powder a pinch (optional)
Mohanthal recipe video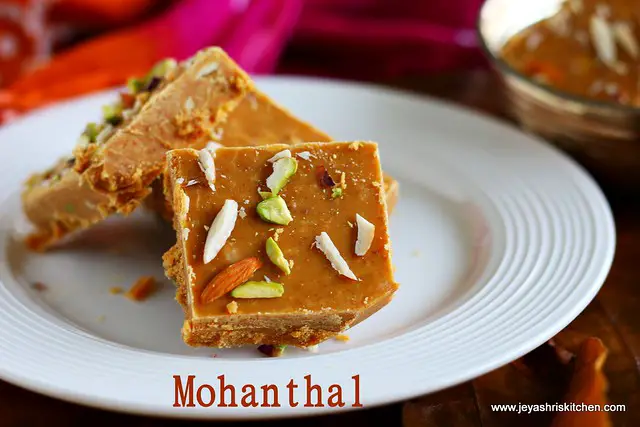 Method:
In a wide bowl add the besan | kadalaimaavu and add 1 tblsp of ghee and the milk.
Mix well with your hands to form a crumbly texture. It will be like a sand. Rub it nicely with your hands for 10 minutes.

If you have a big holed sieve, pass on the crumbled flour through the sieve, else pulse it once in the mixie. I pulsed in the mixie.
Heat the remaining ghee in a pan.

Add in the pulsed flour mixture to this.
Mix well and start cooking this in a low flame for 10 minutes.
Let the besan emits a nice aroma.

Add the crumbled khoya | mawa to this. I used store bought khoya. You can use home made khoya too. I have posted the recipe for the same .
Mix well and let the khoya gets completely dissolved into the besam mixture. Keep the flame and do not get it burnt. Stir continuously.
Cook this for 5 more minutes and keep it aside.
Add sugar in a pan and add 1/4 cup water.
Let the sugar gets dissolved. Till that do not stir it.
Once the sugar gets dissolved allow the mixture to boil. Do not over stir. Let this form 2 string consistency. Check out my detailed post on string consistency. When you touch the syrup with your index finger and rub it with thumb and pull apart you should see 2 thread formed. This is the right consistency.

Once this is formed add the syrup to the besan khoya mixture.

Cook this for 7-10 minutes in a low flame till the mixture starts leaving the sides of the pan and comes to a thick dropping consistency. Add cardamom powde,r if using and mix well.

Be careful not to over cook it and make it to a crumbly texture. If it is overcooked it will be hard and gets a crumbly texture instead of a smooth texture.
Grease a plate with ghee and pour the mixture onto the plate.
Garnish with thinly sliced almonds and pistachios.
Let this cool for 20 -25 minutes.
By this time the burfi will be set nicely. If you feel it is still fudgy, that means it still needs to be cooked. Bring it again to the pan and cook for another 3-5 minutes and pour it on the plate.
Mine was slightly fudgy and didn't set properly so i cooked it again and poured it on to the plate. You could see the difference in colour too. Also the weather was very dull and was about to rain, so didn't get good lighting.

Cool this again and cut this into desired shapes when it is warm.

I cut them into big pieces for the pictures. If you wish you can make it small.
Mohanthal is ready. Store this in an air tight container and this will stay good for 2 weeks in room temperature.
Always use clean dry hands to take the Mohanthal.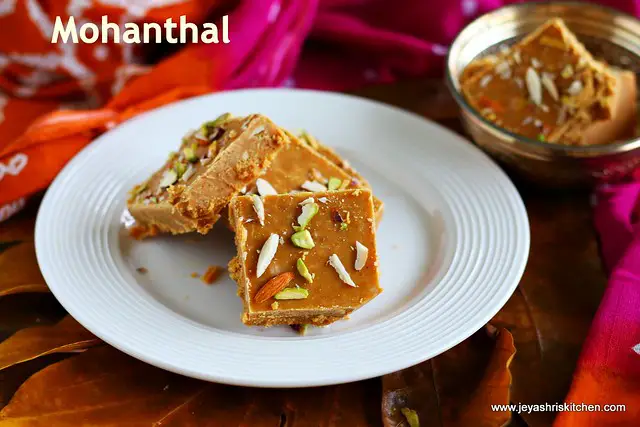 Notes:
Roasting the besan in a low flame gets rid of the raw smell of the flour. So do it in a low flame and patiently.
Adding khoya gives a nice taste to the mohanthal.
I have tried another version with condensed milk 2 years back. That also tasted good.
String consistency is more important. So be alert while making the sugar syrup.