Recipe with video of how to make mathri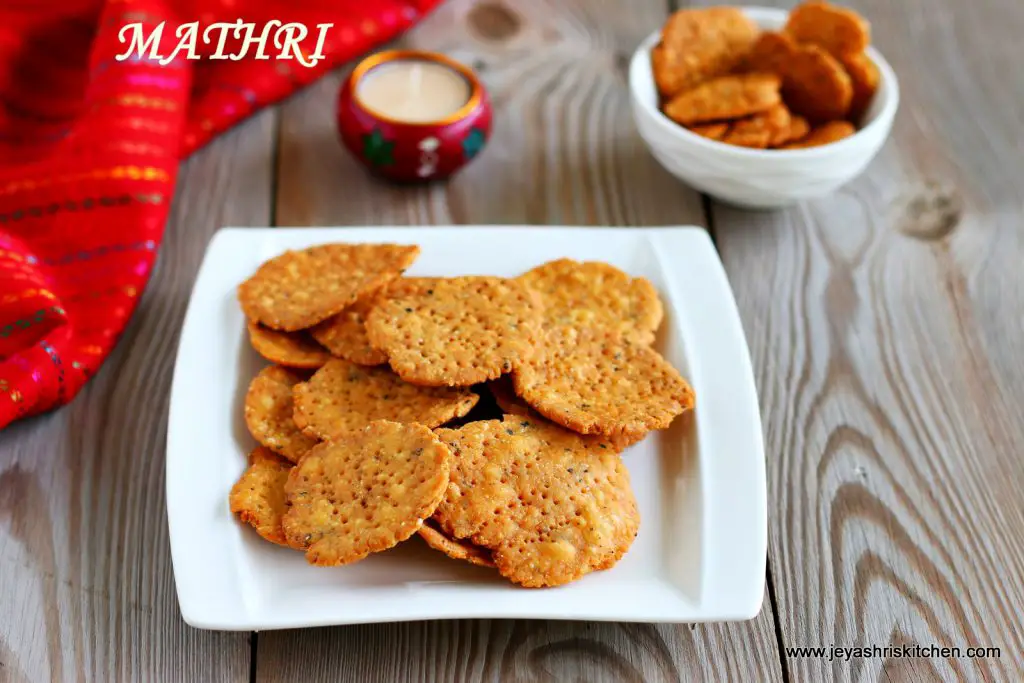 Mathri recipe is a popular north Indian snack, which is made during Diwali. It is similar to our south Indian thattai, but made with maida, ajwain as the basic ingredients. There are many variations to this recipe and i have shared the basic recipe of how to make mathri. I have once helped my friend in making these, which was some 5 years back. So i called her up and asked for the recipe. She shared the basic mathri recipe and shared me few tips on how to make it perfectly. Thanks Archana for the recipe. These mathris turned out very crispy and i am quite impressed by the taste. If you want to try something new and different one for this diwali, try this addictive mathri recipe. Check out the notes section to find out many variations. Check out my full collection of diwali recipes.

Mathri recipe
Preparation Time : 15 mins | Cooking Time : 25 Mins |Makes: 26 mathris approx.
Maida | all purpose flour 3/4 cup
Besan | kadalaimaavu 1/4 cup
Sooji | rava 1 tblsp
Oil 2 tblsp + for deep frying
Ajwain | omam 1 tsp
Black pepper 1 tsp
Salt as needed
Video of how to make Mathri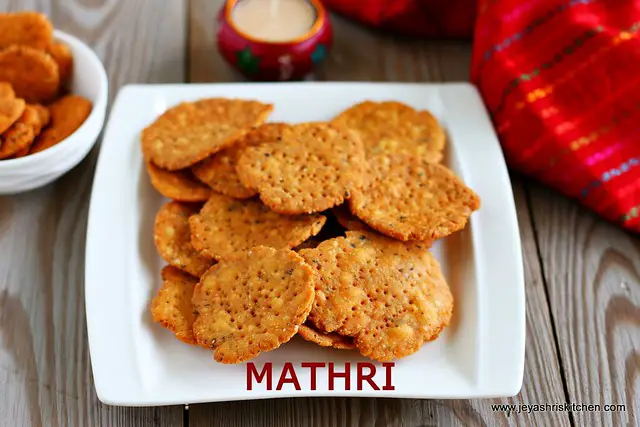 Method:
In a wide bowl sieve the maida and besan to get even mixing.
Add in the sooji, ajwain and salt. Using a mortar and pestle pulse the pepper finely and add it to the flour.
Add 2 tblsp of oil to this. Room temperature oil only. Alternatively you can add ghee too.

Crumble the flour mixture with you hands, mix it nicely.
Add little water to this mixture and make a tight dough. It should be slightly tight than the poori dough.
Cover it and keep it aside for 10 minutes.

After 10 minutes, knead the dough once and make small balls out of the dough. The size should be similar to our vella seedais.
Using a rolling pin or using your palms flatten it. Do not make it thin , it should be slightly thick.

Using a fork prick it on both sides to avoid fluffing up while frying.
Repeat this for all the remaining dough. Odd shapes are ok, no need for them to be in perfect round shape.

Spread the rolled mathris on a wide plate and let this dry till the oil heats up.
Once the oil is hot, bring down the flame to low.
Carefully put the rolled mathris in batches. Do not overcrowd.

Fry in a low flame and maintain the temperature by bringing the flame to medium, in between and bring it down to low again.
Be patient while frying and do not keep in high flame, else they get cooked on the top fast and inside will remain soft.
Flip on the other side and cook till they turns nice golden brown.
Take it out from the oil and drain in a kitchen towel.

Once it cools down store this in an airtight container.
This will stay crisp for many days if stored well.
Mathris are ready.
These mathris tasted like oman biscuits.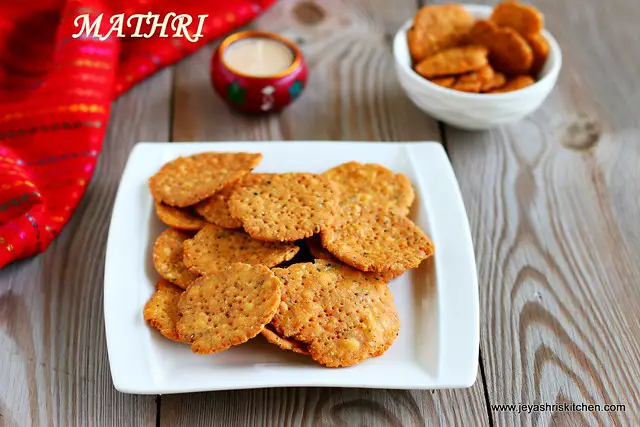 Notes:
Always keep the dough tight.
You can make variation in these mathris by adding 1/2 cup maida and 1/2 cup atta.
Instead of black pepper you can add red chili powder.
Also you can make it as masala mathris by adding coarsely pound coriander seeds, fennel seeds and kasoori methi.
Instead of oil you can add ghee in the dough.
Always fry in low heat and maintain the temperature always.
Mathris can be served as a tea time snack too.
You can bake these mathris too instead of deep frying, but since i haven't tried baking not sure about the temperature and time. You can give it a try.