Monthly grocery list planner| Indian Pantry essentials, i have been planning to share this for a long time. I have seen my mom who always meticulously plan everything. Not only the grocery but be it the veggies shopping, budget planning, wedding planning.. she does everything so well. And she maintains a record of everything for her own reference. I always order Monthly grocery for my family. Only vegetables i buy weekly once. But how much ever i plan i somehow miss few items and finally go to the shop for the missed items. Last time when i was talking to my mom i was telling her this and she told, keep a list of all grocery items and then check your pantry every month and place the order. The idea sounded brilliant and thought i will share with you all the list of Grocery items. Of course the quantity depends on the number of family members and the usage. This list contains the grocery list for a South Indian family, any things if i had missed out please mention in the comments section.
Also my Instagram friend Arch shared her list of Grocery in our common group few days back. I added few items to my list after seeing her list.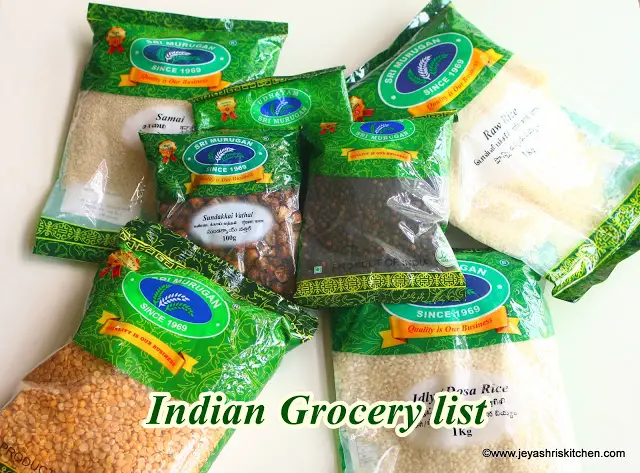 For my friends in Singapore, i order my Monthly grocery from Sri Murugan stores Singapore. Though they have the convenient option of ordering over phone, i still love to go to the shop and select my own grocery. I will make the bill and they will do the home delivery. We can order through Sri Murugan iOs app and android app too. All the items mentioned in the list are available in Sri Murugan stores.
I am not mentioning the quantity in this posts. Plan it to suit your family's preference. I will soon a make a downloadable pdf on this
Rice Varieties
Ponni par boiled rice (Sapaatu puzhangal arisi)Raw rice (pacharisi | sona masoori rice)Basmati rice Millet varieties ( samai, thinai, varagu, kuthiraivali, whole ragi)
Quinoa Idli dosai rice
Oil varietiesCooking oil (refined oil, cold pressed peanut oil)Sesame oilCoconut oilGheeOlive oil
Mustard oil
ButterLamp oil
Dhal and lentil varietiesToor dalMoong dalUrad dalChana dalSplit urad dalBlack urad dalRajma | red kidney beansKaramani (black and red)White and green peasGreen gram dal ( pachai payaru)Chick peas( vellai konda kadalai)Black chana ( karuppu konda kadalai)
Masoor dal
Chutney dal (pottukadalai)
Kollu (horse gram)
Peanuts (verkadalai)
Masala spice powder
Asafoetida (perungayam)
Red chilli powder
Sambar powder
Idli milgai powder
Turmeric powder
Garam masala | kitchen king masala
Pav bhaji masala
Chaat masala
Tea masala
Aamchoor powder
Biryani masala
Dahi vada raita masala
Cumin powder
Coriander powder
Kasoori methi
Fennel seed powder ( sombu podi)
Whole spices
Mustard seeds (kadugu)
Cumin seeds (jeeragam)
Coriander seeds ( dhaniya)
Fenugreek seeds (vendhayam)
Pepper (Milagu)
Sesame seeds (ellu, both white and black)
Dry Red chili (long and round ones)
Shah jeera ( karunjeeragam)
Fennel seeds (sombu)
Panchporan
Cardamom (elakkai)
Ajwain seeds (omam)
Cloves (krambu)
Cinnamom (pattai)
Bayleaf
Nutmeg (Jathikaai)
Star anise (annasipoo)
Stone flower ( kalpaasi)
Dry ginger (Sukku)
Kandanthippi, arisi thippili
SAffron
Flours
Whole wheat flour | atta
Besan | gram flour| kadalai maavu
Rice flour
Idiyappam flour
Corn flour
Maida
Ragi flour
Grains
Sooji | semolina (rava)
Poha | aval |rice flakes
Sago | javarisi
Semiya | vermicelli
Instant sevai
Pori | Murmura
Broken wheat rava (samba godhumai ravai)
Oats
Pasta
Noodles
Condiments
Tea powder
Coffee powder
Sugar
Raw sugar
Jaggery | vellam
Karupatti | palm jaggery
Honey
Black salt
Salt
Rock salt
Tomato ketchup
Ginger garlic paste
Vinegar
Soya sauce
PAsta sauce
Appalam | papad
Vadam
Vathal varieties
Tamarind
Baking essentials and nuts
Baking powder
Baking soda
Vanilla essence
Cocoa powder
Cashew nuts
Almonds
Dates
Raisins
If you feel anything important i have left out, please post in the comments section. I will update in the post.
P.S: I don't buy each and every item mentioned in the post in my grocery shopping. This post is basically for people who want to plan their grocery and not to miss out anything in their monthly shopping.