Mor kuzhambu and paruppu usili is a classic combo in Tamil Brahmin house. When i got married, most of the sundays will have Vazhaipoo paruppu usili and vatha kuzhambu. Though i love both the combo of vatha kuzhambu and mor kuzhambu for paruppu usili, most of the time i end making in Vatha kuzhambu only for paruppu usili.
The family loves both the combos and for them the veggie in the paruppu usili matters, especially the kids. We make usili with beans, cabbage, vazhaipoo, methi leaves and avarakkai. But some how it is difficult to make the kids vazhaipoo usili. So i always make kootu with vazhaipoo and they happily finish that.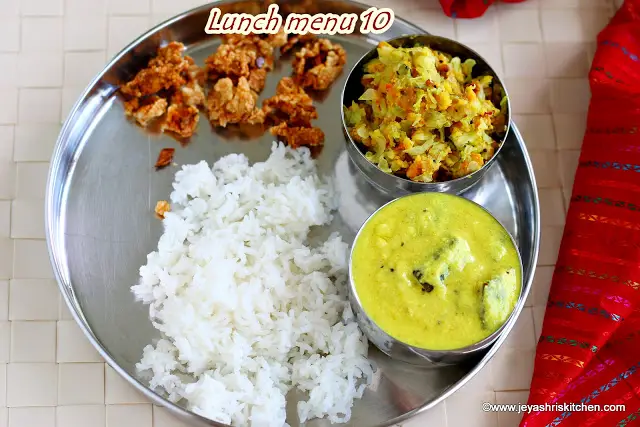 Coming to today's lunch menu, we have a simple platter but yet a very popular combo.
The onion vadam is home made by my mom. Her onion vadam is loved by all in the family and she always packs exclusively for my daughter, her only grand daughter(rest all are grand son) .  Stay tuned for the interesting recipes coming up in Jeyashri's kitchen in the coming week.