Mushroom pulao,i tried last week following the recipe which i learnt from my relative who made a vegetable pulao on my request. After our marriage we went to her house in Chennai for lunch and she made a delicious food and vegetable pulao with Chole was the main highlight. So when she came here last month, i remembered about that vegetable pulao and asked her to make that  for me. Later,I tried the same recipe using mushrooms.
Mushroom Pulao recipe
  Preparation Time : 5 mins | Cooking Time : 30 Mins |Serves: 3
     White button Mushrooms  12
     Basmati Rice  1 cup
     Cardamom  2
     Onion  1-2
     Mint leaves few
     Coriander leaves  few
     Green chili  2
     Sugar  a pinch
     Butter  1-2 tblsp
     Salt  to taste
     Lemon juice  few drops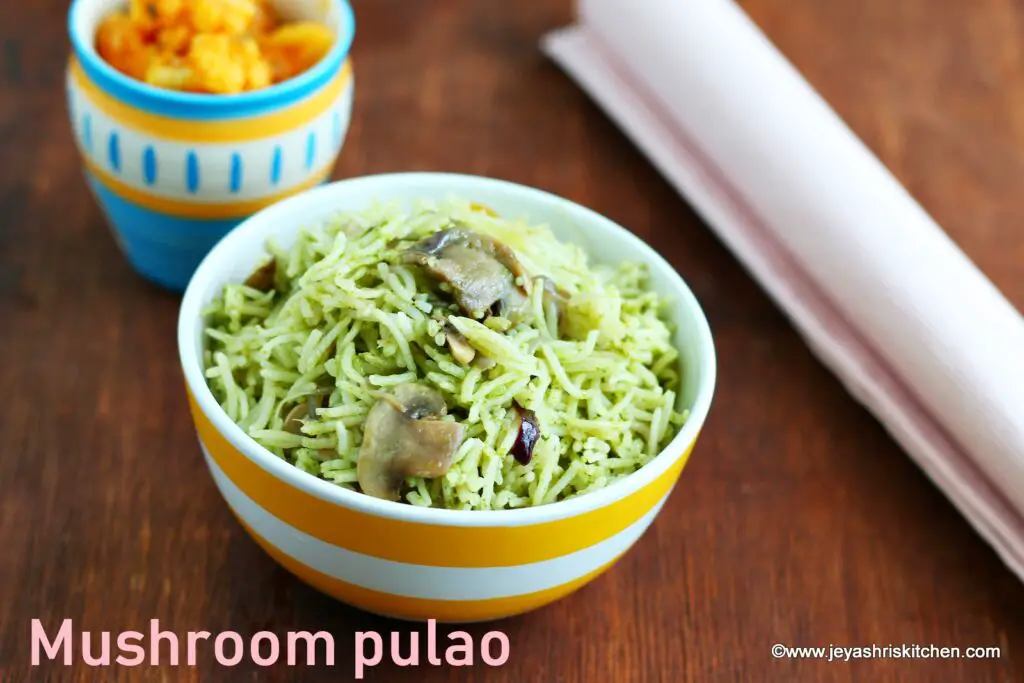 Method with step wise pictures:
Soak the basmathi rice in 1 and 1/2 cups of water for 5 minutes.
After 5 minutes drain the water (keep the water aside) and in a pressure cooker add butter and add the cardamom and add in the drained rice. Saute for few minutes till all the moisture in the rice leaves out.

Add the water.
Add salt and few drops of lemon juice ( lemon juice is added to retain the white color of the rice and it wont give any sour taste to the rice) .Cook the rice till 2 –3 whistles.
Thinly slice the mushrooms and onions after washing it nicely.
In a pan add little butter and add in the onions. Add little salt and saute them till they turn pink.
 Add the thinly sliced mushrooms. Mushrooms tend to cook fast and so saute for a while and mushroom oozes out water too.
Finley make a paste of coriander leaves , mint leaves and green chilli.
In the pan add little butter and add this paste and add a pinch of sugar. Sugar is added to retain the green colour.


Mix this gently and evenly.
Mushroom pulao is ready to serve. We had with Cauliflower masala.
This is a perfect recipe for kids lunch box.
Note:
You can make the same with vegetables.
Always ensure that the veggies should be crunchy. Do not over cook the veggies.
Mushroom pulao tastes great with paneer gravy too.