During childhood days biryani is a very rare thing and i hardly remember amma making biryani. She regularly makes
Tomato Rice
for Lunch box . Tomato biryani our neighbour aunty makes so well and those days we don't get Mint leaves , so whenever we demand aunty to make , aunty will call up uncle and tell him to buy mint leaves from a particular market in the city and the next day she makes yummy Tomato biryani which we will feast with simple raita. After i got married , when we both visited my mom's place aunty made the Tomato biryani for both of us and we both enjoyed it.So i am sharing the recipe of Tomato Biryani – Jamuna aunty's version.
Tomato Biryani recipe
Preparation Time : 15 mins | Cooking Time : 25 Mins |Serves: 3-4
Seeraga samba recipe 1 and 1/4 cup
Water 1 cup
Coconut milk 3/4 cup
Tomato 2
Onion 1
Red chili powder 3/4 tsp
Biryani Masala 1 tsp
Salt as needed
Turmeric powder 1/4 tsp
Ginger a small piece
Garlic 4 cloves
Small onion 8-9
Fennel seeds 1 tsp
Mint leaves few
Oil + Ghee 1 tblsp each
Green peas 1/4 cup
*Generally jeera samba rice is used to make tomato biryani, if u want u can use basmati rice too.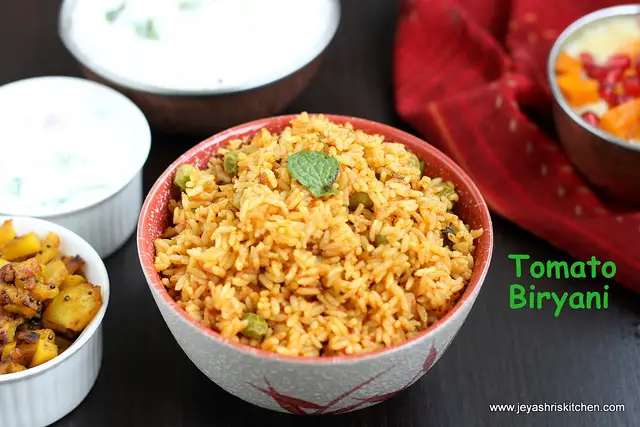 Method with step wise pictures:
Wash and soak the rice for 15 minutes in 1 cup of water.
Puree 2 tomatoes in mixer and keep aside.

Grind the shallots(small onion),garlic,ginger and fennel seeds into a fine paste using little water.

Chop the onion and mint leaves finely.
In a pressure cooker, heat oil and ghee. Add the sliced onions and mint leaves.

When onions turn brown, add the grind paste to this and saute in a low flame till the raw smell goes off.

Add the tomato puree.
Add chilli powder, turmeric powder and salt. Saute for few minutes in a medium low flame till the raw smell goes off and the oil oozes out on sides.

Add the green peas. If u don't get get green peas you can skip it else u can add Butter beans too.
Add the biryani masala. I used store bought biryani masala. You can add garam masala too.

Add the rice now. Saute for a minute and add the soaked water too.
Mix well.


Close the lid of the cooker and keep the flame to medium.
When it gives one whistle, keep the flame low and let this be like this for 10 minutes.
Switch off the flame after 10 minutes.
Fluff it with a fork once the pressure is released. Serve hot with any raita.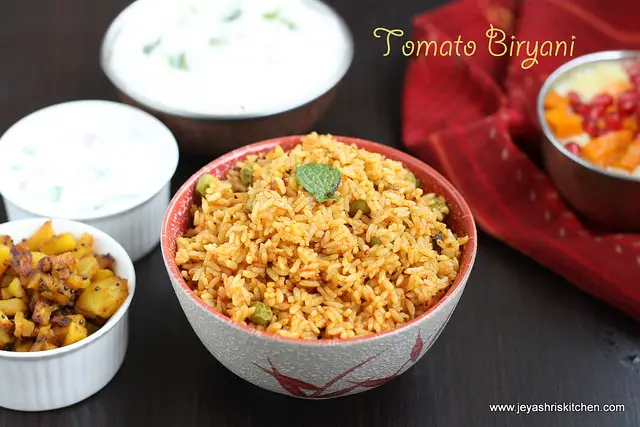 Note:
If using basmati rice, reduce the water to 1/2 cup.
Do not skip mint leaves and coconut milk.
While grinding the masala you can saute the shallots in oil and grind, which will enhance the taste.
You can add a tsp of cashew nuts while grinding.
Bay leaves can be added while adding onions.