If you are looking for an easy biryani recipe which can  be made in a jiffy and can be made for lunch box too, then i can say this is the best tasty biryani which can be quickly done in pressure cooker . Generally biryani means Dum biryani , which is an elaborate procedure but i know it is worth trying out Dum biryani too. But this pressure cooker biryani do taste equally well. I make this once a week as it is an easy one pot meal . Some times even for a weeknight dinner also i make this vegetable biryani . So try out this easy Vegetable Biryani – made in pressure cooker.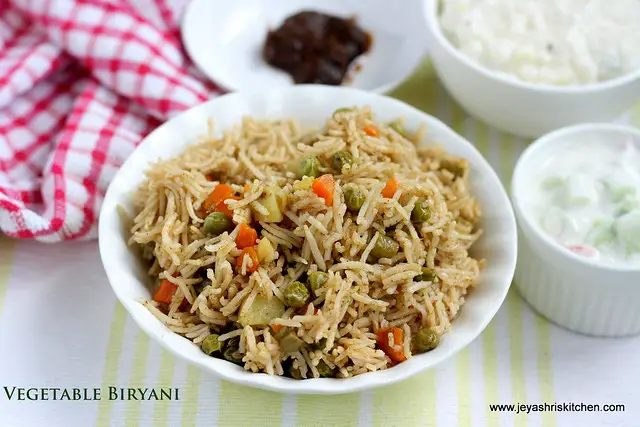 Vegetable Biryani with video
  Preparation Time : 15 mins | Cooking Time : 20 Mins |Serves: 2-3
    Basmati Rice  1 cup
    Mixed veggies*  1 and 1/2 cup
    Water  1 and 1/4 cup
    Red chili powder  3/4 tsp
    Ginger  a small piece
    Garlic  3-4 pods
    Mint leaves   a handful 
    Sombu | fennel  1/4 tsp
    Bay leaf | cardamom 1
    Onion  1
    Tomato  1/2
     Oil   2 tblsp
     Ghee  1/2 tsp
     Salt  as needed
*I used carrot, beans, green  peas and potato. You can add cauliflower, frozen corn, broccoli,butter beans and capsicum too.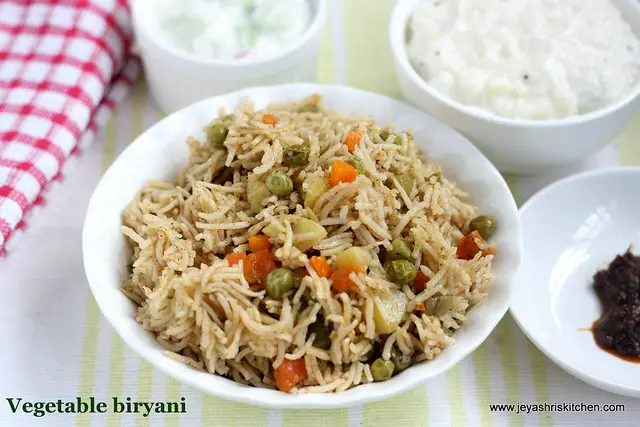 Method:
Wash the rice and soak it for 20 minutes in 1 and 1/4 cup of water.
Mean time chop the veggies and slice the onions and tomatoes.
Grind the mint leaves, fennel , ginger, and garlic into a very fine paste.( use little water from the soaked water in the rice for grinding. Do not add extra water.)
In a pressure cooker add oil and ghee and add in the cardamom pods and add the sliced onions.
When it turns translucent add in the tomatoes. Saute for a few minutes .
Add the ground mint paste and saute for few minutes in a low flame . Let the raw smell of the garlic disappear.
Add the chopped veggies and mix well so that the masala will get coated to the veggies nicely.
Add in the red chilli powder, turmeric powder, and salt. You can use sambar powder too instead of red chilli powder.
Mix well. Keep the soaked water aside and add the rice only and saute for 2 minutes.
Now add in the water and keep the cooker closed. Let this cook till one whistle and after that keep it in a very low flame for 5 to 7  minutes. Biryani will be ready.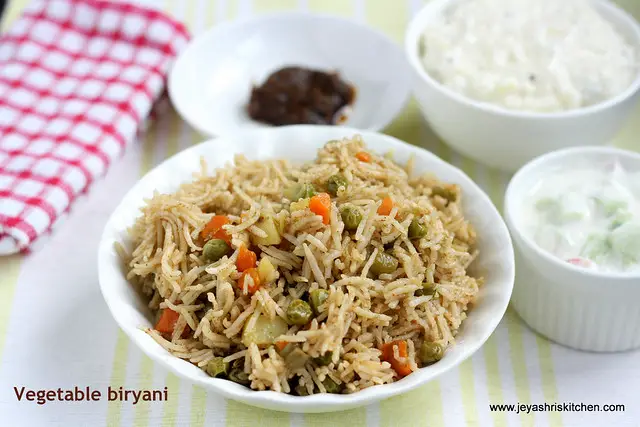 Note:
You can replace red chilli powder with sambar powder.
My mom grinds 2-3 green chillies along with the mint leaves and don't add red chilli powder or sambar powder.
You can skip adding turmeric powder too.
My mom grind few coriander leaves too.
Bay leaves can be added while adding cardamom.