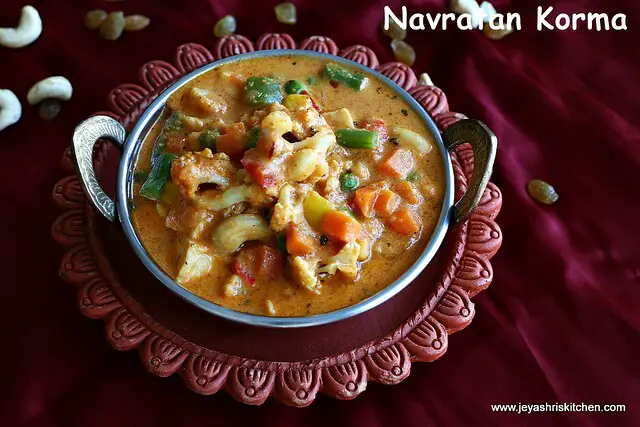 Navratan korma | Navratna kurma is a rich Mughlai gravy. It is slightly sweetish in nature and so generally we never order when we go out for eating in restaurants. i have few requests for this Navratan korma and i remember watching this recipe in a video too. Though i forgot the source, i noted down(scribbled) the recipe roughly in my notebook and made this finally last week. It was very tasty . The original recipes includes the addition of pineapple, but i skipped adding it. so the navratan korma was not so sweet as i expected. Try out this easy korma recipe .

Ingredients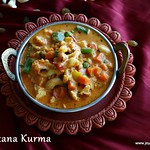 Preparation Time
: 20
mins
|
Cooking Time
: 30 mins |
Serves
:
4-5
Mixed veggies* 1 and 1/2 cups
Cashew nuts 15
Raisins 7-8
Tomato 1-2
Onion 2
Garlic 3 cloves
Paneer cubes 7-8
Coriander powder 1/4 tsp
Red chili powder 1/2 tsp
Garam masala 1/4 tsp
Fresh cream 3 tblsp ( You can replace with 1/2 cup of fresh full cream milk)
Saffron 2 pinches
Pineapple cubes 1 tblsp ( optional)
Kasoori Methi 2 pinches
Oil 2 tblsp
*I used carrot, beans, corn, green peas, cauliflower, bell pepper(capsicum)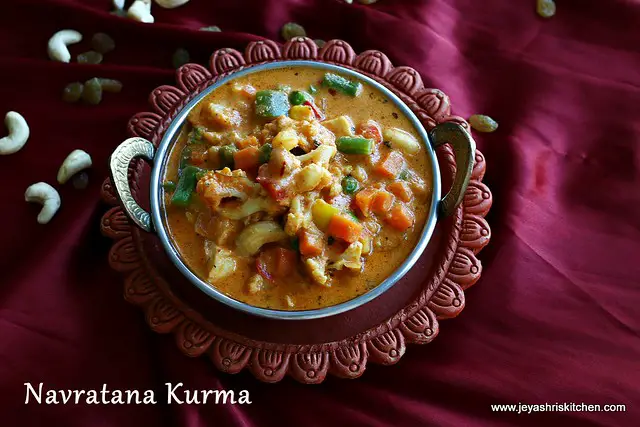 Method:
Chop the veggies and par boil them in little water. Let it be crunchy. You can even microwave them for few minutes too. Do not cook the capsicum. If adding fresh pine apples add along with the veggies and cook them. If adding canned ones add in the last.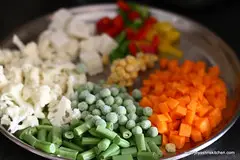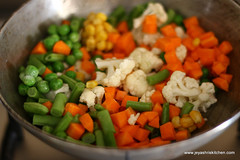 In a pan add little oil and add the onions (cubed onions) and 8-9 cashews.
Saute till they become golden brown. Once it is cool, grind this along with tomatoes into a smooth paste. I added 1 tomato and added little tomato puree too, as i had little of both.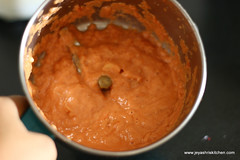 Add remaining oil in a pan . Add in the remaining cashew nuts and raisins. Saute them in a medium flame. When they turn golden brown add the cut capsicum and Paneer. Saute in a medium flame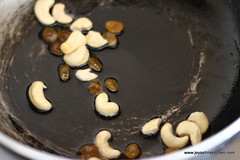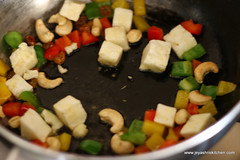 Add the parboiled veggies to this and saute for 3-4 minutes.
Add the ground paste to this and add the red chilly powder, garam masala and coriander powder.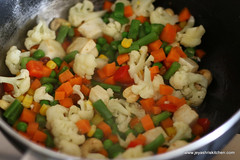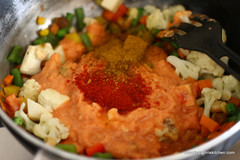 Mix well and let this boil for some time say 5 minutes.
Add little water if the gravy is too thick. Since we are adding cashew nuts the gravy will turn thick.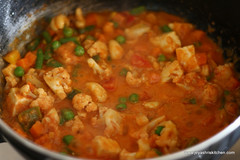 If you are milk then do not add more water as milk will give gravy consistency. If adding fresh cream add little more water. Do not worry cream will give a nice texture to the gravy. Add saffron and kasoori methi in the last and mix well. boil for a minute, and switch off the flame.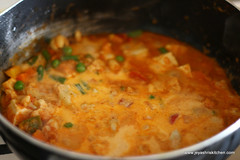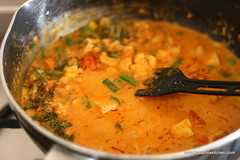 Navratan korma is ready to serve.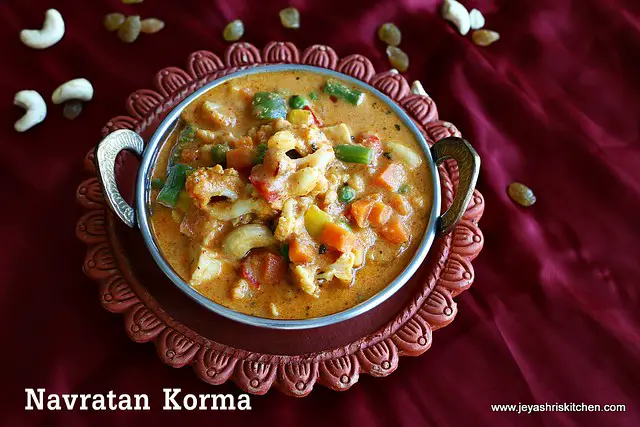 Note:
I didn't add pineapple as i don't like the gravy too sweetish.
You can reduse the amount of cashews, but authentic navratan korma will be rich.
Kasoori methi is a must, so do not skip. Saffron enhances the flavour so do not miss that too.