Baby corn manchurian is a popular indo chinese dish, which can be made as a dry version and also as a gravy too. I have tried Vegetable manchurian , but never tried manchurian gravy with baby corn. Last week, i called my friend's daughter to join for dinner with my kids. I asked her anything she likes so much so that i can make for her. She instantly said fried rice and baby corn manchurian. I tried and it came out pretty well and all the kids enjoyed and we too loved it.
Ingredients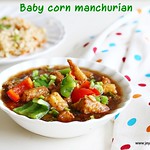 Preparation Time
:15 
mins
|
Cooking Time
: 30 |
  Serves
: 2-3
FOR BATTER
   All purpose flour (Maida)  3 tblsp
   Corn flour       2 tblsp
   Red chilli powder    1/4 tsp
   Salt       To taste
   Water     to make batter 
 OTHER INGREDIENTS
   Baby Corn   15
   Garlic   5-6 pods
   Ginger   A small piece
   Green chilly    1
   Spring onion whites   2-3 tblsp
   Oil         for deep frying + 1 tblsp
   Soya Sauce  2 tsp
   Corn flour  1 tbsp
   Water 1 and 1/4 cup
    Bell pepper | Capsicum(cubed)  – 6-7 cubes ( i used red and green)
    Salt   to taste
    Spring onion greens   1 – 2 tblsp(chopped)
    Pepper Powder    1/2 tsp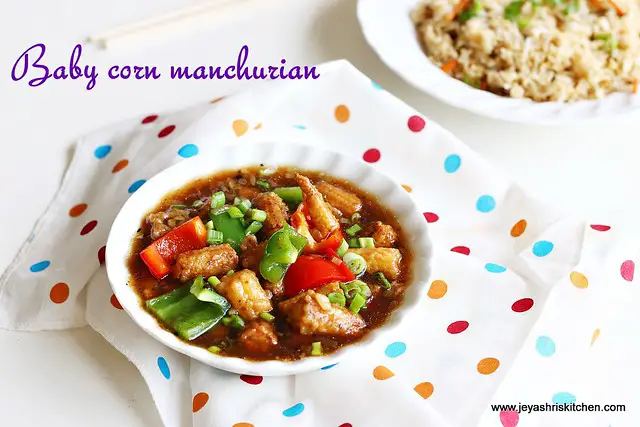 Method:
Wash the baby corn and cut them into medium size pieces.
In a pan add water and add little salt. Put the baby corn into this and cook for 5 to 7 minutes, till the become little tender.
This process makes the baby corn to absorb the manchurian gravy and makes the dish juicy.
Take this out from water and drain the water. Pat dry this.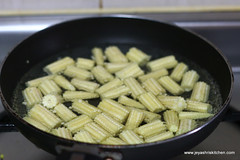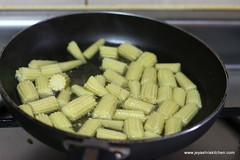 Make the batter with the ingredients given under the heading"for the batter".
I made a batter which is bit thin.  As i like  it in that way , i made it. If you want a bit thicker one and want the nice coating of batter on the baby corn, adjust the water accordingly.
Dip the baby corns in the batter.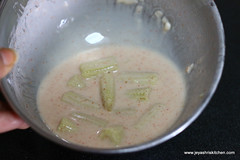 Heat oil for deep frying. Put the dipped baby corn in oil one by one. Do not put too much at a time.
Deep fry them till golden brown. Drain the excess water in a kitchen tissue.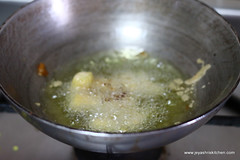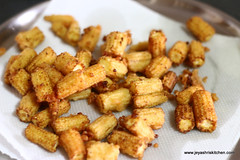 Now let's move on to make the gravy. finely chop the ginger, garlic and slit the green chilly.
In a pan add oil and add the chopped ginger, garlic,spring onion whites and green chilly.
saute for few minutes.
Once done, add in the water and soya sauce.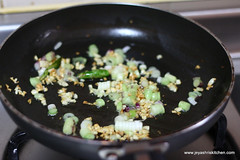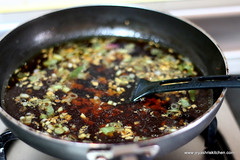 Mix the cornflour in little water to a thin paste(without any lumps) and add to the water.
the gravy will start thickening. Keep the flame low.
Add the black pepper powder.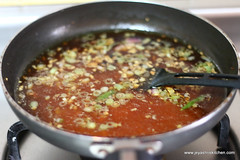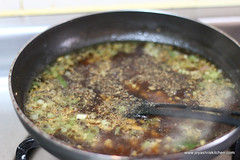 Add in the deep fried baby corn and mix well. Add the cubed bell pepper too and cook for 2 minutes.
Garnish with spring onion greens before serving.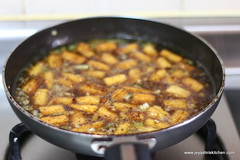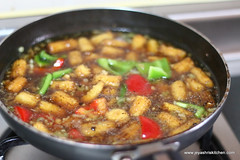 Serve hot with fried rice or hakka noodles.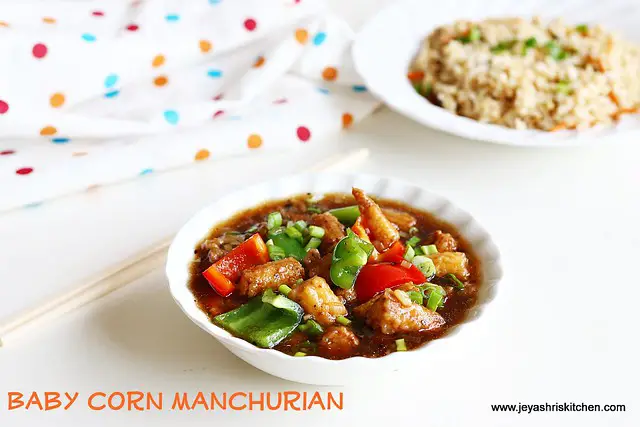 Notes:
You can add 1 tsp of tomato sauce to the gravy , if you want. Add at the time of adding soyasauce.
I used dark soya sauce and so i got this colour. I never realised that dark soya sauce will give nice colour to the manchurian.
If serving later , make the gravy and fry the baby corns and keep separately. Add it to the gravy half an hour before serving. Even the capsicums too.
If you don't like the bell pepper raw, you can separately saute this for few minutes in little oil and add to the gravy.