Onion rasam is a simple south Indian rasam recipe. I have tried this for the first time, and loved the taste of the rasam. It tasted similar to vengaya vatha kuzhambu, i can say it is a thinner version of vengaya vathakuzhambu. If you love the flavour of small onions then you will surely love this onion rasam. Check out my
garlic rasam
too.
Onion rasam recipe
  Preparation Time : 15 mins | Cooking Time : 25 Mins |Serves: 4-5
     Small onions | shallots| chinna vengayam 15-20
     Tomato  2
     Tamarind  a small gooseberry sized
     Rasam powder  1 tsp
     Black pepper  1tsp
    Jeeragam | cumin seeds 1 tsp
    Turmeric powder  1/4 tsp
     Toor dal   2 tblsp (cooked)
    Salt as needed
    Curry leaves   few
    Coriander leaves  few
    Ghee   1 tsp
    Mustard seeds   1/4 tsp
    Asafoetida  2 pinches
     
     
Method:
Grind the tomatoes and filter it. Filtering is optional. I want the rasam to be more thin and not cloudy.

Grind the black pepper, cumin seeds, coriander and curry leaves in a mixie in a coarse mixture.

Add hot water to the tamarind and extract thin tamarind juice.
In a pan add 1 tsp oil and add the onions.
Saute it till becomes soft. Do not burn it.

Add the tomato juice, tamarind juice, turmeric powder, rasam powder,asafoetida and salt.

Add the coarsely ground pepper mixture. Mix well. Let this boil for 7-8 minutes.

Add 1 cup of water to the cooked toor dal and add it to the boiling mixture.
Let this froths up.
Switch off the flame and temper with mustard seeds and curry leaves.

Garnish with coriander leaves.
Onion Rasam is ready to serve with hot rice.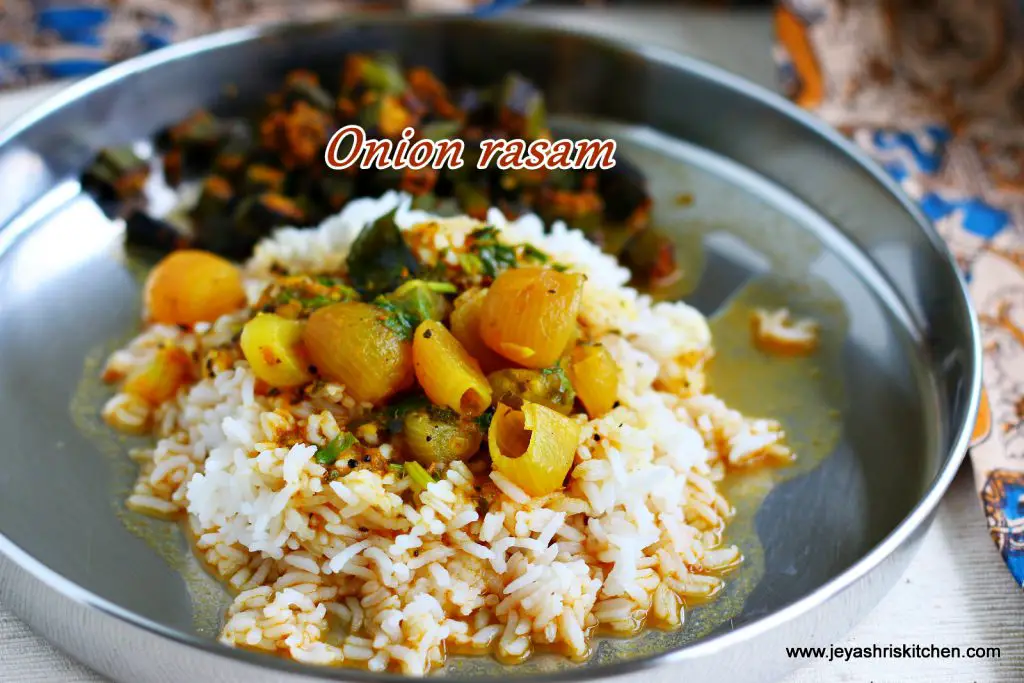 Notes:
You can chop few tomatoes and add it to the rasam if you want bits of tomatoes.
You can pound few garlic pods and add it to the rasam.
If you want you can use big onions also for this onion rasam.