Poondu rasam with coconut milk
Garlic rasam with coconut milk, an aromatic south Indian rasam recipe, even can be had as a soup. Few weeks back we have my cousins here and we roamed around the city crazily and had loads of fun with them. As we all are foodies, while talking about rasam, my cousin shared with me this recipe of garlic rasam with coconut milk, which she learnt from her mil. Though i make garlic rasam regularly and also posted the recipe long back, this version sounds so different and interesting. I tried the garlic rasam yesterday and it turned out very well. The rasam accompanied by hot rice and potato curry was totally out of the world. Try this rasam for this cool weather and let me know how it turned out.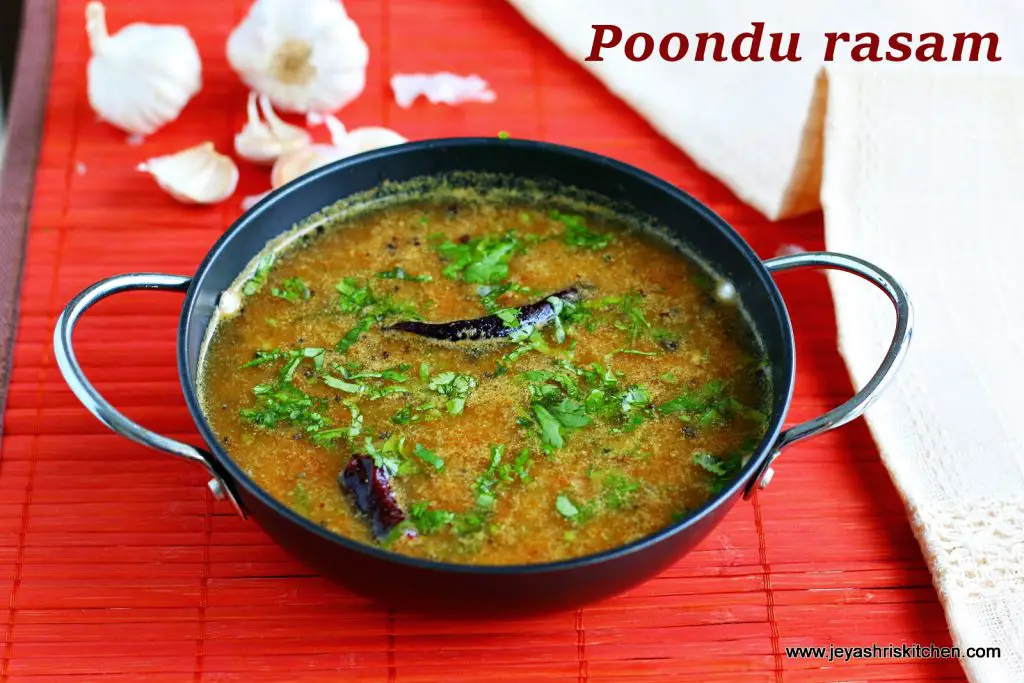 This is a scheduled post and i will reply to your mails and messages soon. Thanks for your kind understanding.
Garlic rasam recipe
Preparation Time : 15 mins | Cooking Time : 25 Mins |Serves: 3-4
Garlic 20 pods (small garlic)
Turmeric powder 1/4 tsp
Salt as needed
Tomato 1/2
Green chili 1
Tamarind a small gooseberry size
Curry leaves few
Coriander leaves few
Toor dal (cooked) 1 tblsp
Mustard seeds 1/4 tsp
Red chili 1
Oil 1 tsp
Coconut 2 tblsp
To grind
Coriander seeds | dhaniya 1 tsp
Black pepper | milagu 1 tsp
Cumin seeds | jeera 1 tsp
Tomato 1/2
Garlic pods 4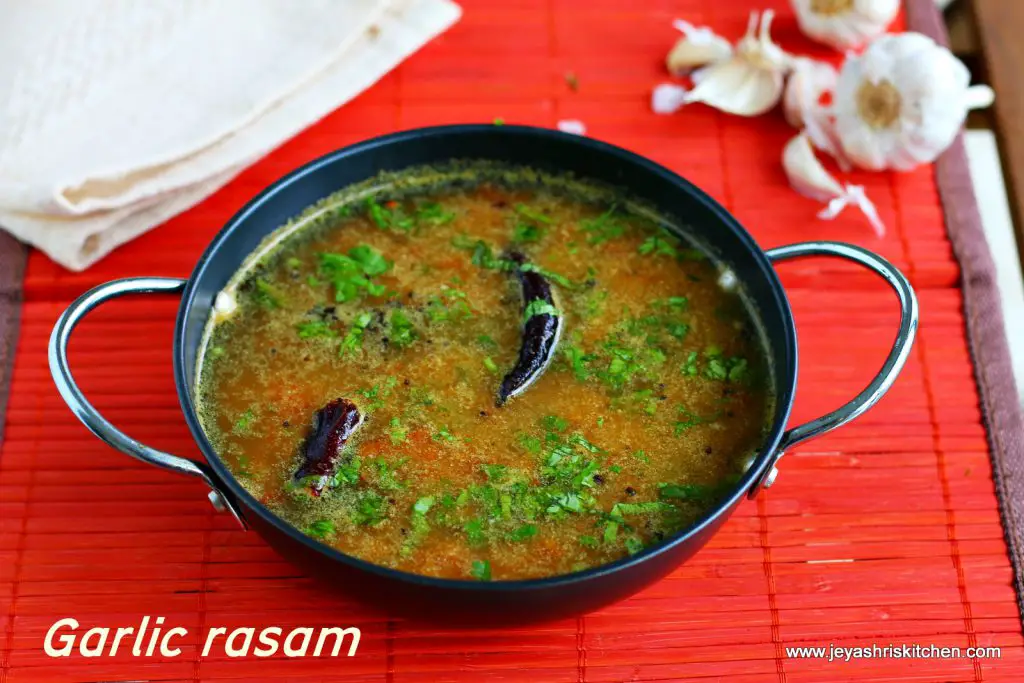 Method:
Soak the tamarind in warm water and extract thin water using 1 cup of water.
Take out the skin of the garlic pods.
Cook the garlic along with little water, salt and turmeric powder.
Let this boil for 3-4 minutes till the garlic gets cooked, let this be crunchy not mashed.
Soak coriander seeds, black pepper, cumin seeds, 1/2 tomato and 4 garlic pods in little water for 10 minutes.
Grind this into a paste in a mixie.

Add this ground paste to the pan.

Slit the green chili, add this to the tamarind extract. Mash 1/2 tomato nicely with hands and add it to the tamarind mixture.
Add curry leaves and salt.

Transfer this to the pan. Allow this to boil.
Let this boil for 5 to 7 minutes till the raw smell goes off.
Add 1 cup water to the cooked toor dal and add chopped coriander leaves.

Add this to the pan and cook till it froths up. Do not allow this to boil.
Grind 2 tblsp of fresh coconut with 1/4 cup of warm water.

Squeeze the extract on the rasam and switch off the flame.

Temper mustard seeds and red chili in oil. Transfer it to the rasam

Cover it immediately.
Serve after 5 minutes.

Do not compromise on the garlic, it gives a nice flavour to the rasam.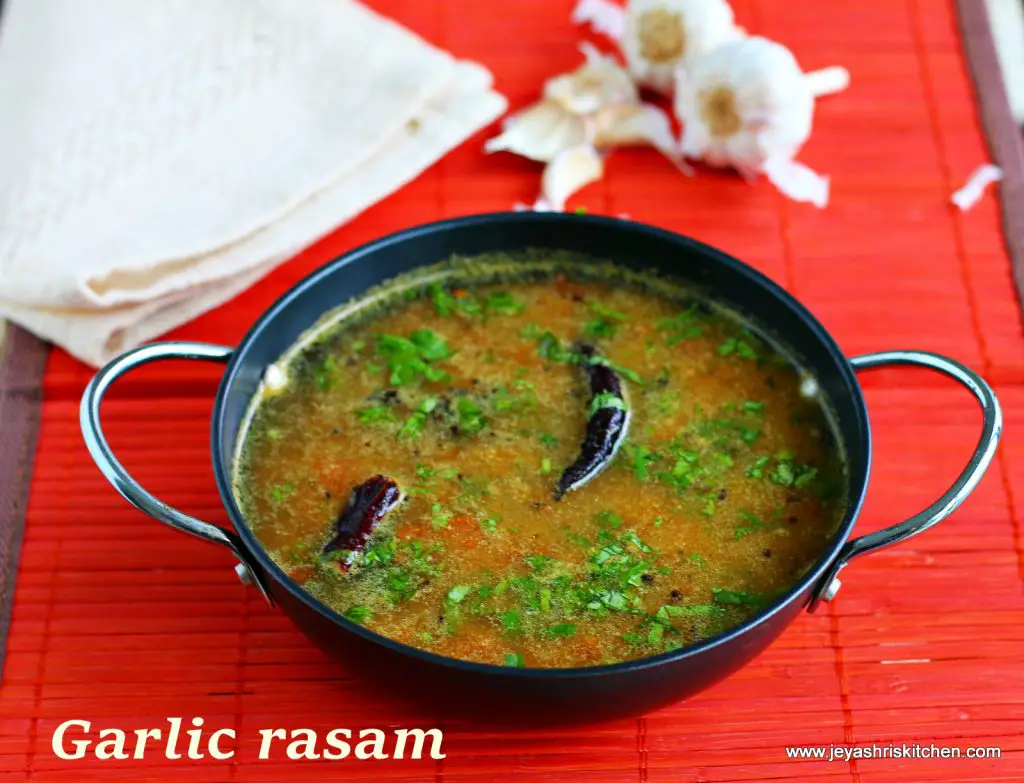 This rasam does not have any strong smell of garlic. It has a good aroma of garlic in spite of the more quantity of garlic is added.
Also the flavour of coconut milk is very subtle, so no need to worry that it will be be sweet.
You can reduce the black pepper and add 1/2 tsp of rasam powder too.
Serve the garlic rasam with hot rice with any dry curry as an accompaniment.