Lasooni dal tadka | lasuni dal is a simple dal recipe made with the addition of lot of garlic. I have given this recipe for Aval vikatan supplement 3 years back. While i was going through those books, i thought i will post this easy dal recipe. This can be had as an accompaniment with plain rice or with chapathi or paratha. Adding lot of garlic gives a nice flavour to the dal and also enhances the taste.
Check out my other dal recipes
Lasooni dal tadka recipe
  Preparation Time : 15 mins | Cooking Time : 25 Mins |Serves: 4-5
     Yellow moong dal 1/2 cup
     Garlic 10 cloves
     Tomato  1
     Onion  1
     Green chili  1
    Asafoetida | hing 2 pinches
     Red chili powder 1 tsp (optional)
    Salt  as needed
    Turmeric powder  1/2 tsp
    Oil  1 tblsp
    Ghee  1 tblsp
    Coriander leaves  few
    Cumin seeds   1 tsp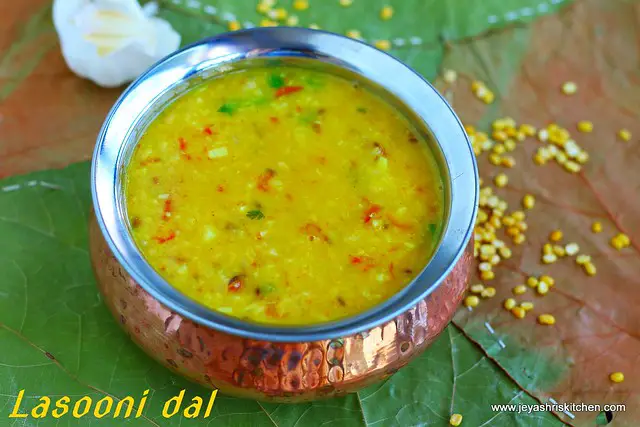 Method:
Chop the tomatoes and cook this along with moong dal. Add water and 1/4 tsp of turmeric powder and pressure cook till 4-5 whistles.

Chop the garlic, onion and green chili finely.
In a pan add oil and ghee and add the finely chopped garlic and green chili. Add asafoetida.
Saute till the garlic turns slightly golden brown. Saute in low flame. Take care not to burn this.
You can add grated ginger to this, i was running out of ginger so i didn't add.

Add the chopped onions. Saute till it becomes translucent.

Add the cooked dal and add red chili powder, 1/4 tsp turmeric powder and salt.

Add 1 – 1 and 1/2 cup water to bring it to the right consistency. Mix it well. Boil it nicely and add chopped coriander leaves.

Switch off the flame.  Lasooni dal tadka is ready.
Serve this with rice or chapathi.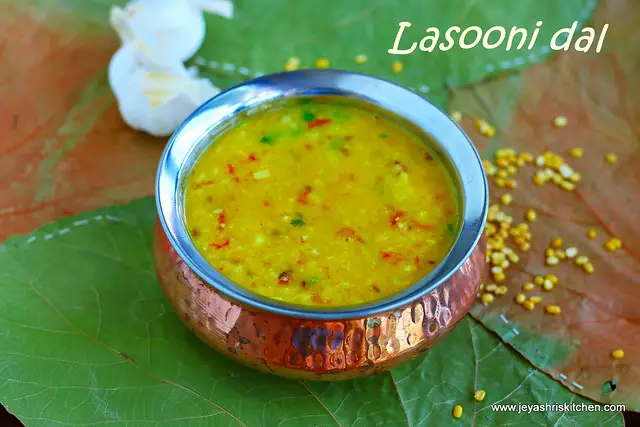 Notes:
You can add Toor dal instead moong dal or mix of toor and moong dal too.
Kasoori methi can be added in the last to enhance the taste.