Vengaya thokku|Onion Thokku is a easy and delicious thokku ,which goes well with Idli, dosa, chapathi and rice too. This Onion thokku or thogayal was introduced to me by my mami, during our visit to a family temple in Kumbakonam. Generally, we pack food when we travel in bus and trains. We generally pack puliyodarai or idli milagai podi.  During our visit to a temple, when i was in college, my mami made Idli and made this vengaya thogayal. It tasted so awesome and i still don't know how many idlis went inside !!. Both the idlis and thokku was made on the previous day night and was kept outside, as we visited the temple early in the morning. The idlis stayed soft till 9 am and the thokku was too awesome . She kept onion thokku in a separate box to pair with curd rice for lunch. It stayed flavourful and tasted divine with curd rice too.
Try this thokku with small onions(shallots) , you can make with big onion too but it won't taste the same.
Check out
 Idli recipe and Curd rice recipe.
Ingredients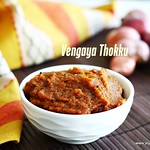 Preparation Time
: 15
 mins
|
Cooking Time
: 15 Mins |
  Yields
: 1 Cup
     Small Onions(Shallots)   20
     Red Chilli    7-9
     Tamarind Extract    1 tblsp
     Salt     As needed
     Turmeric powder  1/4 tsp
     Asafoetida    A pinch
     Sesame oil     2  tblsp
     Mustard seeds    1/4 tsp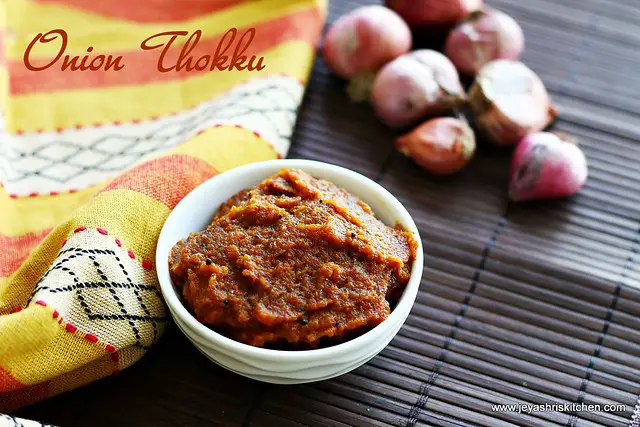 Method:
In a pan add few drops of oil and saute the red chilli.
Grind this along with the onions and salt.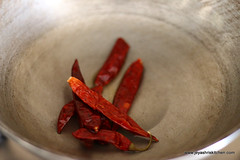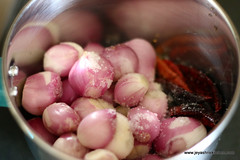 Heat oil in a pan and add the mustard seeds and asafoetida
Add the ground onion paste to this and add the tamarind paste and turmeric powder to this.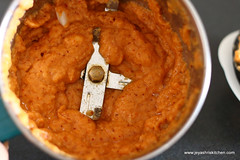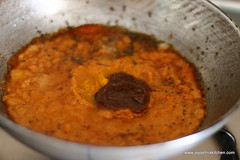 Cook this nicely till the onion paste reaches a thokku consistency and raw smell of onion goes. Cook in a low flame.Stir often.
If it is dry add little oil in between.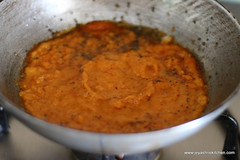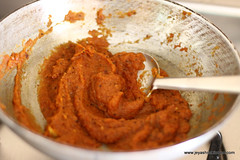 Switch off the flame and allow this to cool.
Store this in a dry and clean box.
This will stay good in room temperature for 2 days and will be good in refrigerator for 10 days.