This week in the series of
Indian microwave cooking | Kitchen basics
, i have come up with the recipe of Instant Tomato rasam. This rasam is so easy to make and a perfect recipe for bachelors too.This instant rasam needs no rasam powder or tamarind paste.Even you can have this as a soup too. My kids were down with cold and cough for the past 4 days. I made this instant rasam and gave for them as a soup. Try out this easy tomato rasam.
Check out my
tomato rasam on stove top recipe.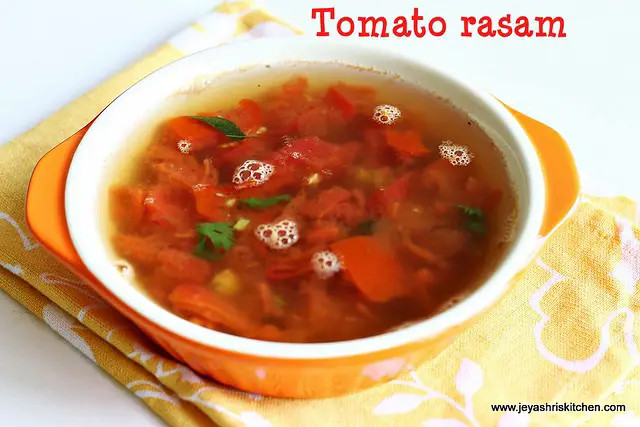 Method:
In a microwave safe bowl take 1 cup of water and add the tomato into it. Cut the tomatoes into 4 .
Microwave high for 5-7 minutes.
The tomatoes will be soft and shrink. If you don't want the skin peel it off and mash the tomatoes nicely with hands, when it is bit warm to handle.
If you want the tomatoes to be finely chopped you can do so before microwaving the tomatoes.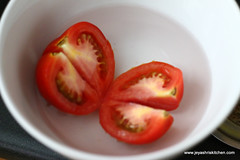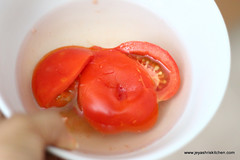 Using a mortar and pestle make the pepper and cumin into a coarse powder.
Add salt, pepper jeera powder, asafoetida, crushed garlic(optional) chopped coriander leaves and curry leaves.
Mix this well by mashing the tomatoes with your clean hands.
Add little water if needed (not more than 1/2 cup).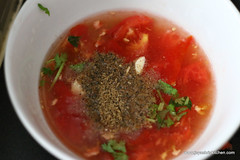 Keep this inside the microwave and cook for 7-8 minutes till it froths up. Do not allow this to boil. The timing differ from microwave to microwave.
Mine got over in 7 minutes.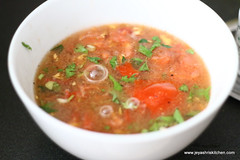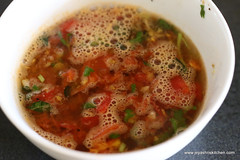 Garnish with coriander leaves.
If you want to get the rasam tempered with mustard seeds, add little oil in a microwave safe bowl and add little mustard seeds. Microwave for 2 minutes. When they crackle just add it to the rasam.
Enjoy with hot rice and with simple curry | poriyal.
I will be posting some basic poriyal recipes which can be made in microwave, in the following weeks.
Note:
You can add 2 tsp of cooked toor dal to the rasam to make it flavourful.
The same rasam can be made on stove top too.