Slush | Slushie is a crushed ice drink, combined with any fruit juice and soda. We get slurpy ( a brand of slush) available in all 7- 11 stores here. Though i don't buy that for kids always but rarely i get it for them. Last sumer itself i wanted to try this at home but some how i missed. Yesterday when i saw akid holding the slurpee in hands in the super market, i thought i will make slush at home and surprise the kids. I picked up fresh oranges and soda from the super market and made it for kids. It was a huge hit at home. Instead of buying the ones at store atleast once in a while i can make it for them at home. Of course as a mother i know fresh fruits are good for the health, i do give them a lot but once in a while pamper them with these types of juices. See the notes section below for healthy variations.
Check out my
Orange Slushie recipe
  Preparation Time : 15 mins | Cooking Time : Nil |Serves: 2
     Ice cubes    2 cups
     Fresh orange juice   1 cup
     Sugar   2 tsp (optional)
     Plain soda or Sprite  1/2 cup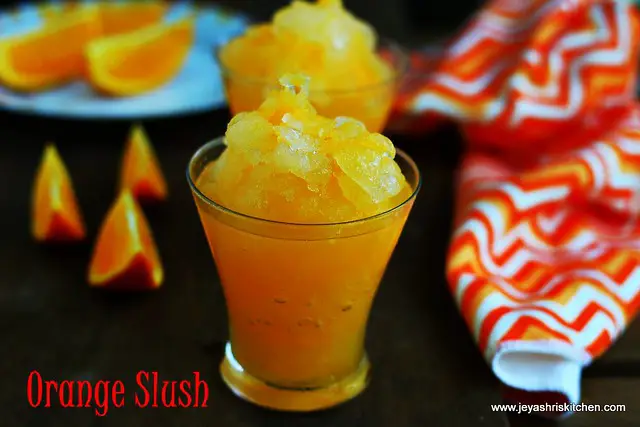 Method:
Squeeze out the juice from the orange and mix it with sugar(if adding) and keep it chilled or keep in the freezer for 15 minutes.
In a mixie add the ice cubes in small lots and pulse it till it gets crushed. Do not worry, it will get crushed in few seconds and does not harm the mixie jar.

Transfer the crushed ice to the serving glass. Add the orange juice and add plain soda or sprite or 7 up on the top of it. Let the actions be quick, as the ice gets melted very soon.

Keep them inside the freezer for 15 minutes and serve . You can serve it immediately too.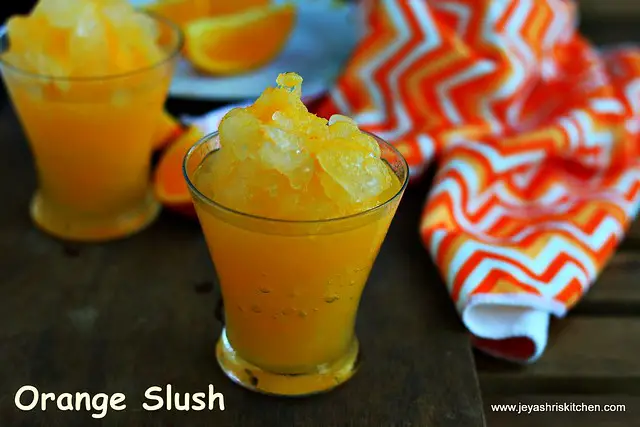 Notes:
You can add watermelon, grape, pineapple, strawberry or lemon  instead of orange juice.
Even to make it fusion nanari sarbat can be added instead of orange juice.
Even you can freeze the barley water as ice cubes and crush it and add it instead of adding plain ice cubes.
Instead of plain soda or sprite, fanta or mrinda can be added. Even you can skip the step of adding aerated drinks and serve only with fruit juice.
You can even add rasna or tang instead of fruit juice.