From my childhood i love black grapes very much. During my childhood days we get the black grapes which has seeds in it. My sister doesn't like that and so i always get a big portion for me. Also i generally do not discad the seed while eating, i just carefully bite it and swallow woth the seed. My sister used to tease me, that I will get a grapes tree from my tummy as i am swallowing the seeds. Later we started gettign the seedless varitey. Even after coming to Singapore, i buy the grapes regularly. I have posted a grape orange juice recipe too few years back. When i was casaully waiting for a friend near a shop, i happened to see these umbrella shaped ice lolly moulds in a small shop nearby. So picked this up and made thsi grape popsicle. Varsha wanted to post some summer cooler recipes, but she is bit busy with her studies as she is in 10th grade now. Anyways, stay tuned for her summer recipe post soon. Check out my moong bean popsicle, rose falooda popsicle,

Grape popsicle recipe
  Preparation Time : 15 mins + 8 hours for freezing| Cooking Time : Nil |Serves: 10
     Black seedless grapes   2 cups
     Sugar   3-4 tsp 
     Lemon juice   1 tsp
     Chaat masala  a pinch (optional)
     Ginger    a small piece
     Water  1 cup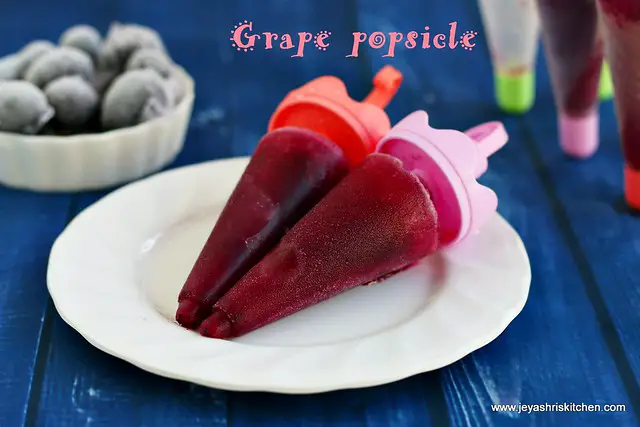 Method:
Wash the grapes nicely and take it out from the stem.
Grind this along with sugar, ginger,lemon juice and chaat masala.

Add 1 cup of water and sieve it well.

Pour it into the popsicle mould and keep it in the freeze and freeze for 8 hours or overnight.

Run the mould into water for few seconds and carefully take out the popsicle from the mould.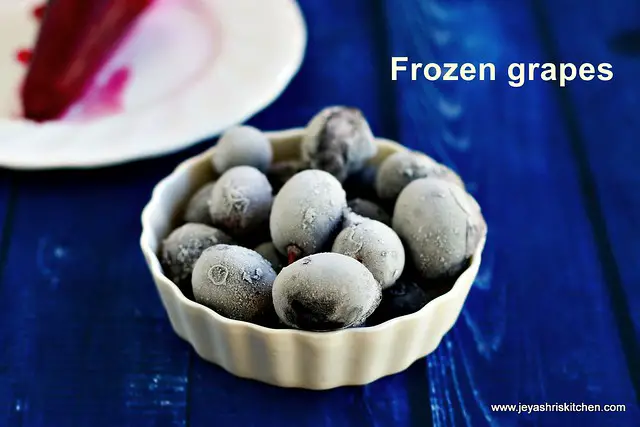 Notes:
Instead of lemon juice you can add orange juice.
Add sugar according to the sweetness of the grapes. Mine was sweet
Also if the grapes are sweet do not add much water.
Instead of chaat masala you can add a pinch of black salt too.
You can replace black grapes with green grapes too.