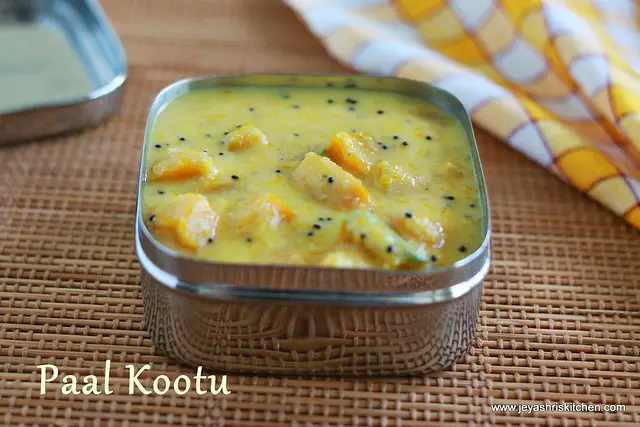 Paal Kootu is prepared generally made with young pumpkin, also called as Elankottai. I remember one of my aunt brings this young pumpkin from her native village whenever she visits us during the season. Sometimes she manages to send this through somebody. I made this with yellow pumpkin which i bought for Pongal festival. It will taste slightly sweetish, but with spicy Vathakuzhambhu it tastes heaven. Do try this traditional recipe of paal kootu. You can try the same recipe with ashgourd, snake gourd and chow chow too.
Paal Kootu
  Preparation Time : 5 mins | Cooking Time : 20 Mins |Serves: 2
     Parangikkai | Yellow Pumpkin    1 cup (cubed)
     Coconut     2 tblsp
     Green Chili    1 (small)
     Sugar    2 tsp
     Rice flour    1 tsp
     Salt      to taste
     Coconut oil    1 tsp
     Mustard seeds    1/4  tsp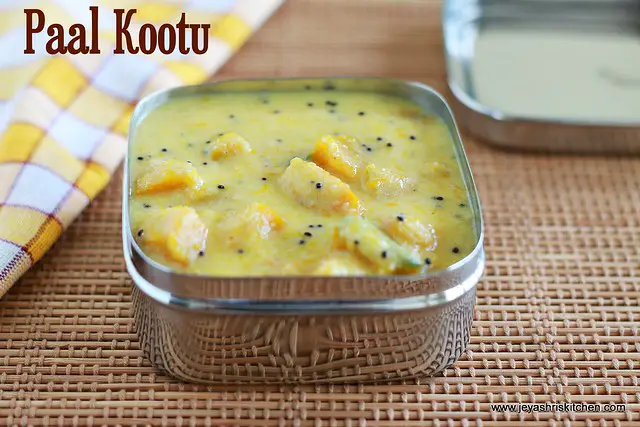 Method:
In a pan add the cubed pumpkin and add half cup of water. Add little salt and cook the pumpkins till soft. This will cook very fast, so ensure not to make it mashed.
Meanwhile grind the coconut, green chili, sugar and rice flour into a fine paste adding little water. 
Add this ground paste to the cooked pumpkin. Keep the flame low . Since rice flour is added it will thicken the gravy. Cook for 2 minutes till the raw smell of the rice flour goes. 
Temper with mustard seeds in coconut oil.
Paal Kootu is ready to serve.  This serves best with vathakuzhambhu.