Punjabi Kadhi recipe is a traditional punjabi dish and the recipe of this i learned from my friend. She is the one who taught me the Lauki channa dal recipe too. Long back she sent the recipe of punjabi kadhi pakora to me via email. I have tried this couple of times but never clicked the main pictures due to time constraint. Finally last weekend i made this and clicked too.
I have already the posted of
Methi kadhi pakora.
A simple kadhi, chawal (rice) and 
Aloo jeera
will be a wonderful combo.
Punjabi Kadhi Pakora
  Preparation Time : 15 mins | Cooking Time : 30 Mins |Serves: 4-5
For the kadhi


     Yogurt    2 cups (sour curd)
      Besan | Kadalai maavu  3 tblsp
      Coriander powder   1 tsp
      Jeera powder    1 tsp
      Red chili powder     1/2 tsp
      Turmeric powder    1 tsp
      Ajwain | omam       1/4 tsp
      Salt     to  taste
      Curry leaves   few
      Ginger    a small piece
      Green chili     1
      Oil     2 tsp
      
For the pakora
Onion    1
Besan     1/4 cup
Red chili powder   1/2 tsp
Salt    to taste
Baking soda   a pinch
Oil    to deep fry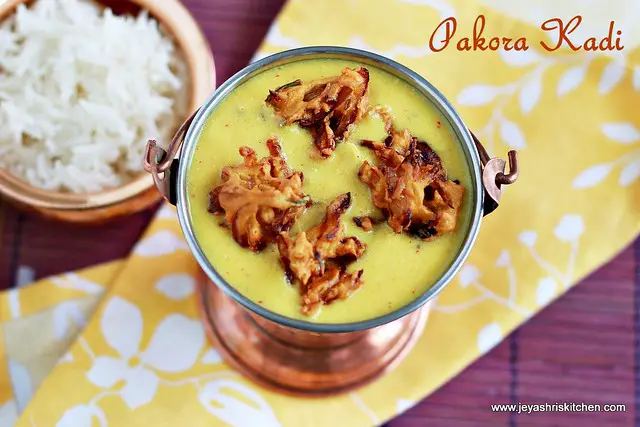 Method:
First lets make the pakora and keep it aside. Cut the onions lengthwise.
Add salt, besan,red chili powder,baking soda to this onions and sprinkle very little water.
Sometimes the water which the onion emits will be enough to bind.
| | |
| --- | --- |
| | |
Heat oil for deep frying. Spoon in the batter into medium hot oil and fry the pakoras  until golden brown on both sides.
Drain this in a kitchen towel.
| | |
| --- | --- |
| | |
For making kadhi, add the besan, salt and yogurt in one bowl and whisk this without any lumps. Add 1 and 1/2 cup of water to this.
| | |
| --- | --- |
| | |
Slice the onions length wise. Crush the ginger and slit the green chili.
In a pan add oil and add in the green chili, ginger, onions and curry leaves. Saute for a few minutes till the onion turns pink. Add the yogurt mixture to this and keep the flame low.
| | |
| --- | --- |
| | |
Add the coriander powder, jeera powder, ajwain, chili powder, turmeric powder to this.
Mix well and let this be in low flame for 10 minutes . Stir well in between.
| | |
| --- | --- |
| | |
Add the pakoras just before serving. Serve this with Basmati rice.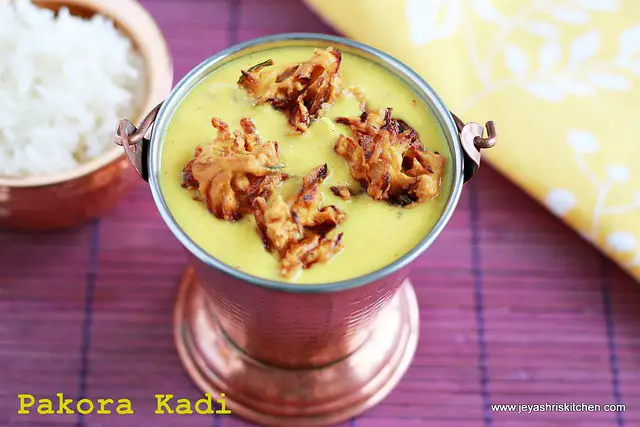 Notes:
Always ensure that the curd is sour.
Replace onions with fresh methi leaves if you want.
Always ensure the pakodas should be soft. So let the batter be little loose .
The authentic punjabi kadhi will be made with mustard oil. It has got acquired taste, so if you are not used to the mustard oil use normal cooking oil.
Some people add finely chopped garlic to the kadhi, if adding add while adding onions and chili.