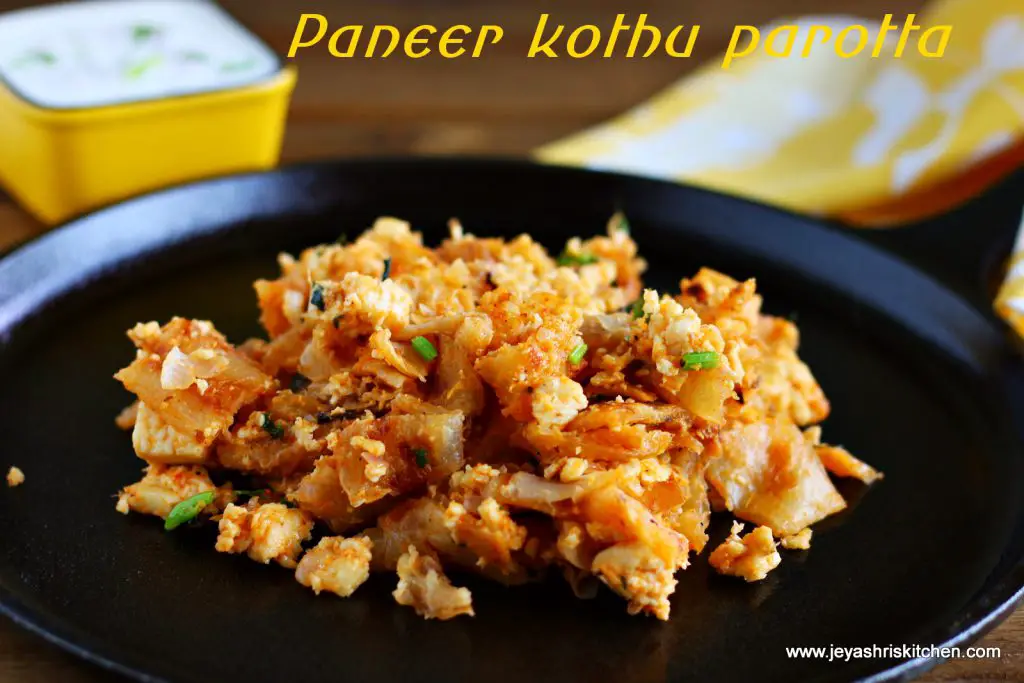 Kothu parotta is a popular street food in my home town Madurai, but they always the non veg version of Kothu parotta on the road side shops. The sound which comes while making the kothu parotta always amazes me. Only once one of our neighbour got the veg version of Kothu parotta from their native place Sivakasi. It tasted awesome. Recently when we were in chennai, we visited a restaurant nearby my mom's place. This paneer kothu parotta in the restaurant menu card was so tempting. Me and my sister were reminded me of our childhood days and immediately ordered the kothu parotta. It tasted so yum and even the kids loved it very much. I wanted to try this out at home and tried it last week. It turned out very well and was a super hit at home. You can make the same with left over chapathi and paneer gravy too. Check out my chili parotta recipe too.

Paneer Kothu parotta
Preparation Time : 15 mins | Cooking Time : 35 Mins |Serves: 5-6
Frozen parathas 10
Paneer cubes 1 and 1/2 cup
Small onions 6-7
Garlic 3 cloves
Fennel seeds 1 tsp
Kalpaasi |stone flower little
Cashew nuts 6
Oil 3-4 tsp
Onion 1
Tomato 1
Red chili powder 1 tsp
Mint leaves few
Coconut 1 tblsp
Coriander leaves few
Salt as needed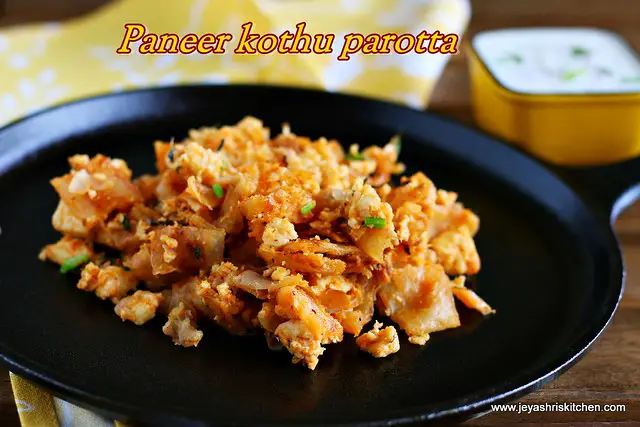 Method:
Immerse paneer cubes in hot water for 5 minutes.
Drain the water and crumble the paneer with hands. Do not make it so fine as we make for paneer bhurji. Here and there if there are paneer chunks, it's ok.

Cook the parathas (alternatively you can use chapathis too) on the tawa . If using frozen parathas, do not add oil while cooking them.

Stack it up. Cut them into small pieces. Keep it aside.

In a pan add oil and add the small onion, kalpaasi (stone flower), garlic, cashew nuts and fennel seeds.
Cook till the onions turn golden brown colour. Cook on a medium flame without getting it burnt.

Add chopped tomatoes and add red chili powder. Cook till the tomatoes turn mushy.
Allow this to cool.

Grind this along with coconut into a fine paste.

Chop the onions and mint leaves finely.
In the pan add 1 tsp of oil and add finely chopped onions and mint leaves.

Add little salt. When the onion turns pink add in the ground paste to this.

Cook this for a minute and add in the scrambled paneer. If adding any other vegetable add now.
Mix well. Add half cup of water to this.

Now add in the cut parathas which we kept aside.
Gently mix well and add the chopped coriander leaves.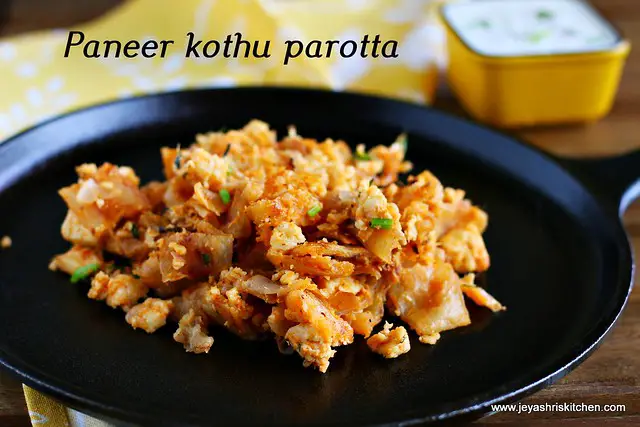 Notes:
You can add cooked green peas, while adding the paneer.
You can skip the fennel seeds and coconut and add garam masala and jeera powder .