Parathas are Indian flat bread generally made by stuffing veggies like aloo, cauliflower or paneer and many more. I recently came across a tarla dalal book in my friend's house and had a glimpse of the pumpkin paratha in one of the pages. I got the idea of making pumpkin idea from that and the casual watching of Venkatesh bhat show yesterday, for few minutes gave me few more inputs. So i made this Pumpkin paratha last evening. Pumpkin paratha is the best way to make the kids eat pumpkin without any fuss. The addition of mint leaves, spices makes it more tasty and a simple spiced yogurt will make a good accompaniment to this paratha.
Check out my
Gobi peas paratha
and
Mexican cheese paratha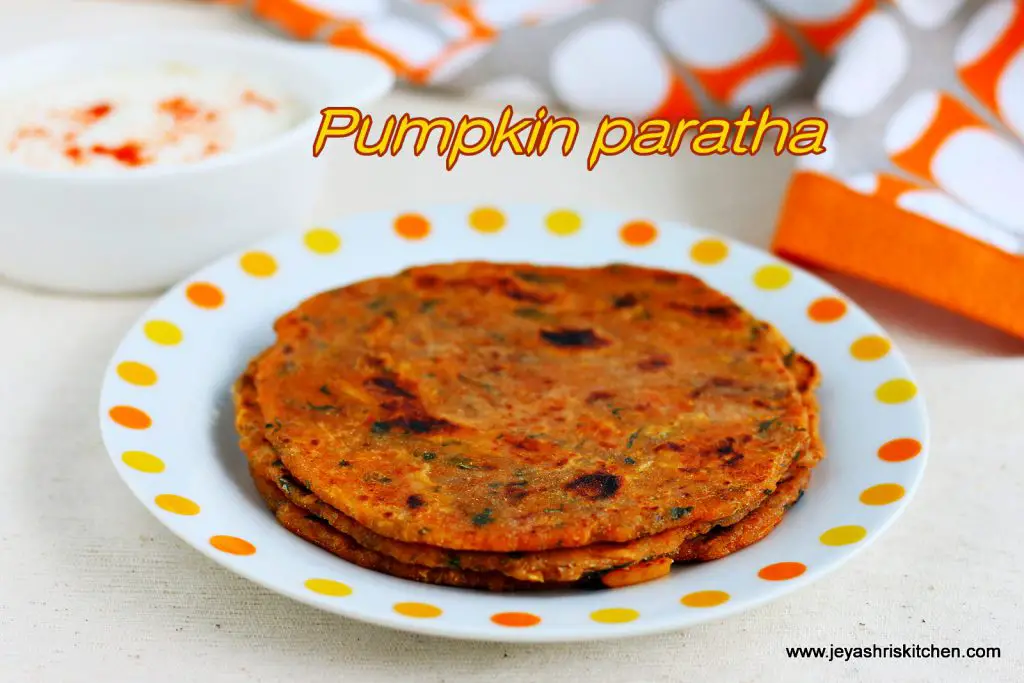 Pumpkin paratha recipe
Preparation Time : 15 mins | Cooking Time : 25 Mins |Serves: 5 thick parathas
Pumpkin grated 1 cup
Whole wheat flour 1 cup
Chaat masala 1 tsp
Red chili powder 1 tsp
Cumin seeds | jeera 1 tsp
Mint leaves a handful
Salt little
Oil| ghee to cook the parathas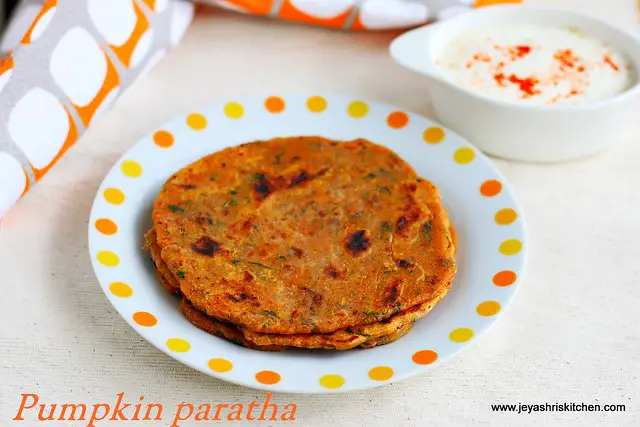 Method:
Grate the pumpkin in a small grater and chop the mint leaves finely.
In a wide bowl add the flour, chaat masala and cumin seeds.
In a pan add 1 tsp of oil and add the grated pumpkin, red chili powder, salt, mint leaves and cook for 3-4 minutes, Ensure not to get this burnt.
As chaat masala has salt in it, you can add little salt to the pumpkin mixture.
Switch off the flame.

Add the cooked mixture to the flour.

Mix well and sprinkle little water to this and knead this into a soft pliable dough.
If the dough is sticky add 2-3 tblsp more flour.

Make this into 5 equal sized balls. I wanted the parathas to be medium small and thick. So i made the balls into mini orange size.
Even you can make this into rotis too.
Apply dry flour on the rolling board , keep one dough ball onto this.

Roll this into a thick paratha.
Heat a tawa and put the paratha on the tawa.

Cook on both sides and apply ghee | butter or oil on the top of the cooked pumpkin paratha.

Serve hot with any pickle or simple yogurt.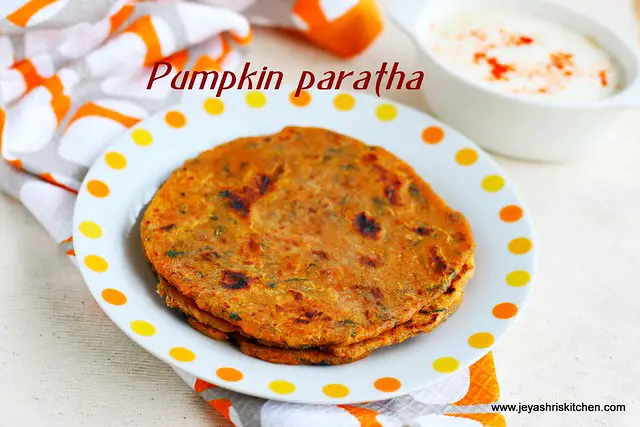 Notes:
Instead of mint leaves you can add coriander leaves, methi leaves or spinach too.
This paratha is not very spicy, but not sweet in taste. You can add more red chili powder if you want more spicy.
Grated carrots can also be added to make it more healthy for kids.
If you are stuffing this inside the paratha like we make aloo paratha, after grating the paratha squeeze out the extra water and then proceed.