Paneer lababdar is a rich onion tomato based , restaurant style paneer gravy. I have come across this name in Kailash parbat menu card here in Singapore. They have Paneer tikka lababdar in their menu. As i planned to post paneer tikka masala soon, i thought i will try Paneer lababdar and post the recipe. I don't know the exact recipe but i have noted down a recipe of a paneer gravy from a Cookery show which i watched in Delhi long time back during a holiday. Everyone at home loved the paneer gravy and we had it with peas pulao for a weekend lunch. You can serve this with roti|kulcha too. Though the recipe may look it has many steps but it is quite easy and worth trying too.

Paneer Lababdar
Preparation Time : 15 mins | Cooking Time : 35 Mins |Serves: 4-5
Paneer cubes 1 cup
Red chili 4-5
Cashew nuts 8
Tomato 1 big
Garlic 5 pods
Tomato puree 1/4 cup
Onion 2
Coriander powder 1/2 tsp
Jeera powder 1 tsp
Garam masala 1/4 tsp
Oil 1 tblsp
Fresh cream 2 tblsp
Kasoori methi 2 pinches
Salt as needed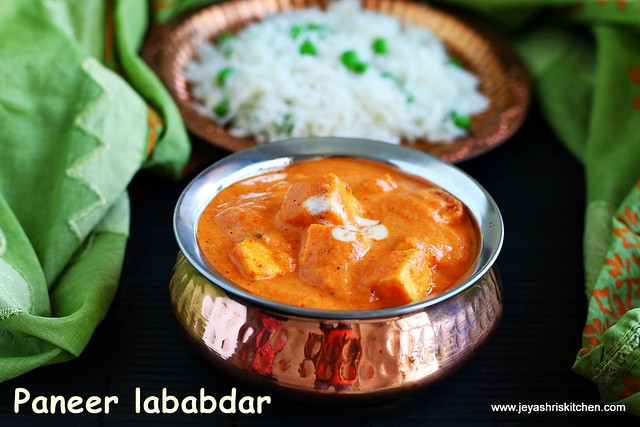 Method:
Break the red chili into two and take out the seeds.
Soak the cashew nuts and red chili in hot water for 10 minutes.
Grind this into a fine paste.

Chop the tomatoes into big and peel the skin of the garlic. Cook this for 5 minutes in 1/2 cup of water. If you do not want to add tomato puree in the recipe, add one more tomato now.

Chop the onions finely. In a pan add oil and cook the onions till they become nicely brown.

Allow this to completely cool.
Grind the roasted onions and the cooked tomato and garlic into a fine paste.

In a pan add the ground paste and cook in a low flame. Do not keep the flame high as the gravy will splutter. Add the tomato puree.

Cook this for a minutes and add the coriander powder, jeera powder and garam masala.
Mix well and cook till the raw smell goes.

Add the ground red chili and cashew paste now and cook for few minutes.

Add the salt and add the paneer cubes.
You can roast the paneer in a pan and add too.

Add water to adjust the consistency. If you feel the gravy is bit spicy, add 1/2 tsp of sugar to the gravy.
Add crushed kasoori methi to this.

Add the fresh cream and mix well. Boil for 2 minutes and switch off the flame.

Creamy, yummy paneer lababdar is ready to serve.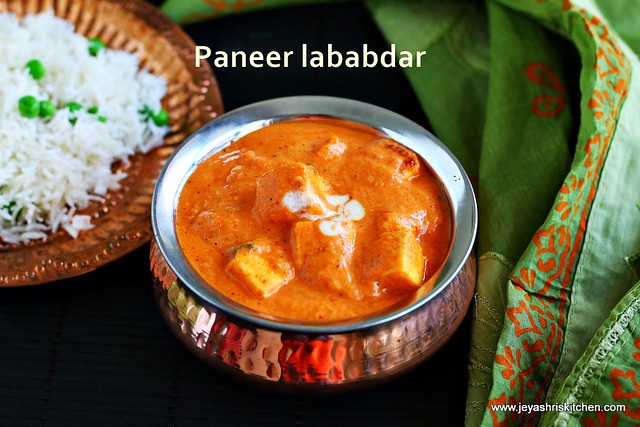 Notes:
Instead of grinding the red chili you can add red chili powder to the gravy, while adding the garam masala and other powders.
Instead of adding cream in the last, you can add 1/4 cup of thick milk.