Raw Mango dal | mamidikaya pappu is a popular dal recipe of andhra, the dal is cooked with raw mangoes and mild spices. As mango is in season, I thought I will post this mango dal recipe. the friend of mine from whom I learnt andhra pulihora taught me this mango dal too. It is a very easy recipe and it turned out very well. Try out this mango dal in this mango season and i am sure you will love this mamidikaya pappu . This goes well with rice and roti too. Check out my cut mango pickle and avakkai pickle too.

Mango dal recipe
  Preparation Time : 10 mins | Cooking Time : 30 Mins |Serves: 3-4
     Raw mango  1/2 cup (cubes)
     Toor dal   3/4 cup (uncooked)
     Turmeric powder  1/4 tsp
     Red chili   2
    Green chili  2 – 3
    Garlic   2 pods
    Ginger  a small piece
    Asafoetida 2 pinches
    Onion    1
    Curry leaves   few
    Ghee   1 tblsp
    Oil  2 tsp
    Mustard seeds   1/2 tsp
    Cumin | jeera   1/4 tsp
    Salt  as needed
    Curry leaves   few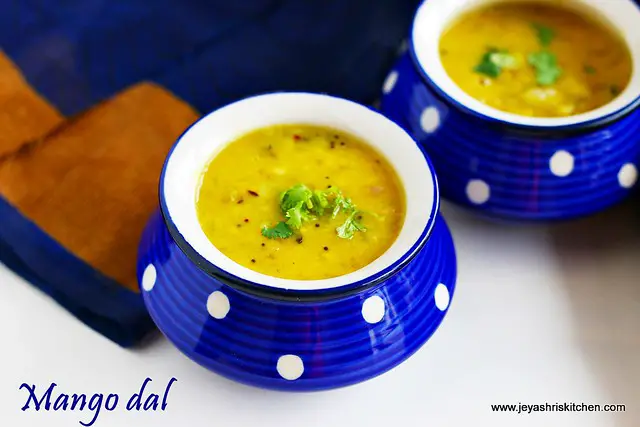 Method:
Peel and cut  the mango into cubes and cook it in little water.
Wash and and cook the dal with enough water and turmeric powder.
Alternatively you can microwave the mango pieces till soft.

Chop the onions finely, slit the green chili and finely chop the garlic and ginger too.
In a pan add ghee and add mustard seeds, cumin, slit green chilies and red chilies.
Add the finely chopped garlic and ginger. Add the asafoetida too.

Cook for 2 minutes and add the finely chopped onions. Cook till the onions are translucent.

Mix well and add water to bring it to the dal consistency.
Genrally mango dal will be thick, but i made it little thin like the usual dal.
Allow this to boil for 5 minutes. Add curry leaves and switch it off.

Mango dal is ready to serve.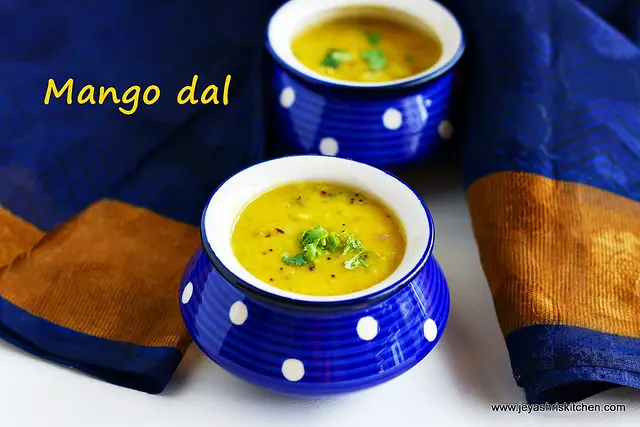 Notes:
To make it simple you can cook the dal along with whole garlic, chopped onions, chopped ginger and cut mangoes.
Lastly temper the mustard and chili in the ghee + oil and add the cooked mashed mango dal.
Add green chili according to the sourness of the mango.