Pan fried eggplant | Pan fried aubergine is a simple and easy recipe made using the big variety of eggplant. We generally make baingan bhartha or Kathrikkai gotsu using this big variety of eggplant. Amma makes bajji out of eggplants and we as a family loves the bajji a lot. From my childhood, we used to love eggplants and we get fresh home grown eggplants from one village lady, who delivers us regularly. This pan fried eggplant i wanted to try for a long time and finally made it last week. But that day i didn't have to time to click. Finally made it today and clicked the pictures. The first time i had with rotis and today i had with rice and rasam. Both ways it tasted yummy. See the notes section for variation of the recipe.

Pan fried Eggplant
Preparation Time : 10 mins | Cooking Time : 30 Mins |Serves: 3-4
Eggplant | brinjal 1 big
Besan | kadalai maavu 4 tblsp
Red chili powder 1 tsp
Garam masala 1/4 tsp
Salt to taste
Lemon juice 1 tsp
Water to make a thick paste
Coriander leaves few
Oil 3 tblsp
Coriander leaves few (optional)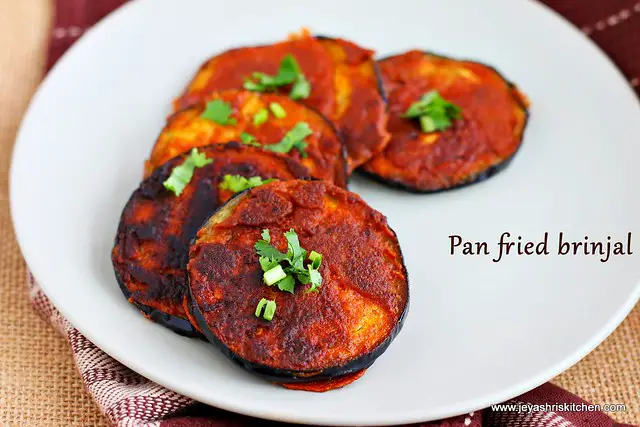 Method:
Trim the top portion of the eggplant.
Cut it into medium size thick roundels. Do not cut it too thick or thin. Put the cut eggplants in water to avoid colouring.

Make a thick paste out of the besan, salt, red chili powder, garam masala, lemon juice and little water. In the picture i have shown for half portion of the eggplants. But in the ingredients list i have given for the full eggplant.

Take out the eggplants from water and pat dry them in a kitchen towel.
Apply the paste on both sides of the eggplant.
Heat a pan and add 1 tblsp of oil.
Place 3-4 eggplant slices at a time.

Cook in a medium flame on both sides till it becomes golden brown.

Garnish with some coriander leaves. This is optional.
Use 1 tblsp of oil for each batch.
The quantity of the ingredients depends on the size of the eggplant.
Serve this with rasam rice or with roti too.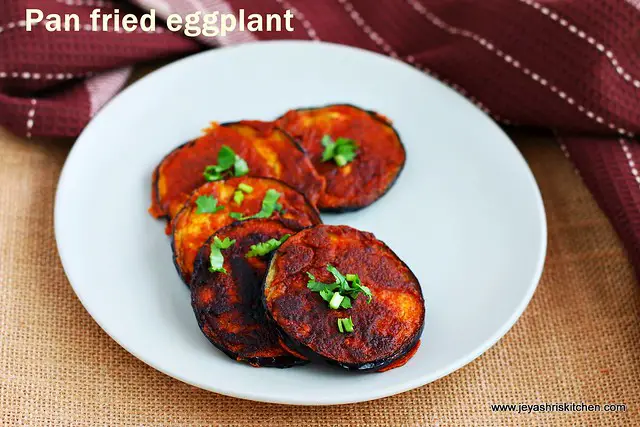 Notes:
Cut the eggplant into medium thick roundels.
You can use the small variety of eggplants too.
You can add ginger garlic paste to the besan mixture.
Also red chili powder can be replaced with sambar powder too.
You can add pasta sauce, rice flour, oregano and red chili flakes and fry the eggplant. This can be had as a good starter too. Do not add too much of rice flour as it may spoil the taste.
Fry in medium flame to get the inner portion cooked.