Paneer tikka masala
, is a popular paneer recipe, which i saw for the first time in Sanjeev kapoor's recipe book long back. I tried my own version few months back, when i have my friend's family for dinner, the paneer tikka masala was a super hit with kulcha. I have a small pack of paneer left in the freezer and wanted to finish off before i go for my vacation. So made this paneer curry few days back and everyone at home loved it. I have already posted paneer tikka dry recipe and
hariyalai paneer tikka recipe
, stove top version. The tandoori barbeque flavour can be easily be infused in the paneer masala using the charcoal method which i have used in
Dabba style dal.
Try this recipe and let me know how it turned out.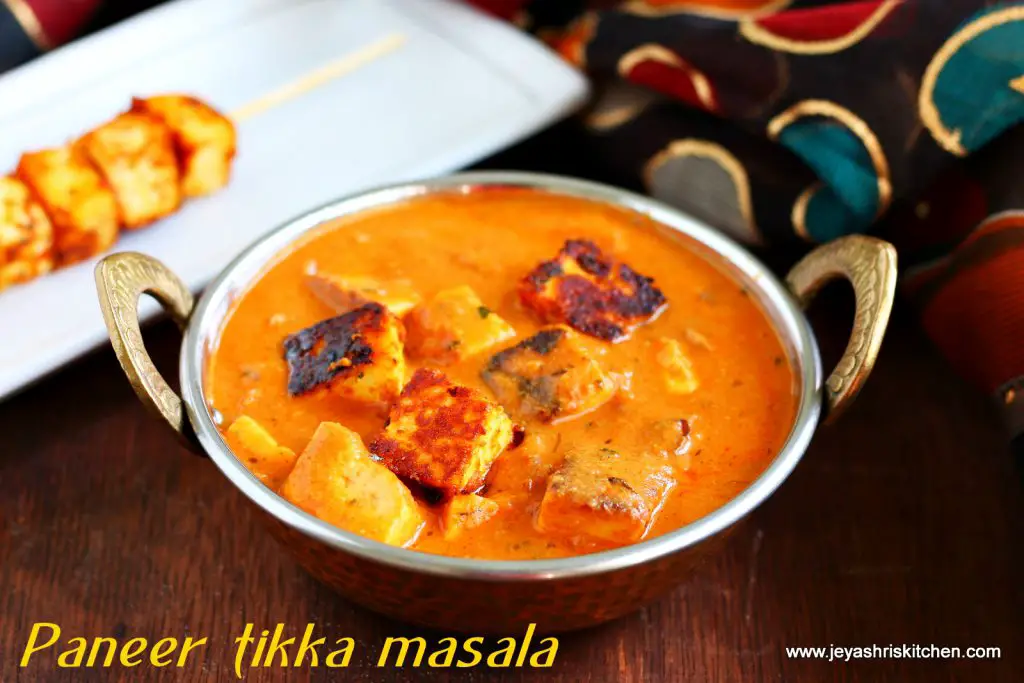 Check out my other popular paneer based gravies
Paneer tikka masala recipe
  Preparation Time : 15 mins + 30 mins marination | Cooking Time : 40 Mins |Serves: 5-6
     For marination
Paneer cubes   2 cups
Red chili powder  1 tsp
Coriander powder |dhaniya  1/2 tsp
Cumin powder | jeera 1/2 tsp
Tandoori masala  3/4 tsp
Thick yogurt   2 tblsp
Salt  as needed
Kasoori methi  2 pinches
 
   For the gravy
Onion   4
Garlic  5 pods
Cashew  10
Oil   1 tblsp
Tomato puree 1/2 cup
Red chili powder  1 tsp
Coriander powder  1/2 tsp
Cumin powder   1/2 tsp
Garam masala   1 tsp
Salt  as needed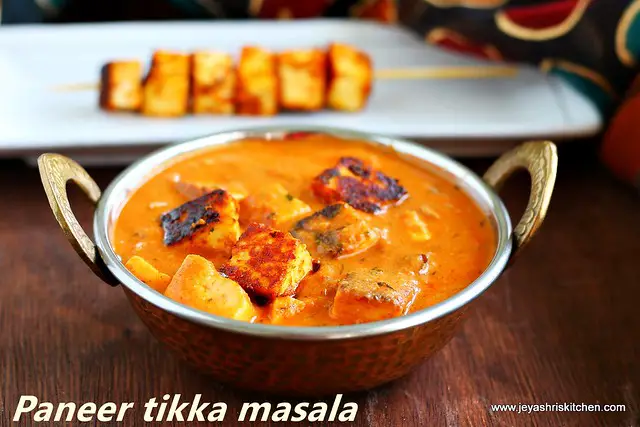 Method:
Bring the paneer to room temperature.
In a wide bowl add the paneer, hung curd, kasoori methi, red chili powder, tandoori masala (or garam masala), salt, cumin powder and coriander powder.
Mix this well and ensure the masalas are evenly coated. 

Marinate this paneer for 30 minutes. You can marinate for 2-3 hours too. 
While marinating keep this inside the refrigerator. 
Lets make the gravy for the paneer tikka masala, while the paneer is getting marinated.
Chop 2 onions finely. Take out the skin of the garlic. 
In a pan add 1 tblsp of oil and add in the onions, garlic and cashew nuts. 
Cook in a medium flame till the onions gets nicely browned. Be careful not to burn this. 

Allow this to cool completely and grind this into a smooth paste. 
Keep this aside.

In a pan add 2 tsp of oil and add in the chopped onions (2 onions)
Cook till they turn translucent. 

Add in the ground paste to this. Add in the tomato puree to this.

Add the red chili powder, jeera powder, coriander powder, garam masala powder, salt and mix well.

Add 1/2 cup – 3/4 cup of water to adjust the consistency. Since we have added cashew nuts and also the addition of paneer in the last will make the gravy thicken. So add water accordingly.

Boil this for few minutes in a low flame and stir this in between.
Switch off the flame. Or you can either do the paneer tikka side by side.
Grease a tawa and cook the marinated paneer. Alternatively you can do it in the oven. But i have no experience on cooking paneer tikka in oven.
Cook this on a medium flame on all sides till you get them nicely browned.

Add the cooked paneer tikka to the masala and add the kasoori methi to the gravy.
Bring this to a boil. Check for the consistency.

Add the fresh cream or milk (room temperature) to the gravy and mix well.

If you have charcoal, you can go ahead by heating the charcoal on open flame and keep it in a small bowl and put a tsp of butter on it and immediately close the pan with a lid.
Keep the flame very small and cook for 5 minutes. Switch off.

If you do not have charcoal, just switch off the flame after adding the milk or cream. 
If using charcoal, i highly recommend to use it , just before serving the gravy. In this way it retains the smoky flavour and gives nice taste of dabha style paneer tikka masala.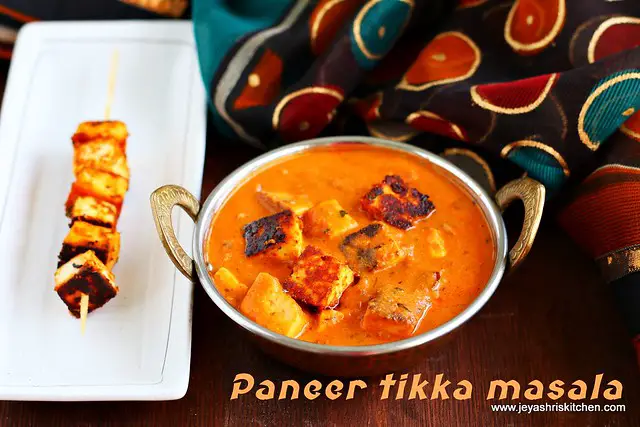 Notes:
You can buy big block of paneer and cut them into cubes and do the paneer tikka masala.
I used the ready made paneer cubes. 
Adding tandoori masala gives a nice bbq tandoori flavour to the paneer. If not available add the garam masala. 
You can add pan fried capsicum and onions also or you can marinate them along with the paneer and cook them on tawa.