Undhiyu is a popular gujarati recipe made with veggies which are specially available during winter. In Tamilnadu we make
7 kari kootu
and
thalagam
during winter season with speically available winter vegetables like mochai. A similar type of  mixed vegetable is made with seasonal veggies in Gujarati cusine too. Suruti papdi is one of the main vegetable in this undhiyu and it is similar to the mochai but smaller in size. The use the whole one as such in the Undhiyu. The main spice which gives flavour to the curry is the blend of ajwain(omam), coriander leaves, green chili and coconut. Also we can say the spice mixture is similar to the aviyal with the domination of coconut in it.
Though i have heard the name of this dish, never know how it is made. They make methi muthias and deep fry this or steam it and add to the Undhiyu.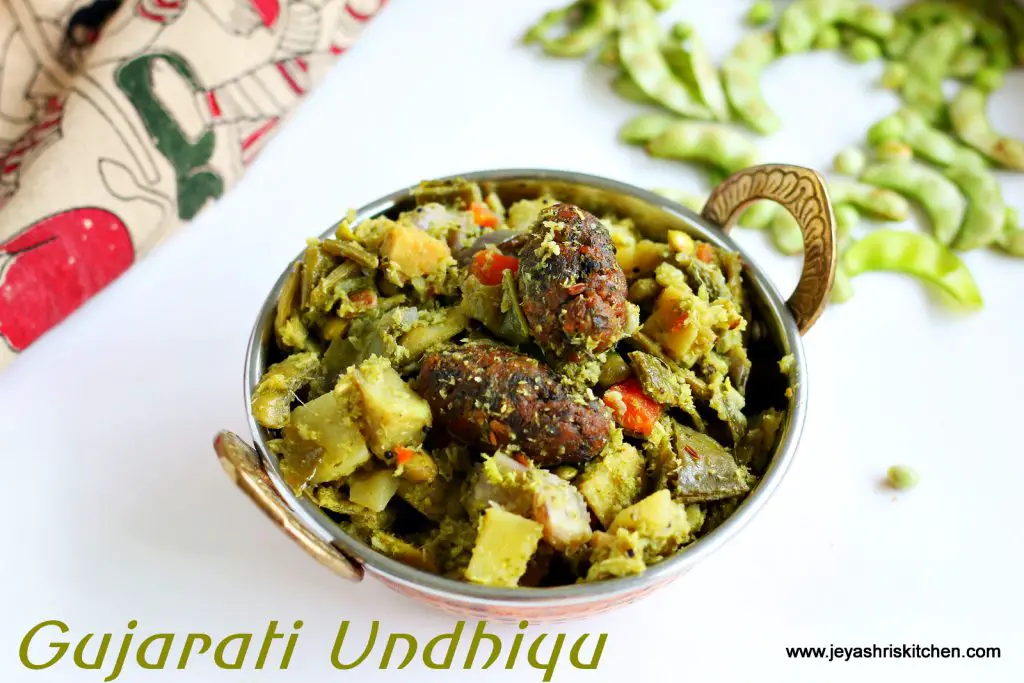 Last week a friend of mine messaged me that her hubby is going to mumbai and will get all the winter vegetable from there to make this Undhiyu recipe. She asked me whether i am interested to post the recipe in my jeyashri's kitchen. I readily accepted and she also taught me how to make undhiyu too. This is the recipe she learnt from her mil, so if you have any idea of more authentic version please leave it in the comments section.  As in my opinion, even if you do not have few ingredients, just try it out with the country veggies available in the market and enjoy this delicacy. Thsi is a semi dry masala,  generally served with pooris, we had with plain rice and papad. Just use a handful of all veggies, it will give a good volume.

Undhiyu recipe
  Preparation Time : 25 mins | Cooking Time : 25 Mins |Serves: 6-7
   Carrot  1
   Yam  a small piece
   Purple yam   a small piece
   Suruti papdi    a handful
   Thuvarai | Fresh pigeon peas   a handul
   Green peas  a handful
   Avarakai | Broad beans  little
   Raw banana    1
   Eggplant | brinjal   4
   Potato    1 or baby potato  4-5
   Oil    3-4 tblsp
   Salt   as needed
   Mustard seeds   1/2 tsp
  For the masala
  Coriander leaves   1 cup (loosely packed)
  Omam | ajwain  1 tsp
  Coconut   3/4 cup
  Ginger  a small piece
  Green chili   4
  Garlic  4 pods (optional)
  Lemon juice   2 tsp
  Salt  as needed     
 For methi balls
Methi leaves   1/2 cup
Besan | kadalai maavu   1/2 cup
Red chili powder  1 tsp
Coriander powder  1/2 tsp
Turmeric powder  1/4 tsp
Jeera powder    1/2 tsp
Salt  as needed
Oil   to deep fry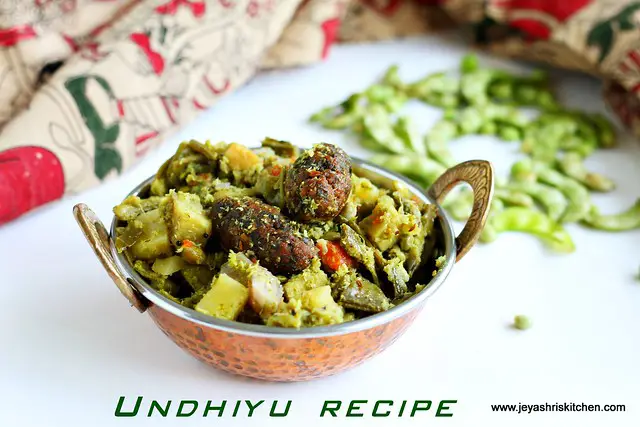 Method:
Chop the methi leaves and add few drops of lemon juice and salt and keep it aside for 5 minutes.
Then squeeze the excess water to take out the bitterness of methi. 
In a wide bowl add the methi leaves, besan, red chili powder, coriander powder, turmeric powder, salt and  jeera powder.
Mix well with your hands and if needed sprinkle little water to make a tight dough. 

Make it oblong shapes and deep fry in oil. Alternatively you can steam this too. 
Fry till golden brown and keep it aside. 

Keep all the veggies ready. Cut the carrot, yam, purple yam (kavathu kizhangu, we call in tamil), avarakkai and raw banana into cubes. If using normal potato cube them too. If using baby potato, just peel them and keep in water till you use it. 
Do not cut the eggplants. We will use it in the last. 
Make the masala paste by grinding the coconut, coriander leaves, ajwain(omam), ginger, garlic and green chili . Add lemon juice too. Do not add more water while grinding. Let the mixture be little coarse. 

Take a pressure cooker. 
Add oil and temper with mustard seeds. and add the cut yam, purple yam, potato, raw banana(i didn't add) . 

Add some ground masala and spread it on the veggies like a layer. Sprinkle little salt.
Add the carrots, broad beans(avarakkai), suruti papadi, green peas, thuvarai(fresh pigeon peas). 
Add some more ground masala and mix gently. Add little bit salt. 

Add 1 cup of water to the veggies.
Slit the eggplants and stuff it with the green paste. Place it on the top and also the fried methi balls.

Cover the cooker and pressure cook till 2 whistles.

Open the cooker and mix gently.
Undhiyu is ready.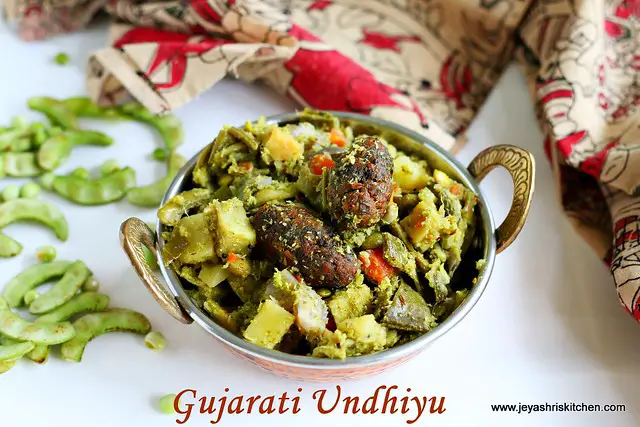 .
   Notes:
Frying the methi balls is generally done. But you can steam for 15 minutes. 
The main flavour for this undhiyu is ajwain, coconut and coriander leaves, so do not skip it.