Sweet potato payasam recipe
Sweet potato payasam|Sakkaravalli kizhangu paysam is a sweet kheer made with sweet potato, moong dal and jaggery as the main ingredients. I was planning to post my mom's version of sweet potato curry with jaggery. Though i am not a big fan of this but mom makes it very nice and my sister , my mom and my grandma will feast on this during the festival time. It will taste more like a halwa. I will post this sometime. I just casually tried as there are few sweet potato lying in my kitchen for a week. Since many of us wil have this veggie left over after pongal festival, i thought we can use it for making payasam for kannu pongal. Check out my
Sweet Potato payasam
  Preparation Time : 10 mins | Cooking Time : 35 Mins |Serves: 3-4
     Sweet Potato   2
     Moong dal    1/4  cup
     Jaggery    3/4 cup
     Cashew nuts   few
     Ghee    2 tsp
     Cardamom powder  a pinch
     Milk    1/2 cup (optional)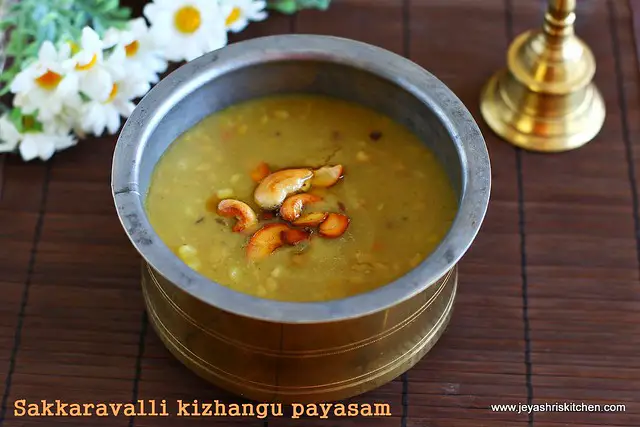 Method:
Peel the skin of the sweet potato, wash it and chop them into big chunks.

In a pressure cooker add 1 tsp of ghee and add the moong dal and roast it for 2 minutes in a low flame. Now add the sweet potato and saute it for a minute .

Add 2 cups of water to this and pressure cook this for 3-4 whistles.

In a pan add the jaggery and add 1/2 cup of water and boil it till the jaggery melts. Filter the impurities and allow this to boil for 3-4 minutes.

Meanwhile mashed the cooked sweet potato and moong dal mixture.
Add 1 cup water as it will be thick. Add the jaggery water to this.

Fry the cashew nuts in ghee and add this to the payasam. Add cardamon powder. Mix well.
Once it is completely cool add milk . Ensure the milk is not hot. Let it be cool.

I didn't add milk to the payasam. Adding milk gives a nice creamy texture to the payasam.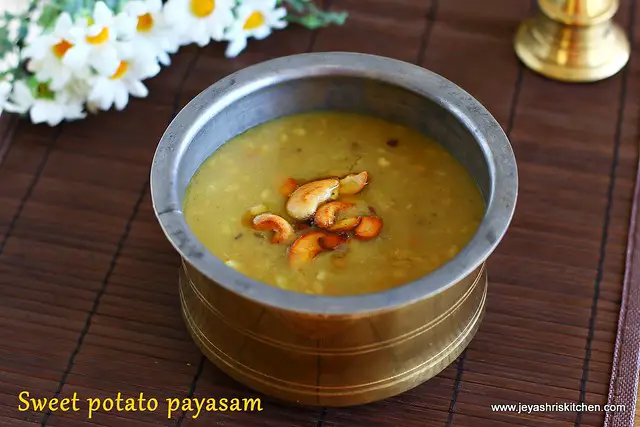 Notes:
Actually i added 1/2 cup of jaggery but i found the payasam is less sweet so i have increased the quantity in the ingredients list.
The payasam tends to thicken more so add milk if you are consuming it later.
Ensure the milk is cool, and the kheer is also cool. This is to avoid the payasam gettign curdled.