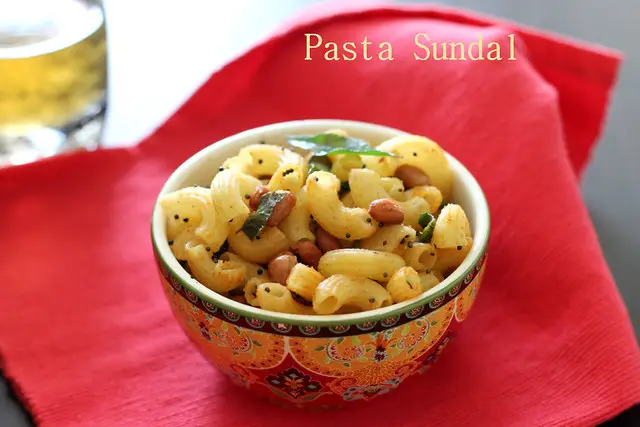 Pasta Sundal, yes you heard it right. Last week as i was making pasta for kids lunch box i was left with some cooked pasta. I thought i will make some salad in the evening or add it to a soup. But my idea changed after talking to my aunty who used to make Pasta like coconut rice and have for evening snack. So i thought i will also implement this idea by giving my own twist. It turned out awesome. So for those elders at home who want to make a South Indian version of pasta just try out this recipe. Feel free to give your own twist to this recipe. When i made the first time i added some sprouts too.
Ingredients

  Preparation Time
:
5 mins
|
Cooking Time
: 15 Mins |
  Serves
: 1
    Macroni Pasta   1/4 cup
    Oil      1 tsp
    Mustard Seeds         1/4 tsp
    Peanuts     2 tsp
    Curry leaves     Few
    Paruppu podi  1 tsp
    Salt   As needed
    Coconut  1-2 tblsp (Optional)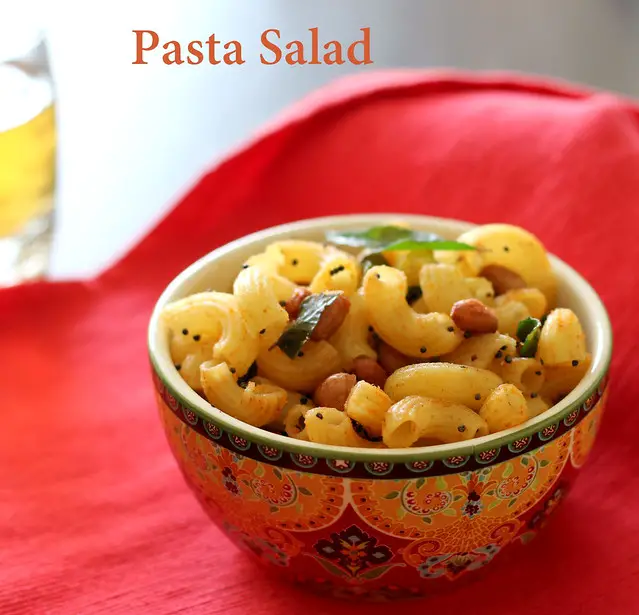 METHOD:
Cook the pasta in salt water till it becomes soft. Drain the water and run this through cold water. Keep it aside. Reserve 2 to 3 tblsp of water before draining the excess water.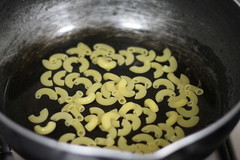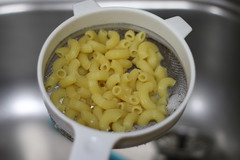 In a pan add oil and throw in the mustard seeds and curry leaves.
Add the peanuts and saute them in a low flame. Now add in the cooked pasta and add the paruppu podi. Add the reserved water which we have kept aside. No need to worry. The water will get absorbed and makes the pasta moist .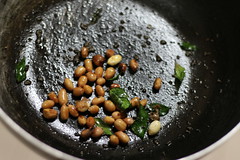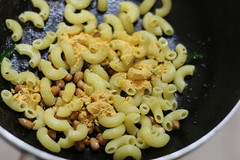 Gently mix well. If adding coconut add at this stage and mix well. Switch off the flame.
Serve hot.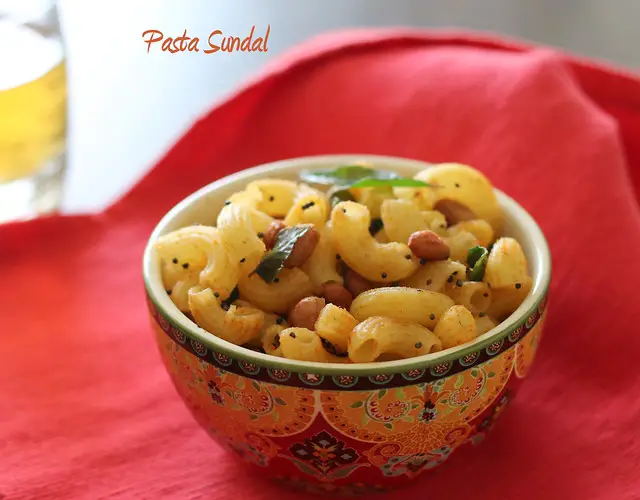 Note:
You can add onion , carrots as per your taste.
Karuvepillai podi, idli milagai podi can be added instead of paruppu podi.