Pavakkai | bittergourd|Karela dry curry made with fresh ground peanut based masala. We are a big fan of pavakkai curry from the childhood. Though it sound wierd, but yes,we are,as our mom makes it so yummy and we will look forward to it. We get one more variety of pavakkai, the mini ones called as medhi pavakkai, which i had rarely seen in chennai. We used to get it quite often in our native place. I haven't shared my mom's version of pavakkai curry in jeyashri's kitchen yet. This version i learnt from my friend Revathi. She shared the recipe and also made it one day and sent for me for tasting. Two days back i made this curry and we all liked it. Some how kids also had a small portion of the curry too. Check out my Bitter gourd fry recipe.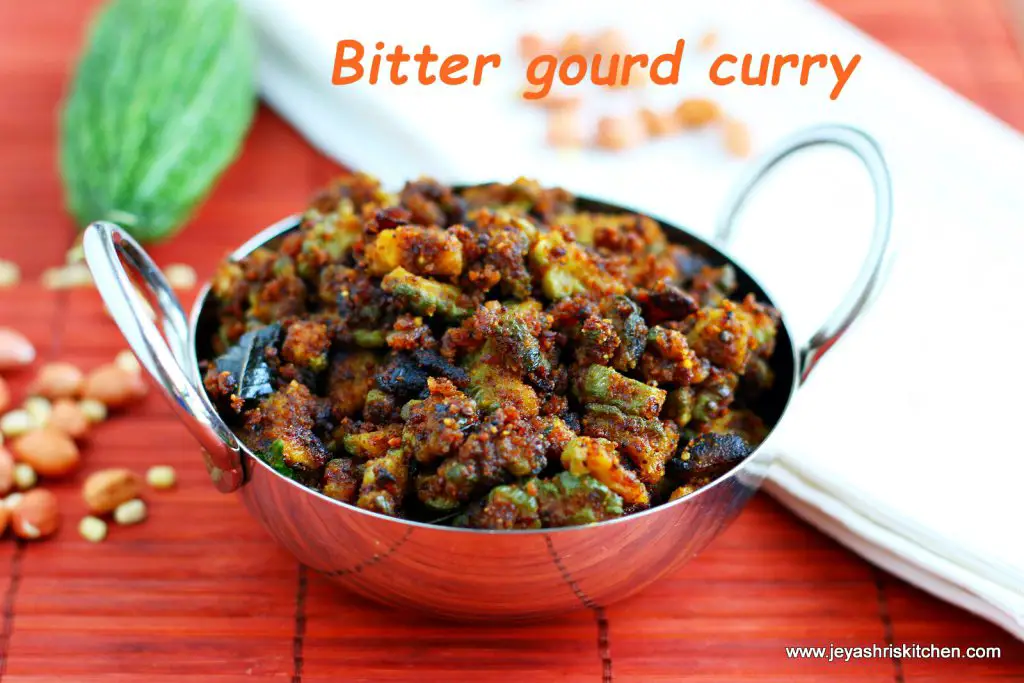 Pavakkai curry recipe
Preparation Time : 15 mins | Cooking Time : 30 Mins |Serves: 3
Bitter gourd | pavakkai 2 cups approx.
Urad dal 1 tblsp
Peanut 2 tblsp
Red chili 4
Onion 1 (optional)
Oil 2 tblsp
Turmeric powder 1/4 tsp
Salt as needed
Lemon juice 1/2 tsp
Curry leaves few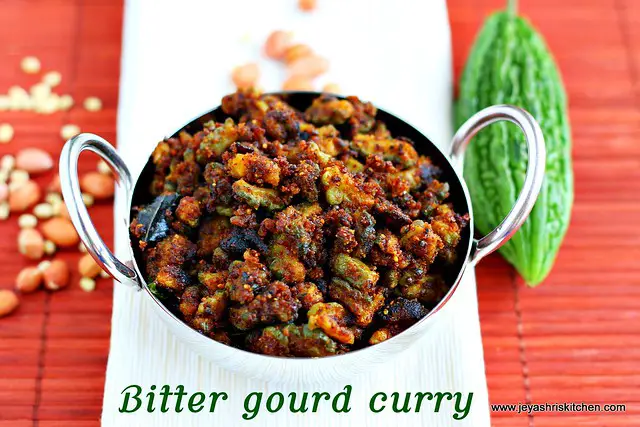 Method:
Chop the bitter gourd into 2 and take out the seeds in the center. I used the Malaysian bitter gourd.
You can use the Indian pavakkai too.

Cut them into half circles and sprinkle some salt and lemon jucie on this.
Keep this aside for 20 minutes. This step is to remove the too much bitterness from the pavakkai.

After 20 minutes squeeze out the extra water from the bitter gourd.
Pressure cook this for 2 whistles. Do no add any water while cooking the bitter gourd.

Meanwhile dry roast the urad dal, red chili, peanut till golden brown.

Allow this to cool and pulse it to make a powder. No need to take out the skin of the peanuts.

Take out from the cooker. Chop the onions finely. (if adding)
In a pan add 1 tblsp of oil and add in the mustard seeds. When it crackles add the onions. Saute till it becomes translucent.
Add the cooked bitter gourd to this and mix well.
Add salt and turmeric powder to this.

Add the ground peanut chili powder mix.
Mix well. Keep the flame in low and cook for 20 minutes.

Add the remaining 1 tblsp oil in regular intervals while the bitter gourd is getting roasted.
Roast in a low flame for 10 -12 minutes.
Once it turns nice golden brown colour, switch off the flame.

Serve with plain rice and gravy of your choice.
Bitter gourd curry goes well with South Indian Sambar and rasam.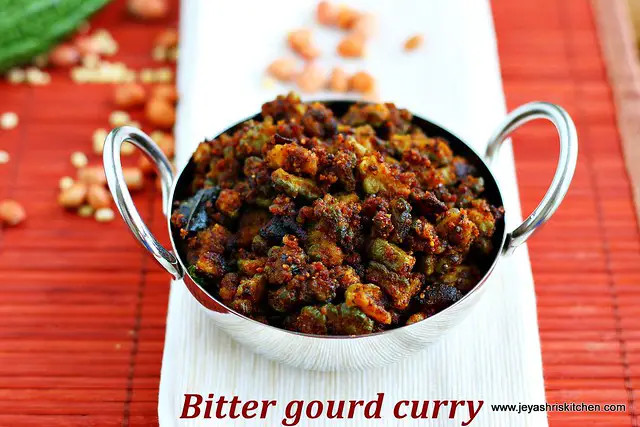 Notes:
You can add 1 tblsp of dry coconut(kopra) while grinding the peanut chili mixture.
If using fresh coconut roast it and add.
You can skip the onion if you want a no onion no garlic version.
Also you can roast one or 2 cloves of garlic while roasting the peanuts to make the bitter gourd curry more flavorful.