Peanut chutney| verkadalai chutney, made using raw peanuts, red chili and garlic pairs very well with dosa and Idli. As such we all are a big fan of peanuts. This peanut chutney i  tasted in my friend's place for the first time and i loved the taste very much. It was quite new to me and i immediately noted down the recipe from her. It was so simple and different from the usual
coconut chutney
i make for dosa | idli. So try out this no coconut added peanut chutney recipe.
Check out my
Peanut Chutney recipe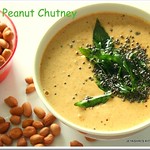 Recipe Cusine: Indian
Prep Time: 10 Minutes
Cook time: 10 Minutes
Serves: 3-4
Author: Jeyashri
Recipe Category: Breakfast | Dinner
Description: Peanut chutney| verkadalai chutney, made using raw peanuts, red chili and garlic pairs very well with dosa and Idli
     Raw peanuts  1/2 cup
     Red chili    5-6
     Garlic  3 cloves
    Tamarind  a tiny piece
    Salt  to taste
    Oil  1 tsp
    Mustard seeds   1/4 tsp
    Curry leaves  few
    Asafoetida  a pinch
Method with step by step pictures :
In a pan add few drops of oil and add the red chili, tamarind and garlic cloves.
Saute till the garlic changes  color to golden brown.
Add the peanuts.
Saute  the peanuts in a pan, till it turns golden brown.
Be careful, it should not get burnt.

Switch off the flame
Allow it to cool.
If you want to take out the skin of the peanut, you can do so by rubbing it with hands.
But you can proceed with grinding without taking out the skin too.
Add the roasted peanut, garlic, red chillies tamarind and salt and powder it in a mixie.
Add water to it according to your desired consistency.
I added 3/4 cup of water to it.

Add water to the powdered mixture and run the mixie.
Grind into a smooth paste.
Transfer it to a bowl.
Temper it with mustard seeds, curry leaves and asafoetida.
Enjoy with hot idli/ dosa.

Note:
If you get unsalted roasted peanuts without skin , then skip the first 2 steps.
Removing the skin from it doesn't make any difference in the taste, so u can grind with the skin if u want.
If you are making it frequently, then roast the raw peanuts in bulk , cool it and keep it in a air tight box.
Add the water to it while grinding itself, otherwise it won't mix up well with the peanut chutney.