Podi onion dosa is a simple and easy South Indian dosa, which can be served when you are running out of time to make a chutney or sambar. I always love milagai podi with dosa during the recent trip to chennai, happened to have podi onion dosai in Sangeetha restaurant, made me to get addicted to that and i had the same in many restaurants too. I wanted to try this at home and finally made today for breakfast. As suresh is not in town, i am bit lazy to make chutney or sambar, and my kids will happily have dosa with milagai podi too. I had little kalyana gotsu left over  which we all shared too. The podi onion dosa tasted so yum with the aroma of ghee and kids too loved it. If you do not want onion you can skip onions. Please scroll down to the notes section below to find out many variations. If you have dosa batter and idli milagai podi at home ,this can be done in quickly.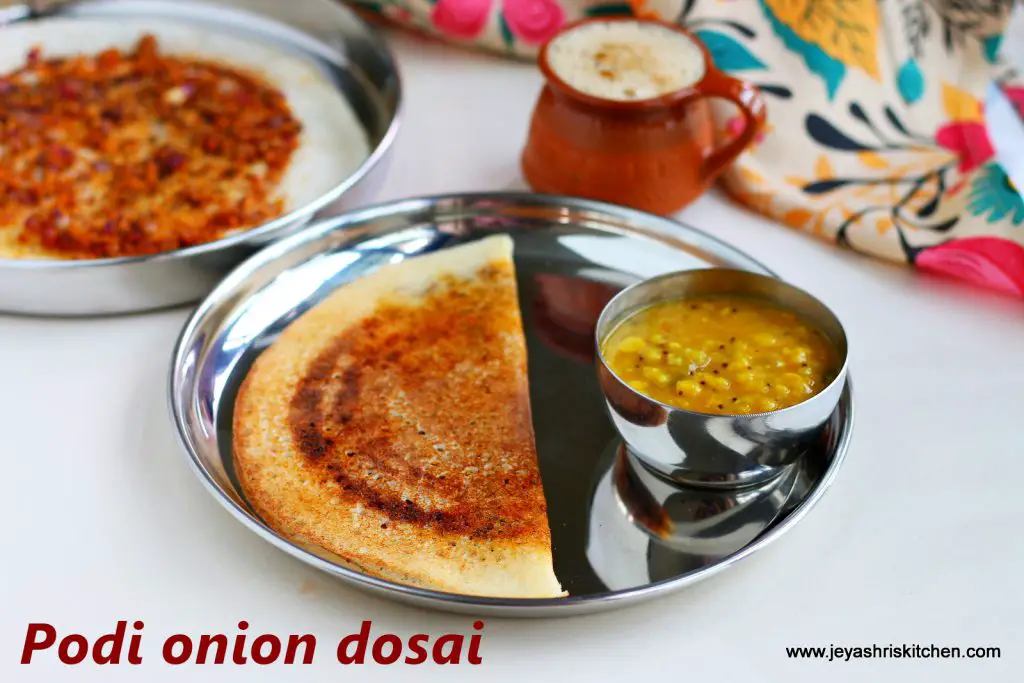 Podi onion dosa
  Preparation Time : 5 mins | Cooking Time : 3-4 Mins per dosa |Serves: 2
     Dosa batter   1/2 cup
     Idli milagai podi    3-4 tsp
     Onion   1
     Oil + ghee   as needed (for dosa)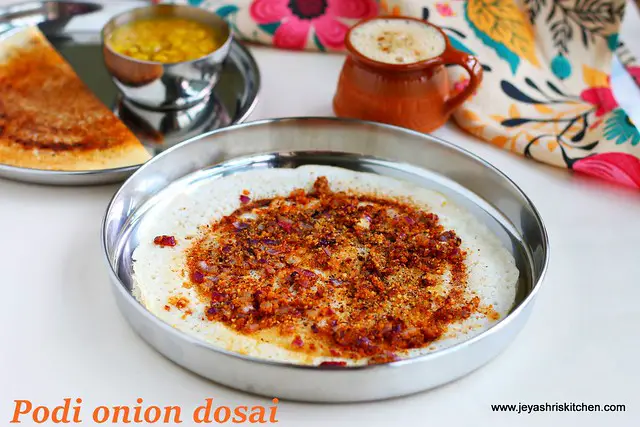 Method:
In a small bowl add the milagai podi and finely chopped onion. Ensure that the onions are finely chopped.

Heat a dosa pan. I recently got a pre- seasoned lodge cast iron pan from Amazon and it is working out well for dosas.
Take one ladle full of batter and pour in the center of the pan.
Spread immediately into a thin round circle.
Smear the onion podi mixture on the top of the dosa.
Using a ladle or bread knife spread the mixture evenly.

You can either cover this and cook or leave it open.
Smear oil and ghee to this and when the bottom parts starts browning and the dosa comes out from the pan, fold it one side and take out from the pan.
No need to flip this dosa and cook on the other side.
Repeat the same for the next dosa too.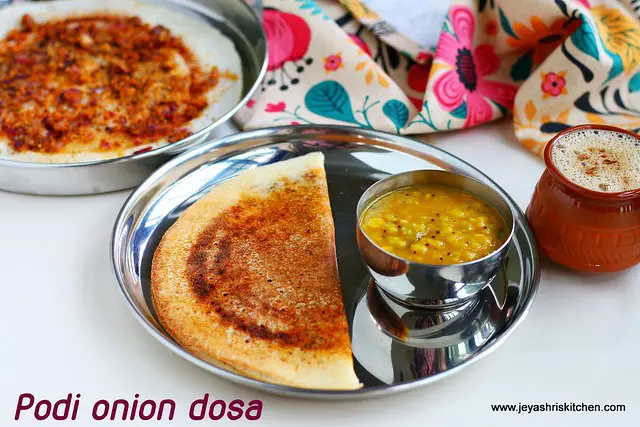 Notes:
Ensure that the temperature of heat is regulated throughout the process.
If the pan is over heated, sprinkle a handful of water and wipe with a kitchen cloth,
Instead of milagai podi you can use paruppu podi, nalla karam podi,karuvepilai podi or chutney podi too.
Addition of grated carrots to the mixture makes it colourful and healthy too.
You can make the same as podi onion uttapam too.