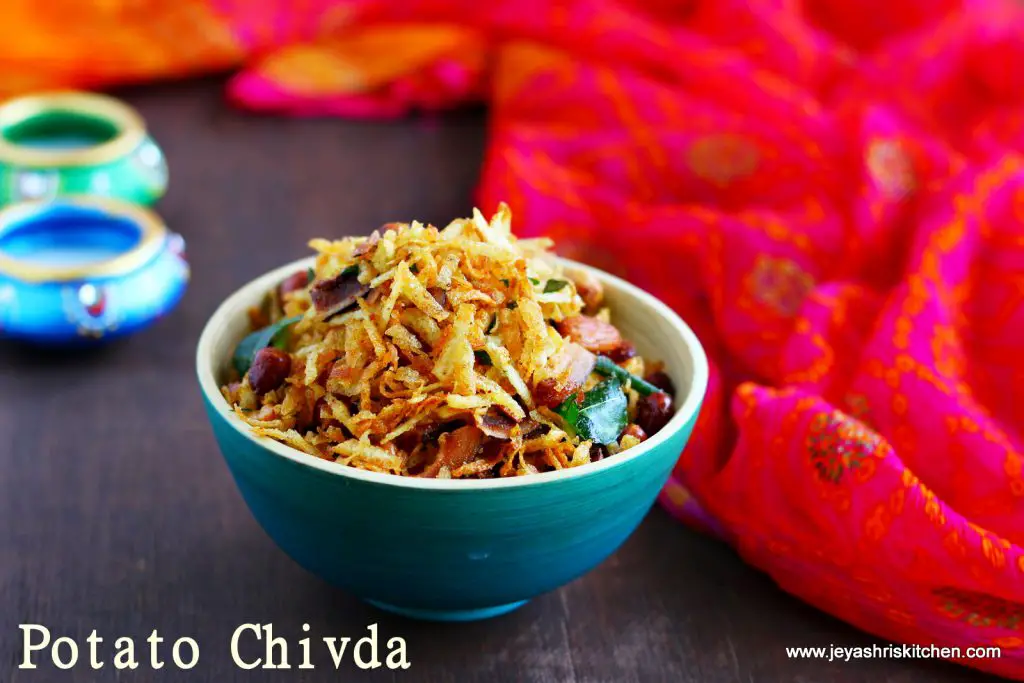 Potato Chivda | aloo chivda| potato mixture recipe is an easy diwali snack recipe, and also can be had as and teatime snack. I have posted poha chiwda recipe ,which is best suitable diwali recipe for diabetic patients. But this potato chivda is a deep fried one and I am sure kids will love this for sure, even adults too. When we went for the Europe trip this June, we took a package trip to visit european countries. We had a big gang a gujarati families with us, and they packed a huge bag of chivdas, masala pooris, and many other namkeens for all us. The entire trip was awesome with the chit chats, munching of these namkeens and all. I tried to recreate the same gujarati chivda replacing poha with potato. I saw this chivda recipe in Sanjeev kapoor's and tried a similar chivda. The potato chivda turned out so well and it has a good blend of sweet and spices. Check out my full collection of  Diwali recipes. 

Potato Chivda recipe
  Preparation Time : 20 mins | Cooking Time : 25 Mins |Yields: 2 cups
     Potato    3 (medium sized)
     Peanuts    1/4 cup
     Cashew nuts  7
     Badam | almonds   5-7
     Dry coconut |Kopra   2 tblsp (thinly sliced)
     Raisins  | dry grapes   1 tblsp
     Fennel powder | sombhu podi    1/2 tsp
     Red chili  powder   1/2 tsp or green chili  2
     Sugar   1/2 tblsp
     Cumin powder   1/4 tsp
     Garam masala    1/4 tsp
     Curry leaves    few
     Salt   as needed
     Oil   for deep frying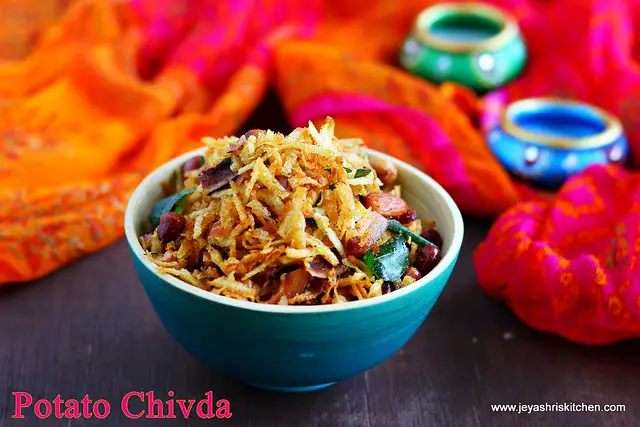 Method:
Peel the skin of the potatoes and wash them nicely.  
Keep ice water in a wide bowl and add little salt to this. We are going to grate the potato and add it to the water. The reason we are putting this is water to avoid them turning brown. 
Let this sit for 20 minutes.

Meanwhile let's heat the oil and fry the remaining items one by one. 
Once the oil is hot, keep the flame to medium.
Using a ladle let's fry, so that it will be easier. If you do not have a deep ladle, directly put into the oil and fry.
Fry the peanuts and take it out from oil.

Fry the cashew nuts and badam together. They get fried so quick so please focus on the oil (No what's apping!!)

Next fry the raisins in the same way and take it out from the oil.

Thinly slice the dry coconut and fry this in the same way. These kopras tend to cook very fast, so please be extra careful.
Mine slightly got over cooked, i felt. 

Next fry the curry leaves till they become crisp. 

If adding green chilies, slit them and take out the seeds and fry in the oil. You can use 2-3 chilies.
Now switch off the flame and let's process the potatoes.
Drain the water from the soaked potatoes and wash them in the tap water.

Press out the extra water from the grated potatoes and spread it on a clean towel.
Pat dry them by gently tapping the grated potatoes with the towel or a thick kitchen tissue. 

Heat up the oil again and fry the potatoes in small batches till they become crisp. 
I thought this will cook very fast but it is not like that, cook till the oil sound subsides. Cook on a medium flame. 
Repeat this for the rest of the grated potatoes. 

Since we have soaked them in salted cold water, they won't get the black colour while resting to get fried. 
Put everything in a wide bowl, ensure that the bowl should be dry.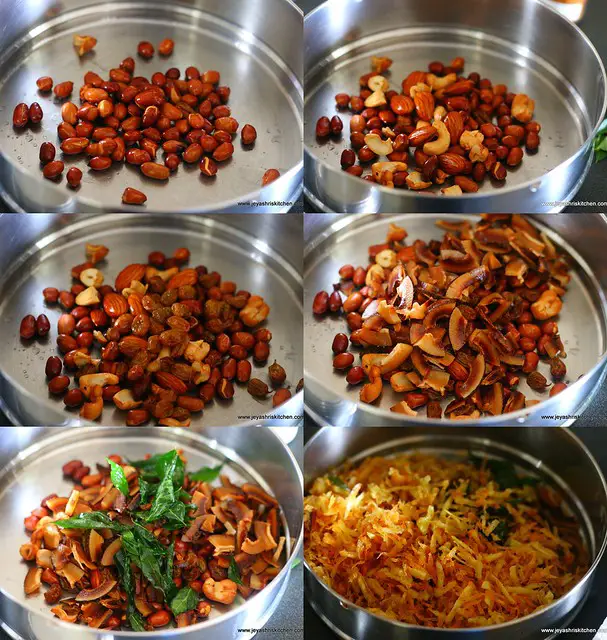 Add the fennel powder, garam masala, red chili powder, powdered sugar, salt and cumin powder. 
Mix well gently. 

If you this more sweeter increase the powdered sugar and reduce the red chili powder.  
Store this in an airtight container. 
Crispy potato chivda is ready. 
This will stay crisp and  good for 4-5 days.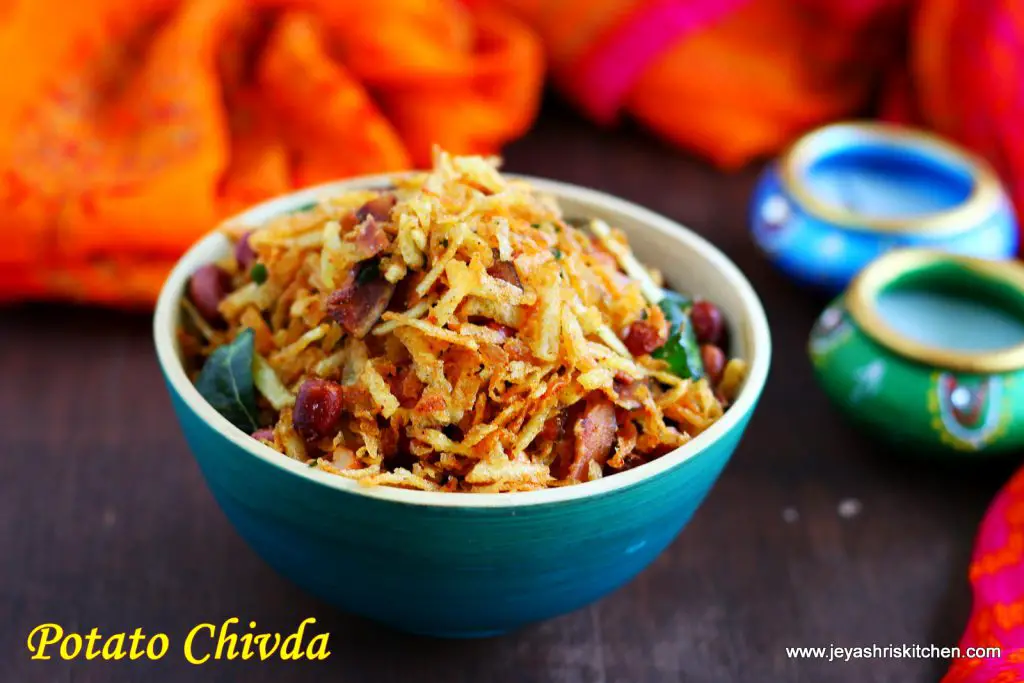 Notes:
Always heat the oil and put the oil in medium flame, else the ingredients will get burnt in oil.
Instead of salt you can add black salt too. 
Also 2 pinches of chaat masala can also be added to this.
I used normal potatoes. 
You can add more powdered sugar if you want it like a sweet mixture.