Uruali pottalam | potato masal is a spicy masala curry made with potato , packed and served in lotus leaf. If you are brought up in Madurai or visited Madurai ( a town in south of Tamil nadu), then you must be knowing about this. We get this in the original nei mittai kadai shop near the west gopuram tower. Whenever we go to pudhu mandapam for shopping, we buy this potato masal and take it home and eat with curd rice.  Sometimes during weekend when my dad goes to the city to meet any friend, he buys this potato pottalam for us and we used to wait for him patiently and then eat our lunch. This potato masala will be very spicy . It has been many years now since i tasted this potato masal. When i was casually chatting with the author of Puliyogare travels some time back, he shared with me the episode of his food trial in madurai and about his experience in the original nagapattinam nei mittai kadai. Based on that i recipe idea and with some inputs from my friend who recently visited her parents in madurai, i have finally made this Uruali masala. This can be even served with poori or stuffed inside paratha or can be had with sambar rice and rasam rice as a curry too.
Potato masal recipe
  Preparation Time : 15 mins | Cooking Time : 25 Mins |Serves: 3
     Potato | urulai kizhangu   2
     Oil   3 tsp
     Mustard seeds   1/4 tsp
     Garlic  1 pod
     Ginger  1 small piece
     Onion   1
     Sesame seeds  1 tsp
     Saunf | sombu  1 tsp
     Sesame seeds  1 tsp
     Green chili   2
     Asafoetida   2 pinches
     Besan | kadalai maavu   1 tblsp
     Red chili powder   1-2 tsp
     Turmeric powder   1/4 tsp
     Salt  as needed
     Curry leaves   few
     Coriander leaves   few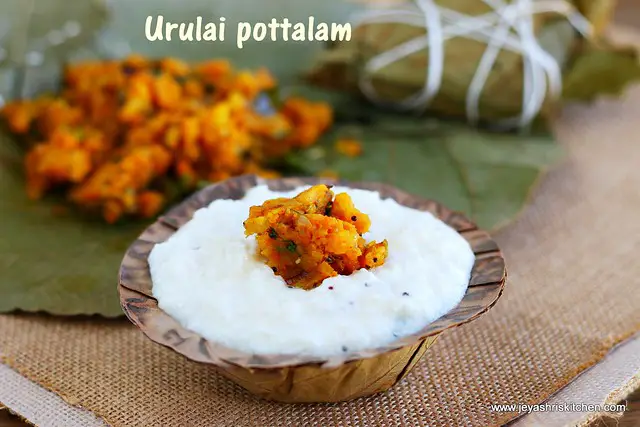 Method:
Finely chop the onion, ginger ,green chili and garlic.
In a pan add oil and add mustard seeds, ginger, garlic, green chili, curry leaves, saunf, sesame seeds.
Boil the potatoes and take out the skin and keep it aside.
Add the finely chopped onions to the pan and cook till golden brown.

mash the potatoes nicely with hands and add it to the bowl.
Add potato, red chili powder, salt,turmeric powder and besan (kadalaimaavu).
Mix well.

Add coriander leaves and mix well.  Cook for 5 minutes and switch it off.

Potato masala is ready to serve. Wrap it up in lotus leaves(if you have) and serve with curd rice.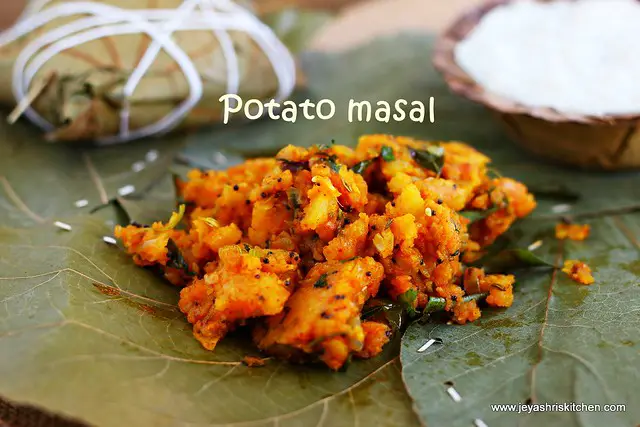 Notes:
If you want to make it less spicy, reduce one green chili and reduce the red chili powder too.
Do no omit any spices which i have used for tempering. This will enhance the taste of the potato masala.
Stuff it with parathas or make it as a side dish for poori.