A perfect south Indian meal will never end up without this simple curd rice. Even whenever we have potluck with our friends, apart from whatever i make the job of making curd rice is usually assigned to me only. And i can happily say all the kids of my dear friends love my curd rice. I thought of posting this recipe of how to make curd rice for a long time but somehow it got postponed. So under the request of all my friends i am posting this thayir sadam recipe.
Also check out my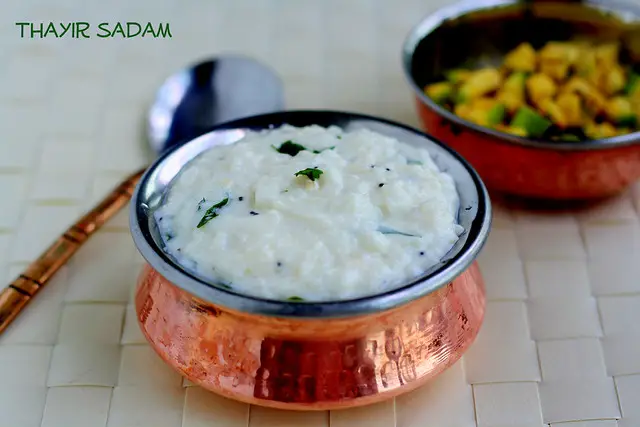 INGREDIENTS(SERVES 2-3)
| | |
| --- | --- |
| RICE(UNCOOKED) | 1/2 CUP |
| MILK | 1 CUP |
| YOGURT |CURD | 1 CUP |
| SALT | AS NEEDED |
| OIL | 1 TSP |
| MUSTARD SEEDS | 1/2 TSP |
| ASAFOETIDA | 1/4 TSP |
| GREEN CHILLI | 1 |
| CURRY LEAVES | FEW |
| CORIANDER LEAVES | FEW |
| CASHEW NUT(OPTIONAL) | FEW |
METHOD:
Pressure Cook the rice by adding 1 and 1/2 cup of water.
When done mash the rice nicely with the back of the spoon.
When it is slightly warm add milk to this. I usually add the cold milk but if you want you can add warm milk too.
Mash it nicely and mix it up nicely with the rice. I feel clean hands will do this job perfectly
When it is completely cool add the yogurt to this and mix it up smoothly without any lumps. Add salt to this.
Heat a pan, add oil and throw in the mustard seeds and add the chopped green chilli, curry leaves asafoetida and lastly the coriander leaves.
Ensure that the coriander leaves and curry leaves are chopped finely. Chop the green chilli into big pieces. I will discard this after mixing with rice.
Add this to the curd rice.
If adding cashew nuts chop them finely and add it raw. Do not fry them in oil.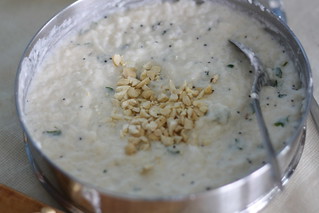 Mix it well and take out the green chillies. If you wish you can temper with some grated ginger too.
Serve it with any pickle of your choice. We had with Raw mango pickle.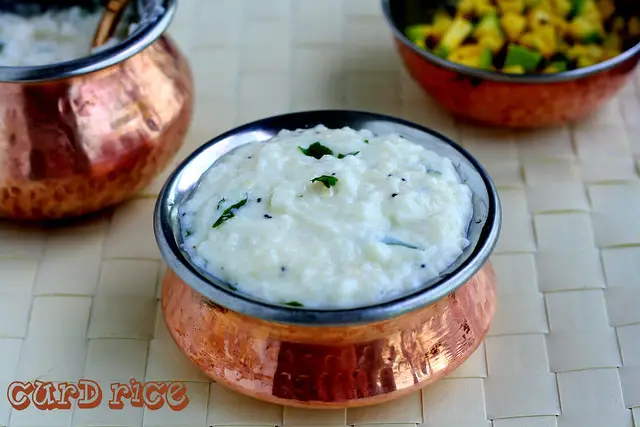 Note:
Never add the yogurt when the rice and milk mixture is warm.
I prefer to add full cream milk to the rice as it gives a creamy texture.
My aunty always add a dollop of butter while mixing the rice.
You can add raw mango bits and finely chopped carrots to make it more yummy.
My kids love to have with pomegranate and if i have it in hand i usually mix it with the rice at the end.
Adjust the quantity of milk and yogurt according to the consistency, for curd rice.